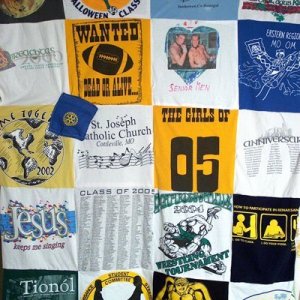 Solutions: Crafts Using Recycled Clothing
Read and rate the best solutions below by giving them a "thumbs up".
I watch for the local thrift stores to have half off or 75% off sales and go look for fabric suitable for covering scrapbooks, making recycled clothing, making small crafts and recovering furniture. Sometimes you can find a long leather coat for a few bucks and recover chairs or make wallets from it. I always go in with a plan and find things people normally would not buy.
If I cannot use it one way, I can always use it in quilt making thus making the price of the quilt extra low. Blankets are great for inside of quilts and normally are inexpensive. I can get 2 baby quilts out of 1 full size bed blanket.
Recycling not only aides in my frugality it allows me to make items that would normally cost me a lot of money to purchase in a retail store. So when you see a clothing or sheet sale, stock up and save in the long run.
By gem from VA
I needed some denim to make a couple of sturdy aprons, but it can cost over $10 a yard for the good stuff! (Even with store coupons, it is expensive). So I went to the thrift store and bought two long denim dresses for only $5 each and I have plenty of fabric for 4 aprons. Plus if I lay it out right, I already have the bottom hemmed and I can reuse the pockets and buttons!
By Christine from Spanaway, WA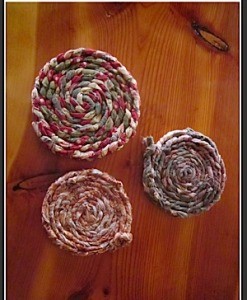 Old shirts or leftover fabric make great coasters. Braid strips of 1 1/2 inch strips of fabric and tie several together if you want larger coasters. Take the braided strips and lay them next to each other creating circles. As you wind the braided strips, stitch them with similar colored thread and needle by hand. They make great coasters and can be washed. I also do red and green ones for Christmas.
By Louella from Billings, MT
Turning Old Clothes Into a Quilt
Sew outgrown childrens clothes, either whole or cut, into patterns for a worn quilt using an overcast stitch. You can quilt the pieces in as well. You can do a decorative pattern, or cover entirely. The end result is a wonderful keepsake to treasure.
By Doggy
T-shirt Pillows and Jeans Bags
I've made pillows out of old tees, they are so warm and comfy. Also, cut diagonally down the shirt from the collar to the bottom hem and sew for a simple dress up skirt, an adult tee shirt makes a child's size. Another fun thing is to make bags from old jeans and pants cut off the legs where they meet hem the remaining piece at the bottom and tie hobby rope to the belt loops of sew on straps from the jean leg. You can also make small bags from the bottom of the pant leg. Just cut about 20 cm from bottom of one leg, and hem the raw edges together, you can add handles also.
Hope you can use some of those ideas!
E
Welding Gauntlets From Jeans
I use the legs from an old pair of denim pants for welding gauntlets to cover my arms while welding. After cutting the legs off the pants, sew some elastic banding on both ends. that holds the gauntlet in place at the wrist and at the upper arm.
This protects the arms from welding splatter, and UV rays while welding. (Note - these are used in conjunction with welding gloves - OR the welding gloves can be sewn to the lower portion of your gauntlet instead of installing elastic there.)
Rex Smith
T-shirt Quilts
There is a pattern for making quilts out of tee shirts that have a special meaning. Maybe for the Sports enthusiast in the family for graduation. A tee shirt quilt made from all their sports teams shirts.
Donna
Pillows
When my Mother passed away it was up to me and my two sisters to empty out her apartment and do something with her belongings. When we got down to clothes we donated them to a mountain mission which gives them away to needy people. I kept some of her old cotton print blouses and couldn't bear to part with them. I was in the process of learning how to quilt. For a mother's day present I made my sisters and nieces a handmade pillow using the pattern called Grandma's Fan and cut the pieces from Mom's old blouses. Now we all have a momento of her in our homes.
MamawKC
Weaving Pot holders
You can cut the sleeves from t-shirts into rings and use the rings instead of purchased loops for weaving pot holders. Great colors! You can also do this with the tops of worn socks.
jlxian
Baby Heirloom Quilt
An idea I would have loved to do with my old baby clothes was to make a baby heirloom quilt to use for your first child or even better to give to your children for their first child.
I believe it was in Family Circle Magazine a few years ago that they used the fronts of shirts or dresses and sewed them into each quilt square as if it were hanging on a hanger or something. Other ideas would be to just use the fabric to make your own design.
Tawnda
Braided Rugs
Clothing can be cut into strips and braided to make rugs. these rugs are very durable and they wash well too.
Gizzmo from Colorado
Quilts for Dog Beds
Old denim jeans make great quilts for dog beds. They smell like you, which pleases the dogs. I usually cut old jeans into rectangles and squares and sew together. To practice fancy stitches on your sewing machine, you can overlap the raw edges of the seams and reduce raveling at the same time.
Lynn from Western Oregon
Denim Quilt
I have also made a Quilt out of my Hubby's old jeans! He never throws away a thing "it'll make a good rag someday" so when the pile became overwhelming I cut up the legs, stitched together with batting and a sheet and had a heavy warm quilt!
I also have made Pillows out of old, beloved Shirts from my kids. They work real well as throw pillows on their beds. Just stitch up the openings and stuff! too simple and they love them!
Terry R
What are some craft projects you can think of using old clothing?
The first outfits given to baby are so special! Turn that special outfit into a very sentimental and personal pillow that you can gift back to the original gifter on Mother's Day, Father's Day, for any occasion, or just because. Think about the frilly dress Grandma gave to granddaughter or the team t-shirt proudly purchased by Dad. Sew the arms, legs, and neck closed (leave a small opening for stuffing), use bagged pillow stuffing to fill out the pillow and finish by hand. I made one for Grandma and she still keeps it on her bed as the most important accent pillow.
Source: Myself
By M in NM from Socorro, NM
Save your ripped pants and shirts, then "harvest" the buttons. You never know when you will need buttons. You can also save parts of the fabric and make clothes for an infant. A pant leg turned upside down (or two legs sewn together) can make a cute "pillowcase dress" for a baby girl. All you need is a little ribbon. You can also use extra fabric from elsewhere to create a jumper dress. Save drawstrings to use on bags for cart covers or as ribbon on the pillowcase dresses.
By Laurie from Circle City, Arizona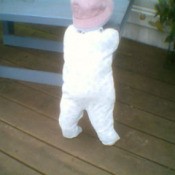 Here's a craft for making a figure that looks like a baby wearing a straw hat.
Materials
straw broom
baby sleeper
child's hat
batting for stuffing
pipe cleaners or string
needle and thread
Directions
Take the broom and separate the bristles to look like two legs and tie with string or pipe cleaners. Put on the sleeper, putting the legs of the sleeper over the bristle legs. Stuff the legs and body around the broom then stuff the arms. They will be open on end and sticking out straight but then you are going to sew the arms together in front of the baby by sewing the sleeper together.
Then put the hat on broom handle top. It is not going to have a face but no one will know because it is going to be displayed with the back showing as in the picture. Sorry about the picture, it's a little bit short but you can get the general idea.
By Sandy from Bluff City, TN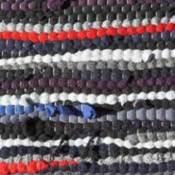 Looking for recycled clothing crafts? Here are some crafts that you can make with old clothing. Feel free to post your ideas in the feedback forum.
Material
With my Family, I have a lot of clothes passed around. We don't throw anything away. Cut off all the buttons, zippers and belt loops, save.
I cut all the material off and the seams that are left I sew together to make Braided Rugs. Iron all the pieces of good material and store in a box (flat.) I have some really nice pieces for quilts.
When the children are bored I have them cut material. Then sew it together. No matter how bad they do they are having fun. I give something special to the one that finishes their sewing first.
I sort material by color and then also one box with just about every color in it. This is for crazy quilts. Stick to the basic color red, blue, green. etc. I put all white and black in another box and use this for the trim or binding. So you really have some nice quilts and didn't cost you much.
By Marlyne Jeane
Gift Jars and Doll Clothing
Don't forget to save some small-patterned, nice colored pieces to place over jar lids if you're canning for "Gifts From Your Kitchen". Almost any pretty fabric works great.
When my daughters were young, I made enough Barbie clothes to dress every Barbie in existence. I still love to make and dress dolls, but today, I make my own cloth dolls, dress them in "Tea Party" dresses (recycling old clothing), and give them to my lady friends who are also 70 or more years old. (My age)
Girls never lose their love for pretty dolls. If you're lucky enough to still have your mother or grandmother, make them a doll for their birthday or for Christmas and watch their eyes light up. They will cherish your thoughtfulness.
Hot pads made with leftover or recycled clothing fabric are always good to have, as well as pot holders. Line with pieces of old quilted bed pads to make them thick and protective for hands and table surface.
You will be limited only by your own imagination, so don't ever be afraid to ask for advice and more ideas.
All the best to you fellow-crafters.
By Julia in Orlando, FL
For Cleaning
If the clothes are totally faded or full of holes, they still make good scrub rags or grease rags. We use a lot of these. A friend said he used to fold old tee shirts into a pad and scrub the grill with it. If you have the right kind of mop, you can put old clothes in the clamp for a new (free) mop head. I've used tee shirts, sweat shirts, and old boot socks for those. Parts of tee shirts cut to size and sewed together in a double layer if you're ambitious make good dish rags. We even use one to wash our cow before and after milking. (09/25/2005)
By Coreen
Jeans Purse
I once saw a handbag made from a pair of jeans. Cut off the legs and sew them shut, then add a zipper to the waist area, and 2 straps.
By bulrush
Shirts
T-shirts: I use old t-shirts to cover my dog's pillows sometimes. I also cover my pillow with a t-shirt if I take a nap with wet hair - then the pillowcase / pillow stays dry. In a pinch, cotton t-shirts are good as a towel or drying hair if you are out of clean towels (I know - lazy). And old T-shirts are good for drying the dog after her bath.
Soccer shirts: The boy I took care of made a neat pillow out of his outgrown soccer shirts. He sewed them up on his mother's sewing machine and stuffed with fiberfill or rags. They were bright colors. They ended up in the "fort" one summer, then later to decorate his room.
By TJDumplin
Rag Rugs
Fabric scraps from old clothing can torn into strips and braided or crocheted to make rag rugs. I also heard of a quilt that was made from old ties. Has anyone ever heard of this or know where to find instructions?
By AnnMel
Uses for Sweaters
I have seen old sweaters used several ways:
1. quilts
2. pillows
3. purses
By wyoKrista
Clothespin Bag, Quilts
Recycle a small baby dress into a clothespin bag by adding a hanger and leaving the back open. Then sew up the hemmed tail.
Recycle Jeans legs to make a quilt. Add your own special touches. Save them and make a special quilt with some of your children's favorite clothes, you can always cut pieces of their favorite shirts and add on top of their jeans when you piece it together.
By seamstress
Recycled Clothing Crafts
Cut clothing into squares and sew them together to make a baby quilt, a couch or chair cover up or even a quilt for the bed or couch. You can even use these for windows coverings or for a window valance. Use your imagination and see what you come up with. Cover a toy box, a picture frame etc. Have fun with it. I also use buttons from the clothes I discard to decorate picture frames, small mirrors, etc.
By Sandi G
The back pockets of jeans may be used as fun drink coasters! I remove them from the pants, put some backing on them (quilted material for example), with a water resistant glue or sew them on, and voila! Drink coasters that can even be put into the washing machine.

Everyone I know said that they were cute. =)

By Cindy in PSL
If you end up with a clothing item you would never wear but like the pattern, think about using the material for pillows, quilts, etc. You can also stock up on material from clothes for quilts at bag sales from thrift stores or yard sales.

By Melanie
Give a "thumbs up" to the solution that worked the best! Do you have a better solution? Click here to share it!
Questions
Here are questions related to Crafts Using Recycled Clothing.
How do I find someone to who would make a memory blanket for me? Roughly how many lbs. of clothing would I need for a small blanket?
Many thanks.
By Jean from London
---
Most Recent Answer

By JazzyMe05/06/2012
Dear Jean, How big would you like the blanket to be, in feet/inches in both length and width. The number of pounds is not quite the question, but each piece of cloth used should be no smaller than 8 x 8 inches. 10 x 10 inches is better, as this size is easier to work with.

One can also sew a piece of the memory item to a piece of cloth of the right size. The number of squares needed would depend on what size you want the blanket to be. You need to remember that seams use up some of the size of each square.

You say you are from London. I am in the USA, California. I'm not sure if it would be worth it to you have the blanket made by me as shipping would be quite a lot. If you can do any sewing at all I could walk you through it by email. write to: tracy_m_mcdonald AT yahoo.com
I'm looking for ideas to use old/used items and make them into something new. Ideas like turning a tank top into a shopping bag or turning an old pair of jeans into a handbag. The theme is "reuse, repurpose, refashion". I am looking to use materials that are no longer useful in their current state or would normally be thrown out or recycled. I'd appreciate any ideas you may have. Thanks!
By Anne from Washington Twp, NJ
---
Most Recent Answer

By eve06/28/2011
My fav recycle from a T shirt, is cutting the sleeve out of the Tshirt, right at the arm seam and you have an immediate cute little head covering with no sewing involved. You can embellish it or cut slits in around it and pull through a piece of the bottom band of the shirt for a tie. I have several and my SIL loves them so I made her a couple. It sounds crazy but they look really finished if you cut neatly next to the arm seam. Have fun.