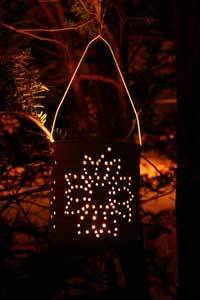 You can easily turn an empty tin can into a beautiful lantern. Simply punch a pattern into its surface and place a candle inside to illuminate it. This is a guide about making a tin punch lantern.
Solutions: Making a Tin Punch Lantern
Read and rate the best solutions below by giving them a "thumbs up".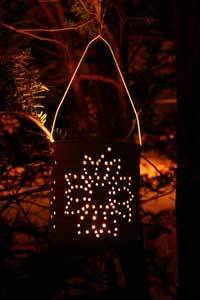 Here's a simple way to turn old coffee or vegetable cans into lovely garden lanterns.
Materials:
tin can
white paper
colored marker
masking tape
paper clips
hammer
large nail
paint, optional
tea lights or candles
wire for hanging
Directions:
Clean out and remove the labels from any sized tin can-opened on one end. If necessary, pound down any sharp edges with a hammer, then dry the can thoroughly.
Cut a piece of white paper big enough to fit around the can, cutting off any excess. This paper will serve as your design template.
After cutting the paper to the correct size, remove it from the can and with a colored marker, trace or draw a simple design using a series of small dots (about the size of a nail head). These dots represent the spots you'll be punching with a hammer and nail. Leave at least a 1/2 inch border around the top of the can so you punch out holes for hanging.
Fill the can up to the top with water and let it freeze over night. This will prevent the can from bending and denting while you punch holes into it and give you a hard surface to work on.
Remove the can from the freezer and reattach your template with masking tape. If necessary, secure the template with paper clips along the rim of the can.
With a hammer and large-sized nail, pound holes into the can following the pattern of your design. Make an X with masking tape across the open end of the can to make it easy to mark where to punch holes for hanging.
Decorate the outside of the can with paint as desired. Add small candles or tea lights and use wire or a metal clothes hanger for hanging.
A Note of Caution: Make sure you keep your candles small and your hangers long enough to avoid fire. Never leave a candle burning unattended.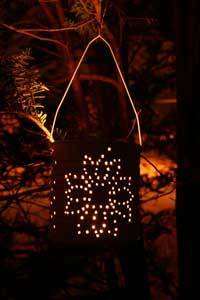 By Ellen Brown
Fill can with water and freeze. This will give the can stability so that it does not collapse when you hammer with nail.
Alternate method - use a piece of wood to support the inside of the can.
Use different size nails to puncture holes to form different size holes.
Give a "thumbs up" to the solution that worked the best! Do you have a better solution? Click here to share it!