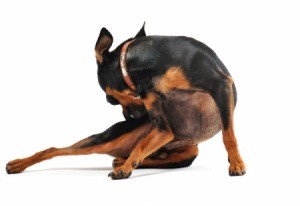 Lick, lick, lick. Nibble nibble. In my house, we start the day with a vigorous leg-chewing session.

Excessive chewing can be a sign of skin allergies, or a reaction to insect bites. Keeping your dog on a monthly flea and tick medication like Frontline can help reduce bite problems! If your dog has other allergies (seasonal or food), the paws may be the first place they start to itch. If your dog is chewing himself nonstop, especially if he has chewed his skin open, call your vet and schedule an appointment. A cortisone shot may give him the relief he needs. Your dog may also need a prescription antihistamine or a conditioning shampoo to help keep the itchies at bay.

However, some dogs lick and chew for no medical reason at all. Compulsive leg licking is frequently seen in Labradors and German Shepherds.

When your dog is lying in what's called the "Sphinx" position, on his belly, body in a line, front paws stretched forward, the foreleg is in perfect position for some recreational licking. Dogs learn licking as comfort behavior when they are puppies being cleaned off after birth by their mother.

Licking or nibbling isn't bad, unless it becomes an obsession. A dog may lick his fur away! All that licking will cause the skin tissue to thicken, and eventually crack. Your dog risks infection if he licks himself open like this. Veterinarians compare it to obsessive compulsive disorder in humans. The dog is licking to satisfy a psychological need, rather than ease a physical problem.

Some over-the-counter remedies, like bitter apple spray, may deter your dog from licking the affected area. Then again, if he's determined, he'll just keep on licking. Your vet may prescribe medicine like what treats OCD in humans to give the skin time to heal. If treatment stops before the area is fully healed, your dog will most likely start the licking cycle all over again.
Ad
---
Feedback Forum
Feedback about this article is posted here. Want to contribute? Click above to post feedback.

09/24/2012
I have a husky. He started to chew. He took him to the vet and they did lazer light to stimulate the blood flow. Worked great but now he is chewing on his paws. Now I am lost.

By vicki hood [4]07/13/2012
Please NO steroids. Itch comes back worse and regular steroids (google it - it's all over) in the end can cause cataracts. Sounds like your lil one has athlete's foot. Easy to fix. Treat other parts too. Several ways. Feet only? athlete's foot spray. I would do dipping feet and spray bottle of the amber colored Listerine mouth wash for the body Not blue or green or pink but amber only.

Some dollar store Listerine is OK. Good for fungus on goats, horses, cats, your own feet. Sometimes clears up with one treatment. Feet can pick up the fungus again because of where the dog has walked. No need for pharmaceuticals. Stay away from vaccines as they destroy the immune system. Remember everyone's biggest organ is their skin. Keep me posted please.

By vicki hood [4]06/29/2012
NO grapes or raisins - poison to them. As little as 7 can kill. When you feed fresh fruits and veggies raw diet for better health, this is very dangerous.

By vicki hood [4]06/29/2012
Food needs changed. NO Grocery aisle food. Nothing with corn wheat or soy. I suggest a decent, but not perfect, Diamond lamb and rice from the co op, farm supply type store. Some raw is very good. Even most fruits and veggies. Please google. cook lentils, brown rice and ground turkey or fish with a little sweet butter, coconut oil or good fat.

No vaccines as they ruin the immune system. Dog start itching just after vaccine? Look at vaclib.org for ingredients in vacs like formaldehyde, mercury, aluminum and cross species rotting kidneys, brains and pus. Homeopath can help vaccine damage with thuja and other product. Itch can sometimes be a fungus from immune shut down. Wet whole body with Listerine (must be amber colored) not the blue or pink.

Even dollar store Listerine amber colored. Make sure you dip their feet into Listerine. It can even be used on goats and horses. Knock off the poisons. No flea collars (horrible), no monthly dab of advantage or any other flea poison. 20 Mule team borax into carpets for 2 weeks before you vacuum. Cedercide granules in the yard. No poison flea shampoo. Bar soap or Dawn dish soap works fine. 2 shampoos with one left on for 5 minutes before rinse works fine.

Any poison you use goes to their liver and kidneys. I really like and have used for years the Nzyme granules. They make up for my not having fresh fruits and veggies in the house at all times. Big dog gets 1 teaspoon. Small dogs 1/8 to 1/4 teaspoon so canister goes a very long way. Good for skin, general health, coat, digestion, arthritis. Read their reviews. I swear by it. No, i don't sell or profit from Nzymes. Constant research and years of fostering and helping mostly dogs make very full days but are so gratifying when animals are helped.

By Deanna (Guest Post)02/09/2009
He pulls and chews the hair on his paws.
deayar45 @ sbcglobal.net

By Krikit09/23/2008
Often, a pet's excessive licking is due to food allergies; usually wheat and corn products in their food. Read your dog's food labels carefully. Buy the best food you can with good protein count, and with no fillers, such as wheat and corn, etc. Also, lamb and chicken are less likely to produce allergies than beef and pork foods.

Excessive licking could be flea infestation, could be an over production of skin mites, could be stress brought on by too little exercise, or a way of communicating boredom.

If your vet is telling you it's "nothing" get a new vet. It's something. A methodical process of ellimination will eventually show you what that "something" is.

By Litldva (Guest Post)09/23/2008
Calm Coat by Last Chance Ranch is an all natural itch stopping cream. It is made of three ingredients: Lavender oil, Chamomile oil and tea tree oil. It works great and has no chemicals or harsh ingredients!

By Brittany (Guest Post)07/22/2008
Ok my dog is chewing himself non-stop! He is losing hair and our vet told us to just give him like benadryl. That did nothing and she just said to leave it. We tried omega 3 and lotion for dogs what else is there he is bleeding everyday what do I do?!

By NellieMary (Guest Post)05/16/2006
Hi, First, see that he has Frontline for fleas and ticks. My dog chewed herself and had like dandruff. We thought it could be an allergy to fleas etc. Anyway she had been taking predisone for a long time for her skin condition. We ran out of the prescription and I saw Emu Oil on SitStay.com and ordered it. I rubbed it all over the dog and left it on for a day or so. Then I gave her a bath and ran over her with a flea comb. Now her coat is healthy and she has not chewed for ages.It is worth a try.

By LorettaB (Guest Post)05/16/2006
Hi, It could be allergies, either contact allergies or food allergies. Loretta
Questions
Here are questions related to Why Does My Dog Chew Himself?.
My Poodle has started biting her feet. This licking and biting has caused sores to appear on each foot. Is there something I can do to help her stop?
By Lynda H.
Ad
---
---
Most Recent Answer

By NEWFIEGIRL [8]11/02/2012
The answer is called a veterinarian.
My poodle has started chewing on her feet. Sometimes she will chew so hard it will bleed. Please help me find information.
By Lynda H
Ad
---
---
Most Recent Answer

By Ce [4]04/30/2012
Your dog is chewing on her feet because she is having an allergy attack. She may be allergic to the food you are feeding her, to the grass, to pollen just like humans. Lamb, duck and sweet potato are better choices then chicken or beef. Make sure the meat is the first ingredient.

I give my girls Benadry when they start chewing on their paws. Buy the ultratabs NOT the liquid (has too much alcohol). The recommended dose is 1 mg per pound. Benadry tablets are 25 mg each. So if your dog weights 12 pounds give him/her 1/2 tablet. I have given them one in the
morning and one in the evening to help them sleep.

Hope this helps. Celia
My dog has allergies. What kind of off the shelf medicine can I get to keep a 17 lb. Rat terrier from chewing on her feet?
By Rod
Ad
---
---
Most Recent Answer

By Lizzyanny [9]06/15/2012
You don't mention what kind of allergies your dog has. It is common with food allergies for dogs to chew themselves. My dog was relentless until there was no hair whenever he could reach with his teeth. It it is a food allergy, keep trying new foods until you find one he doesn't become allergic to. He will begin to chew again if he is allergic to something in the new food.

I finally ended up with a home cooked mix of brown rice and canned salmon that my dog ate until he died at 17 years. He never chewed again. I must have gone through 5 or 6 different mixes until I hit the one that worked. Don't give up and good luck.
Post Feedback
Add your voice to the conversation. Click here to share feedback.