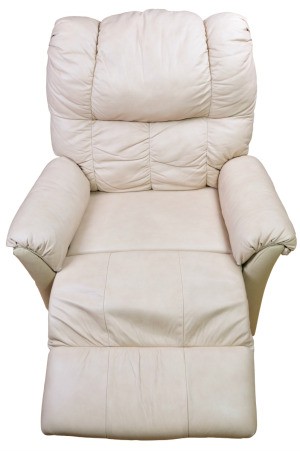 Sometimes it is less costly to reupholster a comfortable chair, rather than buy a new one. This is a guide about reupholstering a recliner.
Ad
---
Questions
Here are questions related to Reupholstering a Recliner.
I have 2 recliner chairs with high backs and a front kick-out leg-raise section. I'd like to revamp the color. Has anyone had experience with a quick and cheap dress-up? There are slip-covers available but it's like getting blood from a stone when I send emails requesting sizes of the covers.
Please don't suggest getting it done professionally. The call out fee would be worth more than the 2 chairs put together. Is there someone who has had experience with recovering? Please help.
By Rebecca
AnswerWas this interesting? Yes No
Ad
---
---
Most Recent Answer
By Kathy 64 334 06/30/20110 people found this helpful
Rebecca, I've been looking into the same thing for my recliner. If you go to Surefit.com, they are well-known for furniture covers and I'm pretty sure you will see the sizes. Or if they show a picture of a recliner that is similar to yours you'll be able to see whether it will fit or not. I also found their customer service to be fairly friendly and I believe they have an 800 number. Hope this helps. Kathy
I have a high-back recliner with the leg rest that extends outwards. It is a clean-side model (not Batwings). I'd love to update it with a cheap home-made covering. Has anyone used sheets to cover the arms, back, seat, and leg rest? I have a staple gun.
I just bought a used recliner. it looks like a mid century modern, it has a label that says it is "Design Environment" N.C. The chair is great except that the straps under the seat cushion have all just fallen apart.

I need to replace these straps which look like a thick ace bandage and have metal clips that simply slide into a groove on the frames bottom.

Any ideas where I can find these kind of straps or what I could substitute?

Thanks,
Rick
AnswerWas this interesting? Yes No
Ad
---
---
Most Recent Answer
By jill (Guest Post) 08/23/20050 people found this helpful
Have you searched the internet for the manufacturer? or online upholstery shops? or searched for Design Environment?

Have you gone to one who sells recliners and asked questions--- manufacturer, replacement parts, etc.?

Have you visited or called upholstery shops? You can take a scrap with you for matching fabrics or getting replacement ideas.

My local store phoned a manufacturer for me and got answers to my questions.
---
How do I reupholster a Lazy Boy recliner and how much fabric do I need?
By Daphne from Cleveland
AnswerWas this interesting? Yes No
---
Most Recent Answer
Solutions: Reupholstering a Recliner
Do you have knowledge about this guide topic? Feel free to share a solution!