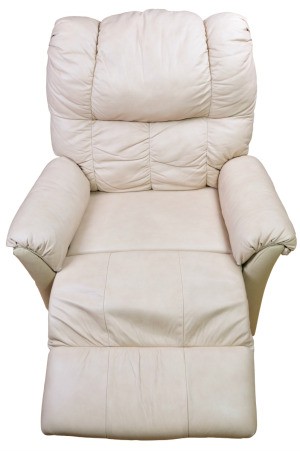 Sometimes it is less costly to reupholster a comfortable chair, rather than buy a new one. This is a guide about reupholstering a recliner.
Ad
---
Questions
Here are questions related to Reupholstering a Recliner.
I have 2 recliner chairs with high backs and a front kick-out leg-raise section. I'd like to revamp the color. Has anyone had experience with a quick and cheap dress-up? There are slip-covers available but it's like getting blood from a stone when I send emails requesting sizes of the covers.
Please don't suggest getting it done professionally. The call out fee would be worth more than the 2 chairs put together. Is there someone who has had experience with recovering? Please help.
By Rebecca
Ad
---
---
Most Recent Answer

By Kathy [64]06/30/2011
Rebecca, I've been looking into the same thing for my recliner. If you go to Surefit.com, they are well-known for furniture covers and I'm pretty sure you will see the sizes. Or if they show a picture of a recliner that is similar to yours you'll be able to see whether it will fit or not. I also found their customer service to be fairly friendly and I believe they have an 800 number. Hope this helps. Kathy
I have a high-back recliner with the leg rest that extends outwards. It is a clean-side model (not Batwings). I'd love to update it with a cheap home-made covering. Has anyone used sheets to cover the arms, back, seat, and leg rest? I have a staple gun. Any inspiration would be appreciated. Thank you.
By Good Neighbour
Ad
---
---
Most Recent Answer

By Elaine [129]08/08/2011
I think I would use something with more heft than a sheet. Why not try using a canvas drop cloth? You can buy them for 10 to 20 dollars. The main thing to watch for with them is that sometimes they have a seam running up the center of them. I found that out when I made drapes. You also have to buy enough at one time to do your project as dye lots may differ.
I just bought a used recliner. it looks like a mid century modern, it has a label that says it is "Design Environment" N.C. The chair is great except that the straps under the seat cushion have all just fallen apart.

I need to replace these straps which look like a thick ace bandage and have metal clips that simply slide into a groove on the frames bottom.

Any ideas where I can find these kind of straps or what I could substitute?

Thanks,
Rick
---
Most Recent Answer

By jill (Guest Post)08/23/2005
Have you searched the internet for the manufacturer? or online upholstery shops? or searched for Design Environment?

Have you gone to one who sells recliners and asked questions--- manufacturer, replacement parts, etc.?

Have you visited or called upholstery shops? You can take a scrap with you for matching fabrics or getting replacement ideas.

My local store phoned a manufacturer for me and got answers to my questions.


How do I reupholster a Lazy Boy recliner and how much fabric do I need?
By Daphne from Cleveland
---
Most Recent Answer

By Lilac [18]08/27/2010
The general rule of thumb used to be seven yards for a chair and fifteen for a couch. That was taking into consideration that upolstry fabric is wider than normal. That might give you an idea to go by.
Solutions: Reupholstering a Recliner
Do you have knowledge about this guide topic? Feel free to share a solution!