K Cup Holder Ideas
I put the Keurig K cups into a large bowl, but it looked messy. There are lovely holders for purchase in stores (and some custom made ones on eBay that are quite tempting), but I was wondering if anyone had an alternative idea.
Thanks.
By Holly from Dallas, TX
Answers: K Cup Holder Ideas
Read answers for this question below.
What about a wooden cigar box? if you search Google Images there are many beautiful designs.
I bought the Breville one that Mrs. Story did too, also at Bed Bath and Beyond with their coupons. By the time you find an alternative that works, you will probably spend the same amount of money that you would have for the item that was meant to be used. If you are trying not to spend money, then stick with the bowl!
Keurig just came out with a storage drawer that you put under your machine; it holds 36 k cups! It's great, takes up no room, and since we use the small machine, there is room on top of the drawer for a sugar bowl and a container for sweetener packets. I used my 5.00 off coupon from BB&B, so it ended up costing just under 20.00. Check it out at BB&B either online or your local store.
I don't know the dementions, but would they fit in the holes of one of those spice carosels?
Here is a metal one but you can find the wooden ones often at thrift shops.

Good Luck!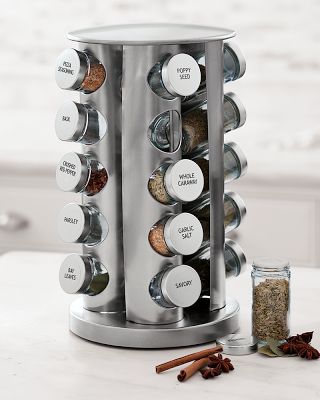 We bought ours from Bed Bath & Beyond with one of their coupons a couple years ago. I did a search, but don't see one exactly like it available. This is the closest, except it doesn't swivel:
http://www.bedbathandbeyond.com/product.asp?SKU=16026212

It's just one sided, and stands close to the wall (we don't have much space, and the carousel types take up too much room), and it holds 25 cups. If we didn't have this one, I'd consider the drawer kind. It wouldn't take up more space since the machine sits on it, and you just close the drawer and they disappear!
http://www.bedbathandbeyond.com/product.asp?SKU=17470116
Answer This Question
Add your voice to the conversation. Click here to answer this question.
Related Guides
Related Posts