I had a litter of puppies that got puppy mange. I tried everything to get rid of it and nothing worked. So I tried hibbi scrub which worked a treat. It cleared the mange up in 2 weeks. You just fill your bath up, pop a bit in, and bathe the puppies 2-3 times a week. It's very cheap too. I also have a Pointer that gets skin problems every so often, so I do the same with her. A quick bath and it's all cleared up again.
By Becky
Editor's Note: Chlorhexadine is the active ingredient in Hibbi Scrub and other skin cleaners.
Ad
---
Feedback Forum
Feedback about this article is posted here. Want to contribute? Click above to post feedback.

By Robyn [366]11/21/2012
http://www.amazon.com/s/?ie=UTF8&am ... 470730194&ref=pd_sl_3y7r84afcr_e

This above site is a place you could order it from amazon.com.

By Robyn [366]11/21/2012

It is called HebiClens and it is in a green bottle.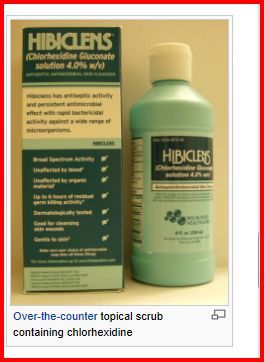 By Robyn [366]11/21/2012
Here is some info on the ingredient:

http://en.wikipedia.org/wiki/Chlorhexidine

By Robyn [366]11/21/2012
The ingredient mentioned is excellent for yeast issues also.

Blessings,
Robyn

By becky [1]02/24/2011
It's antimicrobial skin cleanser. Surgeons use it to clean themselves as it kills 99.9% bacteria. You can find it on the internet 500ml, no more than £5. When using, just be careful not to get in ears and eyes. It only has 4% chlorhexidine. This is the best stuff I've had for clearing up everything on my dogs. Please feel free to ask anymore questions. I have 10 dogs as my partner is a gamekeeper so we have had plenty of experience.

By vicki hood [4]02/13/2011
My dentist sent me home with chlorhexadine. It is 0.12%.

By Dink [3]02/13/2011
What is Hibbi and where would one find it?

By Jarron [7]02/10/2011
Hopefully it's easy to find! I've only heard it called here Chlorhexidine here in the US, though as a skin cleanser, usually in the UK, it is marketed under brand names such as Hibiclens, Savinox plus (Bioshields), Surgiprep-CHX (Bioshields), Hibiscrub, or Dexidin, mainly as a surgical scrub though, Hexigard 4 as surgical hand wash, Hexigard HR as hand rub and is also available as a wound wash.

It is also used in some acne skin washes. It is also used as part of a treatment for athlete's foot. In some countries, it is available by prescription only.

By Helen Reed [1]02/10/2011
What is Hibbi and where do I get it? Thanks.

By xintexas [28]02/10/2011
Yeah! Second that.

By Trish [2]02/10/2011
What is Hibbi Scrub and where do you purchase it. Thanks.
Post Feedback
Add your voice to the conversation. Click here to share feedback.