Having a great display and unique items can make your craft fair experience a success. This guide is about selling crafts at craft shows.
I have been creating original jewelry designs for many many years and selling at local farmer's and craft markets. A great tip for all you crafters out there that sell at local small markets. Display your creations with originality! They will attract attention and draw the customers. Use inexpensive props like pictured here. I display jewelry over large shells. And I display earrings inside local mussel shells, a visitor to your area will have a nice local keepsake to take home with them. Put your thinking caps on and come up with your own creative solutions to displaying your crafts.
By Linn from Dartmouth, Nova Scotia
In my community, craft fair season is fast approaching and I would like to try selling my own handmade items. Since I have never done this before, any suggestions would be helpful. What sells well? How do I determine how much to charge for each item? (For example, I like to rag quilt, so do baby quilts sell better than twin or full size? I'd rather make 3 baby quilts that sell than 2 twin size that don't.)
Do I need to claim my earnings on my taxes and do I obtain a tax-exempt number to buy my materials? If so, how? I have been told that I can't sell fabric items with licensed characters on the fabric, why? Thanks for the help?
By Marie from Idaho Falls, ID
Most Recent Answer
May 11, 2013
Here in Lawton, Oklahoma our craft club has one large craft show a year. We mark off 211 10X10 ft booths. We rent these booth to mostly crafters. If we do not fill all booth we will allow select comercial booths. Items have to be sold not party set up. We have great sucess each year. We are always looking for new crafters.
Many of our crafters have campers and stay on the grounds where the show is happening. There are hook ups for campers. We provide security inside the building each day and over night to protect our booths. We have some members who live out of state. Many of our crafters who are not members come back year after year. Contact ivazimmerman AT aol.com for more information.
By jean smith 4 1
What crafts are selling best at craft shows?

Jean from Columbus, Ohio
Best Answer
By Cyinda 214 1,287 Flag
March 6, 2008Best Answer
I do craft show for a living (I sell hand painted pottery) and the one thing that always sells and makes money is garden crafts. It may be actual plants, or seeds or live floral wreaths or flowers planted in unusual things like in boots or old chairs or tires. Wooden window boxes always sell too, or even garden art or yard furniture or bird baths and stepping stones, but let me tell you, anything for the yard or garden sells like crazy!
You gotta have 2 price scales; the pricey stuff and also something to sell that's under 20 or 30 dollars. The lower priced stuff is what people will buy without thinking to hard about it.
Craft fairs aren't bringing in the money they used to (Believe me!), with the economy these days being so bad you have to have something either people need and is useful or is super cheap that they can buy for a gift. I'm making less than half what I made before 2000. Really! Even though I have a great reputation and people know me better and better each year). When the economy sucks, so do sales at craft fairs (unless you're selling food items). I sometimes drive 180 miles (round trip) to sell my stuff "where the money is". Try to sell your stuff at a fair where the people with money live. Get my drift!?
This project is used for vendors and crafters who want to display their earrings for sale at craft shows, festivals, and fairs.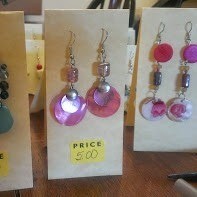 Approximate Time: 20 - 30 minute, depending on how many you make
Yield: sheet of cardstock yields 4 strips and I use 10 sheets of paper
Supplies:
40 strips of cut card stock ($1.00)
1 flower paper punch ($3.50)
1 ink pad (color your choice) ($1.00)
1 alphabet stamp (letter of your choice) ($.50)
1 large safety pin ($.10)
1 pair of scissors or paper cutter ($1.00)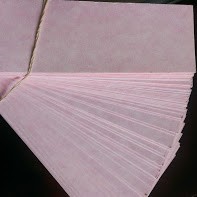 Steps:
Start with 1 sheet of card-stock and cut length wise into 4 strips (or use pre-cut strips).
Fold each strip length wise, like a small book.
Use the flower paper punch to punch the shape on one side of the fold. Save the punched flowers for another project.
In the vacant space, you can stamp your letter or other graphic of your choice.
Use the safety pin to poke holes for the earrings hooks to go through.
Attach your earrings to the card. Stand up the card using the fold to display your earrings. You can attach price tags, and business information to the cards as well.
I'm looking for craft fairs that will give you a booth for low cost or free. I'm a first timer and don't want to spend a bunch of money for a booth right now. Are there any craft fairs in Minnesota that have really cheap or free available booths for selling?
By Danica
Most Recent Answer
By Marla Ball 56 Flag
January 16, 2013
You're so right in thinking of doing the lower dollar craft shows. These shows are so. Participating in such shows can be so iffy. You just never know how well things will go. Keeping the expense of participating down betters your opportunities of doing well. Googling "Craft Shows" is a great way to get links to various sights that list shows around the country. I know there is a Church there in MN that does a Summer event each yr. I've donated a gift basket to them for their event before. Best of luck!
Marla
Does anyone know of a website or place that lists all upcoming craft shows, fairs, and markets for a certain area? I am in Chicago and I'm interested in selling handmade purses and pillowcases. I am having trouble finding places other than online. I have never sold anything, but now I'm ready with enough product. Do I really have to wait until summer? Don't these things happen indoors throughout the winter?
By down n dirty from Chicago, IL
Most Recent Answer
January 1, 2011
Here is a link that I have used in the past.
http://www.eventlister.com/. You can also check with local churches, schools andevent planners. Where at in Chicago are you located. I use to live there and I did a number shows in the area.
By Mandie 4
Need ideas on displaying your items at craft shows or in your booth?
The number one thing in displaying your crafts is make sure all of your items are priced and the tag can be easily seen. 9 times out of 10 those few items that are not priced will be walked away from because most shoppers are just simply too "shy" to ask.
Even if your not pricing your items but are using the "Here's your Sign" tactic by displaying a large sign stating something like 1 for 2.99 buy 2 for $5.00, I suggest to still price everything! Shoppers are so excited and distracted from looking through all the products and discussing the oohh's and aahh's with their shopping friends that the signs are sometimes missed especially in large craft shows where they get crowded.
Make your display booths unique and interesting to draw in attention. Using a folding table with a country plaid tablecloth are great, but why not really spice it up and use something out of the ordinary to grab the shopper's eye from across the room. These are depending on your space size of course, or could be scaled to fit.
a hay wagon and barrels
construct a mock country porch with swing
some heavy posts with a red tin roof to create an open barn feel with weather vane on top
Use real trees to create a canopy fairy land, with vines hanging from the branches and lights and fun items hanging around to walk through.
Create an antique gas station store front with slat boards, gas pump, license plates, etc.
Create a kitchen with an old dry sink, table, hutch, antique stove, fireplace and rocker.
Some other ways to display items are using baskets, ladders, stacking suitcases, crates, crocks, coat racks, stacking various sized tables, cutting barrels in half and adding shelving inside, Christmas trees, old galvanized wash tubs, dress mannequins, wood ironing boards, quilt racks, shutters, or fencing.
And one last craft display tip. Don't forget the kids! Most shoppers will be bringing along young children. Have items to catch a child's eye down low or invest in a bubble gum machine and fill it with sweets. A few turns on the irresistible machine will make you some profits as well.
Please help. I would like to sell my handmade patchwork tote bags (made out of old jeans and new fabric) at a local farmer's market this summer, but I don't know how much to charge. I know how much the jeans and fabric cost, but I don't know how much to charge for labor, thread, use of my machine, etc. I would also need to invest in a canopy and tables for my booth. The bags are an easy technique, but it takes 2-3 days to make a bag, if I don't have any other wife/mom things to do. Plus, I live in a community with a lot of crafters who could make the items they see at a craft fair and people who like to negotiate for a good price. Thus, I need to find a fair price that will not scare away potential buyers, but will give me room to negotiate and still make a decent profit. How do I make my craft fair dreams happen?
By Marie V.O. from Idaho Falls, ID