What are the new selling craft items for this summer? Anyone know? What is selling best right now? Thanks for any input you may have.

Karen from Clemmons, NC
Answers:
What Are The Best Selling Crafts This Year?
Handmade greeting cards and albums are hot right now, do a search on eBay, you will be amazed! (05/21/2008)

What Are The Best Selling Crafts This Year?
Vintage aprons and vintage-looking aprons! (05/21/2008)

By Susan
What Are The Best Selling Crafts This Year?
I sell at an outdoor fair each Saturday in an upper-class and wealthy town just east of Seattle. What always sells are things for the yard and garden. Things like planters, window boxes, plants, hanging baskets, planters made of stone, wood or copper, birdbaths, garden furniture, copper and glass yard ornaments or anything for the yard or garden.

I once knew a gal who made lovely "living wreaths" these were wreaths that you hang on your door that had live ivy and real flowers growing from dirt that was under a layer of moss. These sold like crazy and she really did well, but she had to sell out each week or she'd have to make sure to water them and keep them alive for the next fair. Another gal sold old beat-up chairs, boots, hats, etc. that had plants and flowers planted in them. These also sold well, but she had to have a huge truck to move everything in. Each type of item has its pros and cons.
I sell pottery, so I never have to worry about it getting destroyed when it rains, but it sure does break easily, so it takes me 3 hours plus to pack up after each fair! You'll have to consider the pros and the cons of each tiny detail before you tackle selling at a fair. The best advice I can give you is to make several prototypes and do the math.

What stuff does "not" sell well: Pottery, framed or unframed photography and anything over $25 right now! But if it's under $20 and it's made for the garden, it sells like hotcakes, consistently, month after month, year after year!

Another thing you don't want to sell is silver jewelry (or anything made from silver or gold) because the cost of the silver is going up every day, (in fact the cost of making sterling jewelry has doubled in the past 2 years!) and you can't charge more for your jewelry because the economy sucks so badly. People are just not buying unless it cost under $20. But if it's for the garden, they will spend more.
Also, one of the biggest sellers at our market is home baked bread. (Everybody loves it, especially when you give out samples!) How can you resist? Especially if you build an outdoor oven on your property to bake it in. We had some new vendors last week that brought in 60 loaves to sell and they sold out everything in less than 3 hours! They were sourdough type loaves and each ingredient was organic and hand milled. They had baked each round loaf in a big brick oven they had built in their back yard. The smartest thing they did was call the local small newspaper and had a reporter come out to their home and take a picture of their brick oven. The paper ran a story about them selling at the market and I'm sure they will sell each and every loaf they bake all summer long!

People also love to buy baked goods like cookies, tarts, brownies, and treats. They also like snow cones on a hot day and want to feed themselves and their kids inexpensively, this is why things like hot-dogs do so well, because they can be sold for under $2. Another thing that sells wells is kettle corn. (It's like hot caramel corn.) But beware, there are all kinds of rules and regulations (both state and local) when it comes to baking and selling food. In fact, The gal who sells the cookies and baked goods has to rent an industrial kitchen to make her stuff in so the kitchen meets state and local requirements. (It has to be inspected quite often.) So, at most fairs you can't legally sell baked goods you bake at home, you'd have to rent a kitchen that is legal.

I hope this info helps you! But sadly, right now the economy is not at all good and people are not buying much, especially if it cost over $20! One more thing, if you can drive to a part of your city where there's "money" and people have good jobs then you'll probably make twice as much. The town I sell in has no Dollar Stores and people are use to paying top-dollar at the local mall for quality workmanship. When I sold in the part of the county where people were average (middle class and lower) on the economic scale, I made less than half of what I make selling "where the money is". Also, if your stuff is high quality, charge what it's "worth", don't lower your cost, because if you don't charge what it's worth, then people will think it's junk. If you work hard and your quality is top notch, you have to charge higher prices, otherwise, you might as well work at a minimum wage job. Really! (05/21/2008)

By Cyinda
What Are The Best Selling Crafts This Year?
I disagree with selling handmade greeting cards. They are so hot, that everybody makes their own. Everybody and their brother is making them, so they aren't really special. Plus the sun destroys the color of the paper and the ink and if it rains and they aren't in bags you are in big trouble! No one wants to buy other people cards, they would usually rather make them themselves. That is, unless they have cats or dogs on them.

I forgot to mention in my first post that anything for pets sells extremely well. We had a gal at our market who made home-baked dog treats and she couldn't make enough! ( I don't think you need a "legal and licensed" kitchen to make dog treats) They sold like crazy. Also, if you sew, dog clothes are super-hot right now, as are little catnip filled pillows. Do a special favor for our furry friends: Place a large bowl of water on the ground by your booth for those who bring their dogs to the fair on a hot day. These dogs are so thirsty! (05/21/2008)

By Cyinda
What Are The Best Selling Crafts This Year?
I have a friend who does dog tack and its taken her 15 years to build a following at fairs. I own a store and chose to move it now because it's so slow. I make crafts regularly and as long as you love what you do it will sell. As with all retail and service businesses, you can either stick to what you know or change with the tides.

If you're going to do this for the long hall I'd suggest you stick with what you know and add inexpensive things until you find something that you like. Your customers like each area, are different. I use to live in Florida and what sells there for big money, people in Georgia don't even give a second glance to. Here it's all country and darker fabrics and in FL, it's light and airy and tropical. I really hope this helps you. (05/26/2008)

By Denise w
What Are The Best Selling Crafts This Year?
I always try and sell things that lay flat. If you have a Dollar Tree close by, you can get white doilies and brass rings and make sun catchers. You can dye them with RIT dye to any color you want. Add some buttons for a country look and a ripped strip of fabric for the bow tie and hanger. You can hot glue ruffled lace to the back of the hanger and glue or sew on antique like embellishments. Add some beads to the spaces between the edges of the doilies and the ring, to catch the sun. Here's a great example. (06/18/2008)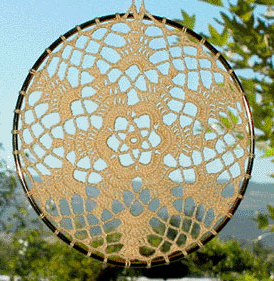 What Are The Best Selling Crafts This Year?
I have been making tote bags and can't seem to make enough. I have recently started making eco-friendly totes to replace those nasty plastic bags. There are selling like hot cakes.
I use 90% reclaimed fabrics and keep these totes as "green"; as possible. (07/12/2008)

By Rhonda
What Are The Best Selling Crafts This Year?
No matter what the economy, people will always buy well-made, unique jewelry! It amazes me that these folks must have a line item for "jewelry" in their household budgets. Make it well, price it fairly, never make more than 1 of a kind, focus on 2009 hot colors, terra cotta, reds, aquas, etc, and you simply can't lose. A professional presentation and proper materials for the items to be packed in after they've been bought is a must. Always provide a 1 year guarantee for repairs due to workmanship. (02/22/2009)