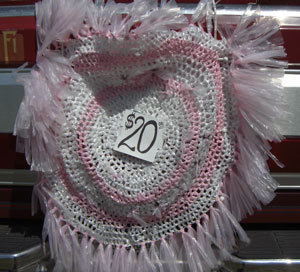 There were plenty of reusable shirt bags behind a clothier here and a handy video to make short work of making the plarn necessary to create handmade items.
The pink areas are made from 30 bags for a dollar plastic kitchen bags providing much needed color for interest! The fringe took nearly all of 3 whole pink bags.
My problem is that I am not in a zone that I can sell retail from which I had hoped. So, on Sundays across from me at a park, it is busier than any other day. Taking advantage of that, I backed my truck up to near the end of my driveway, leaving enough room for 1 other vehicle to get off the street.
I have an over-the-door towel rack that I don't use for towels that fit nicely over the top of my tailgate and I fastened my crocheted rug to it with with my price tag clearly visible! No one bought my rug, but I know I can at least TRY, which is 1/2 the success!
Comments
Read More Comments