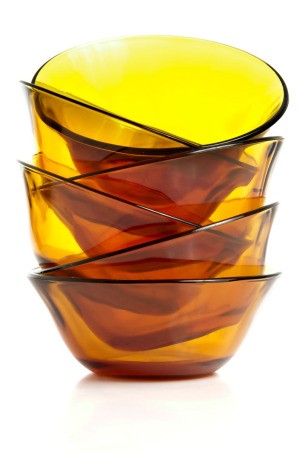 It can be frustrating trying to get glass dishes apart without breaking them. This is a guide about unsticking glass dishes.
Ad
---
Solutions: Unsticking Glass Dishes
Read and rate the best solutions below by giving them a "thumbs up".
Stuck bowls or glasses? No Problem! Forget WD 40, and ice and hot water. Try this: non-stick cooking spray around the stuck rim, wait 10 seconds, tap lightly with a wooden spoon upside down. And, Voila! Unstuck with non-stick.
By manofewords from San Francisco, CA
Give a "thumbs up" to the solution that worked the best! Do you have a better solution? Click here to share it!
Questions
Here are questions related to Unsticking Glass Dishes.
I hope you can help me with this. I have two small cut crystal bowls. One is nested inside the other and I can't get it out. Any ideas?

Thanks,
Sue
AnswerWas this interesting? Yes No
Ad
---
---
Best Answers
By Betty S. Davison 1 04/14/2007 Flag
The bowls have been stuck together for at least a year. I tried the WD 40. No luck I let it set in hot water with ice cubes in side the upper bowl. No luck I'll try leaving it sit in more & Hotter water for a while. Ant recommendations on what is best to tap the glass with? And where to tap the glass? I'm glad it has worked before, there is hope it will eventually work in this instance also. Thank you. Betty
P.S. IT WORKED after I put the bowls in a kettle with cool water and heated it on low + and put ice cubes in the upper bowl AND had put WD 40 between the two bowls and had tapped on them about four times with a wooden handled utensil. AND ALL THIS TOOK only 3 hours. Thank you!!!!! Betty in ORegon
---
By Denise (Guest Post) 08/05/2008 Flag
Yup, WD-40 is the key! One squirt on my stock ramekins and they practically fell apart. Of course, I tried ice and cooking oil, to no avail, before I found this post.
---
By Helen (Guest Post) 12/26/2008 Flag
I LOVE the internet! I had 2 bowls nested and stuck this morning...tried hot water, microwaving them, freezing them and pouring safflower oil between them Then I checked the net, found this site, got the WD40, tapped with a spoon and BINGO! Thank you!
---
I have two glass casserole dish lids that are stuck together like glue on paper. I have tried soaking them in hot and cold water, banging them apart, dish soap, oil, and a knife to try and separate the two. I have been unsuccessful so far. Does anyone have the magic solution to this odd and inconvenient problem?

Nita from Michigan
AnswerWas this interesting? Yes No
Ad
---
---
Best Answers
By rosa (Guest Post) 09/22/2005 Flag
Have you tried cooking oil to try to get them apart ? or the bakeing spray , like pam ,ect . maybe if you spray the lids with that in the area where they are stuck together you can work the apart .
---
By Holly 367 1,264 09/23/2005 Flag
Put ice in the top one, that will make it contract. When it gets good and cold, try separating them.
---
By Denise Roche 12 09/24/2005 Flag
Cold will contract (shrink) glass and heat will cause it to expand. It isn't visible, but it is enough to help get stuck glass items apart.

Cool the inner lid (ice sound like a great idea) and warm the outer one at the same time. This should help. It is the preferred method for separating 2 glasses stuck together, there's no reason it can't work for lids.

Denise
---
I was warming up some food in a large bowl by putting water in a glass pot and putting the plastic bow on top. Now the bowl is stuck inside my glass pot and I can't remove it. There is still a small amount of water in the pot but the bowl is embedded.

Staffney from Baltimore, MD
AnswerWas this interesting? Yes No
---
Best Answers
By Sharon (Guest Post) 12/02/2008 Flag
I had something similar happen with 2 pyrex baking dishes. I tried the hot/cold water method to no avail. Finally, on a whim, I sprayed both dishes with WD-40 and they slid apart like a charm.
---
By Cathy from Townsville, QLD (Guest Post) 01/14/2009 Flag
Hot water expands fibres in certain materials. You need to shrink them instead. Try popping it in the fridge for a while or fill with icy cold water, and try separating them again.
---
I have two 4 oz Pyrex measuring cups stuck together. Does anyone have any advice to "unstick" them?
By Yggep from Lewes, DE
AnswerWas this interesting? Yes No
---
Most Recent Answer
By Mary Koehler 8 269 02/14/2010 Flag
After you get them apart, keep a napkin between them when stored in the cupboard.
---