Karma and Numi (Cats)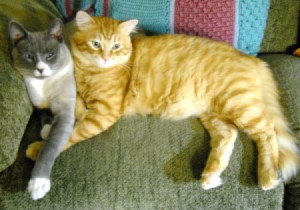 These young kitties are the newest addition to our family. They were both adopted this spring from different shelters.
The tubby tabby in front is Karma Kitty. We found him at the Humane Society after he was rescued from underneath a car following a fight either with another cat or a dog. The poor guy still bears the scars of that experience. He is a loving cat and quite the talker.
Numi Cat is the lilac point mix tucked in the corner of the couch. He is the brat cat of the pair. At this moment (as I write), he is exploring the mantle as evidenced by the rattle of the bric a brac in peril. He serves as my alarm clock. If I don't get up early enough to serve breakfast on his schedule, the knocking of things off of the chest of drawers begins.
The kitties join our dog Belle as the ruling triumvirate of the house.
By Barbara from Port Orchard, WA
Feedback
Read feedback for this post below. Click here to post feedback.

By
06/10/2011
We love Golden Tabbies and we call kitties with Numi's coloring, "Smoky Tuxedos", and love them too. They are just names that we chose to describe the coloring/markings amongst ourselves. Both your Karma and Numi are very pretty cats, and look like they are as much at home as any two I've ever seen.

It's wonderful to see animals who love one another and we've been owned by a few different species who delighted us with the way they were "brothers and sisters".

Thank you for sharing their photos and stories with us.

Pookarina


By
06/07/2011
Numi sounds like my kittens. Mario likes to wake us up by attacking the mini-blinds, and they both practice their collectible weaving like they're hoping to go pro. :)

By
06/07/2011
Looks like a mutant two headed cat! What cuties they are and they look so comfy. Thanks for sharing. :)
Photos
Here are photos related to this page. Rate the photos that you like the best.
Click here
share a photo.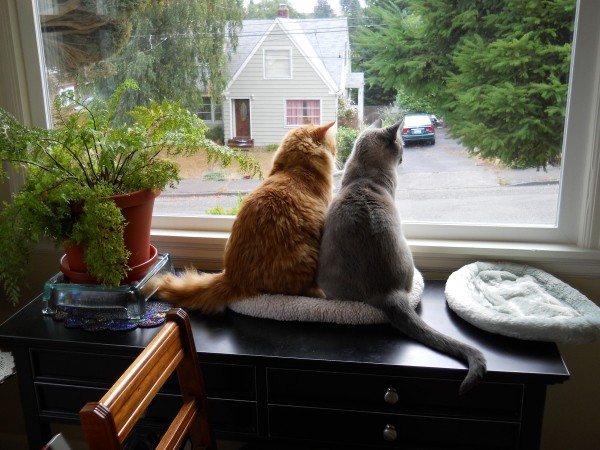 This table used to be nicely decorated with several house plants, grandkids' artwork, and such. Now it is the private domain of the cats. This photo was taken shortly after I installed a couple of bird feeders in the front yard.
READ MORE
Questions
Do you have a question related to this page?
Post Feedback
Add your voice to the conversation.
Related Guides
Related Posts