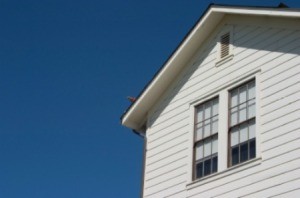 Please how can I get rid of stray cats living in my ceiling? They get access thru a neighbour's roof and always urinate into the ceiling boards.
By Samuel. A from Seattle, WA
Answers

November 30, 2012
0

found this helpful
I had one, slightly crazy, cat get in the attic once. I was not going to stick my head into an attic where there was a slightly crazy cat, talking to himself in his outside voice! Animal control would not come unless we caught the cat for them.
So, we found a humane trapping service and had them trap the offender, and they took it to a shelter because it was feral. It had been getting in through a small space at the apex of the two roofs; we asked the trapper for a recommendation for someone who could fix it.
As it turns out they also fixed animal entry points. They put something there that could not be accessed, and no more problem. Perhaps someone can come asses your situation and fix your portion so they cannot get in. That might prompt your neighbor to fix theirs since they will be doing to the neighbor, what they did to you. Good luck!

November 30, 2012
0

found this helpful
Find a way to put dried lemon peel and pulp up there. Cat's hate lemons. Also, seal off where they are getting in. Is it just the roof because that might be harder. But you said they were peeing on the ceiling, so I can assume you can find someone to help you seal it off?
Good luck, hope this helps. PBP

November 30, 2012
0

found this helpful
Sure it's not raccoons? I hope it's only cats and not raccoons. To keep the kitties out, you need to staple some hardware cloth or chicken wire over your openings. To get the urine odor, you can purchase spray enzyme products. Cats like to hide under decks..not in attics. If you noisily feed canned or bagged food at a certain time daily, the kitties will learn to come to feeding time. They can be trained.
Now, there is a nationwide network of cat rescue people. We help in situations such as yours, trapping, neutering, returning, if that is called for, and generally looking after the welfare of feral kitties. Call your local shelter to get the names of these rescue organizations, contact the organization, and they will be glad to help you! If you call animal control, they will trap and kill the kitties. So get in touch with the rescues. You'll meet some good people.

December 1, 2012
0

found this helpful
Try using Moth Balls. My cousin had a squirrel get inside her car and nibble on some of the wires. When she had it repaired, she mechanic advised she put some moth balls under the hood.
He said if she didn't use, the same squirrel would come back and munch again. She did, and yes her car smell strong for awhile, but the squirrel never did come back.

December 1, 2012
0

found this helpful
Oh, you poor thing! What about someone to check their access and close, screen it off? Would deer repellent work on cats? Worth asking!

Louise B.
Silver Feedback Medal for All Time! 337 Feedbacks
December 2, 2012
0

found this helpful
I agree with the previous posters that suggest getting someone to rescue those stray cats. And I also wonder if it is not raccoons; I have never known cats to want to hang out on the rooftops. However, as a first line of defense you can buy a cat repellant at the hardware store. It does have an odd smell, and you might want to try the orange/lemon peel thing first.
I had a stray cat spraying his scent on the front of my house in the winter, so I splashed the place generously with hot water and generous amounts of lemon scented Mr. Clean. That dealt with the smell and seemed to discourage the cat from returning. DO NOT use mothballs. They are poisonous to all living things -- you as well, and their stench will permeate the attic. It is just as bad as cat urine, and more poisonous.
And seal off the attic. If you have openings big enough for cats, you must also have room for squirrels, mice, rats, raccoons, and all sorts of other critters.
Answer

this Question

I am building a new house in the country with several stray cats on the premises. There is one particular tom cat that is DETERMINED to live in my house!
He has snuck in on 3 or 4 occasions and 'hid' out in the AC ducts, attic etc. Once for almost a week before he was found. Now I am told my new house reeks of cat. ~sigh~
The reason I have to be told this is that I have genetic anosmia (no sense of smell) which is OK for me, but I want to have company visit and even stay! And I don't want to be known as the crazy relative with the stinky house! I am already catching heck from a relative for my stinky house.
I am in near tears about this. I do know where a few 'spray' marks are, but my biggest concern is about areas like the insulation etc that may be marked. Any ideas or advice?
Or do I just burn my house down and start over?
Thanks
Esther
Answers

February 7, 2005
0

found this helpful
Try using a rag soaked in ammonia and water, cats hate it AND it will remove any pet oders too. Two parts water to one part ammonia. Good luck!!

February 8, 2005
0

found this helpful
Esther,
That's terrible about your new house. I have a couple of things to recommend. I am an Independent Watkins Associate, and we carry a product called Permanent Odor Eliminator for Pet Problems. This is a product which has a bacterial digestant to naturally and permanently eliminate odors caused by organic waste. This is a non-acidic, non-caustic, non-toxic product which will not stain carpets, fabrics, or furniture. It can be applied with a cloth or by use of a trigger sprayer. The other product is called Odor Zap.
This item does not mask odors but destroys the source of the odor through oxidation. It is safe and powerful, biodegradable, non-toxic, non-allergenic, and safe for septic tanks. It can be used in any area where odors occur (i.e. carpets, upholstery, mopping and wiping solutions, humidifiers and vaporizers, even in laundry. If you would like me to send you a catalog so you could check out these products to see if you think they might work for you, just e-mail me and I'll get one sent to you.
By CHML (Guest Post)
February 8, 2005
0

found this helpful
Hi,
Check about getting a black light. I don't know much about them but when used it shows blood spots and cat pee. I have no idea of the price and never used one, but you can research about it at a search engine.
Good Luck,
CHML

February 9, 2005
0

found this helpful
Thank you guys SO much for the feedback. I just looked at black lights and they are only 14 bucks, so I am going to order one now. And I am emailing you for the catalogue Trudy.
I have ammonia, so I am going to use it this weekend on the porch and areas where I can see they sprayed.
This has been a BIG help!
Thanks again,
Esther
By Cathleen (Guest Post)
February 9, 2005
0

found this helpful
try No More Stinky Feet Shoe spray to treat the urine soaked area. It's not just for shoes. Available on line http://www.NoMoreStinkyFeet.com
There is also a product called Nature's Miracle that may help.
By Bernie (Guest Post)
June 22, 2005
0

found this helpful
I have a similar problem....our cat isn't wild, but invited to stay in our garage to keep the mice out and to stay warm in our North Dakota Winters. Unfortunately, she had access to a portion of our attic above the kitchen and used the loose insulation as a giant litter box. We didn't realize this until the first warm day this spring. I have removed all insulation and vacumed up as much "stuff" as I can. I also found many years of mouse poop in the insulation. I have sprayed the entire area with a product called Natures Miracle which is mentioned in a prior post. This works well for a while, but when our weathter is hot (in the 90's today) the odor comes back. I have not re-insulated yet, so maybe the heat is forcing the smell into the house. If you find anything that you know works, please let me know too. Thanks and good luck with your problem.
Answer

this Question

A stray cat has come into our house through an open window and has hidden somewhere. He only comes out at night and eats my other cat's food. I cannot find where he's hiding. We have a large house with many hiding places. What can I do?
By Tia
Answers

May 27, 2014
0

found this helpful
I had the same situation with a stray cat in my basement. She was there for about 2 weeks. I borrowed a humane trap from a cat rescue group, baited it with tuna, and the third night, success. I had taken up my cat's food so she had no other food source. I took her to The SPCA, and they found her owners. Hope this helps.
Answer

this Question