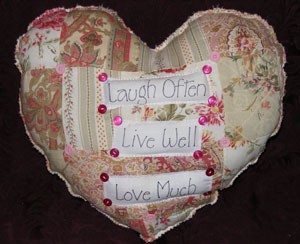 I made this heart shaped pillow out of old pillow shams. They were already in the quilted pattern, so I just cut 2 hearts from a pattern and sewed matching buttons on the back. The words were iron on stencils that I used a pen to make permanent. I hand sewed the strips of fabric using big stitches and finished it by stuffing slightly and buttons on the corners. After the embellishments were done, I machine straight stitched around the outside (I did not want the seam on the inside, I wanted it to show), leaving approx. 1/4 inch seam allowance. And I then hand stitched the seam allowance closed with the same big stitches.

By Jenn T from Lenox, MA
By jenn
Ad
---
Feedback Forum
Feedback about this article is posted here. Want to contribute? Click above to post feedback.

By Carol Young [79]09/24/2008
Really pretty! Good for you:)

Carol

By ruth langdon [8]09/24/2008
well done thats lovely, i really like to sew and make lots of clothes for my 2 daughters from old recycled fabrics.
Post Feedback
Add your voice to the conversation. Click here to share feedback.