Besides remodeling walls, this sturdy paper can be used for a variety of decoupage and other paper craft projects. This is a guide about craft uses for wallpaper and wallpaper borders.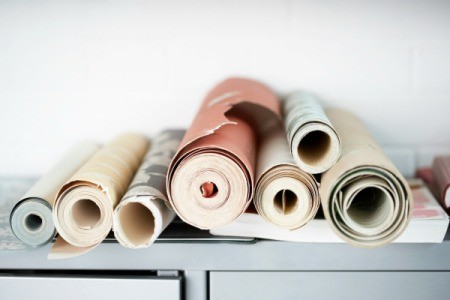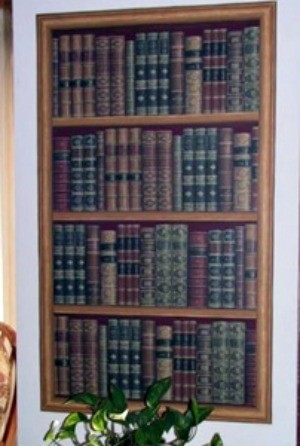 A "fool the eye" bookcase made from wallpaper borders.
Approximate Time: Two hours or less
Supplies:
leftover wallpaper borders featuring book design
leftover wallpaper borders featuring wood grain design
scissors
measuring tape
bowl in which to wet the wallpaper borders
Instructions:
Depending on the size you want your bookcase, cut the border featuring books into pieces of equal length.

For the "shelves", cut the wood grain border into narrow strips.

Glue the book strips to the wall with the shelving strips in between.

For the casing, measure wider pieces of wood grain border and cut to fit, mitering the corners so as to look like woodwork.
By Preserver from Manitoba
At most dollar stores, I can buy wallpaper borders. I apply it to a tin can to match the decor. I have one on my end-table with pencils, pens, scissors, and whatnots. In the bathroom, it holds razors, toothbrush, comb, and tweezers.
I am looking for ideas for making easy crafts using wall paper leftovers.
By Sandi from Brookville, IN
---
Most Recent Answer
February 22, 2010
Here is my link to a bookmark I submitted made from wall paper. http://www.thriftyfun.com/account.l ... =ascending&account_nav=bookmarks
Also, line shelves with it, make envelopes by using a premade one for a pattern, always keep some for repairing, party invitations, scrapbooking, depending on what the pattern is you can make border from a roll by cutting it with a power saw into the width of border you want. I have done this many times by buying a discounted roll, using my electric miter saw I hold it against the brace and cut the length of the needed border. You can get several lengths of border from one roll. Fancy cut one edge with scissors if you like.
---
Cut pictures out of wallpaper borders and apply to walls or garbage cans (wherever you want) to spice up your rooms. I sponged blue over white walls in my bathroom and cut fish out of a wallpaper border to create an underwater scene. Very cute and easy as the border is already pre-pasted.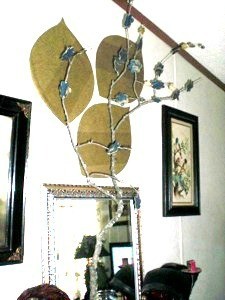 Deco hole punches are especially nice to have a whole set of in varying sizes. Here, I punched out flowers from both scrap wallpaper and from another roll I picked up at either a thrift shop or rummage sale for $1 each.
Squeeze glue onto the back of one flower and with one the same size spread the glue around so both backs are gluey. Place first a glued side onto a twig of a branch brought indoors from the yard and then the other flower, gluey sides touching. You might have to work them a little between your fingers and thumb to get them to align one covering the other. Work rather quickly or the glue will dry out before you're done!
This whole piece is propped up in a clear glass jar of metal buttons, but you could prop yours in stones or glass pebbles or dried beans or rice or even scented balls to make it work out for your decor!
Source: This idea was probably first seen in MAKE magazine. The idea was first presented to me using circles also cut with punches and glued likewise.
By Melody_yesterday from Otterville, MO