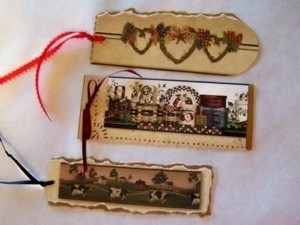 Wanting to have a small thank you gift lead me to make these free bookmarks from wallpaper.
Approximate Time: 30 minutes
Supplies:
wallpaper book
Contact paper
iron
scissors
ribbon
paper punch
tea towel
Instructions:
Wanting to have a small thank you gift lead me to make these free bookmarks. I have been collecting discontinued wallpaper books for years and using the paper for many paper projects. On one page in the books is a sample of the borders in that book. They are just the right size for a bookmark.
Cut them out with fancy edged scissors or tear them for a ragged look.
Then glue them to co-coordinating construction paper.
I make quite a few at a time, say 10 or so to save time. Lay them about 1/2 inch apart on a sheet of contact paper. Then carefully unroll another sheet of contact paper over the top of them. Make sure you don't have any wrinkles as you go. There is no lifting and redoing so go slowly and slide your hand back and forth across the contact paper as it unrolls to secure it to the bookmarks.
Now that you have both layers of contact paper on your bookmarks cut out around the group leaving a good 1/2 inch border.
Layer your group of bookmarks between two layers of a pressing cloth, such as a tea towel that is smooth on a hard surface.
With a hot iron, press the cloth firmly laminating the bookmarks on both sides. I have never melted one; they can take a lot of heat, you will have to watch your iron; it may take 15 to 30 seconds. Check once in a while and see if they look like they are smooth and look like they have been laminated. You can't tell the difference when you get done.
After they have cooled, cut out as you wish leaving 1/4 inch on all 4 edges and punch a hole to run a ribbon through.
I like to leave a small token of my thanks on the nightstand when I stay with people overnight, these work great.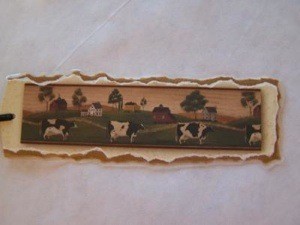 By Ann Winberg from Loup City, NE
Comments
December 1, 2009
0

found this helpful
Yes, these are really a nice gift. I have made them and also put their name of them.
I have a laminator, so I use that instead of the contact paper, but the contact paper does work nicely. Thanks for sharing your talent. Barb
December 1, 2009
0

found this helpful
Those are so pretty and look old world, too. Almost Victorian! Very nice job and a perfect stocking stuffer for those who love books!