A friend gave me a couple of wallpaper sample books. I'm trying to get some crafting ideas for using them. Thank you.

By karen from Charleston, SC

Answers:
Uses For Wallpaper
I used some wallpaper border samples to make this picture. My living room is the Lodge theme and so I have lots of bears throughout it. The border ran horizontally so I put it in a frame and it was not wide enough nor did I have a mat to go behind it so I painted a hunter green stripe horizontally both above and below the border just about 1 inch so it would look good.
I have also used wallpaper samples and cut out the pictures and used them as decoupage on many things. They also make very pretty folding fans. Or to cover smaller boxes to stack. Not to mention the beautiful greeting cards or envelopes that they can be used to make. And my favorite would be to cover lamp shades because you can cut out just sections of the picture so the light shines through and it appears 3D on the outside like the dragon flies on the design, etc. (05/13/2009)

By Julie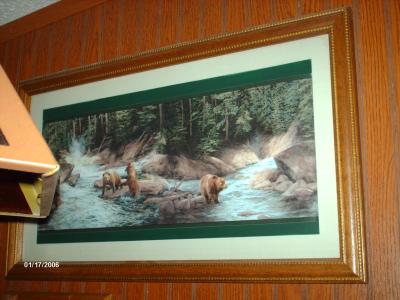 Uses For Wallpaper
Line your dresser drawers (cut to fit) or back of a plain bookcase using double sided tape. My favourite use is for a unique card/gift. I made a pattern of a cup and saucer and teapot to the size I wanted. I used a coloring book picture for both. Cut two of the shape. If it is prepasted wallpaper, dampen a little of the bottom and sides of one piece. Stick a second cutout on top, wrong sides together. Let dry.
If not prepasted, use a thin line of glue right near the edges. Draw on details with markers or pencil crayons. Add embellishments if you like, but do it on both sides. Insert a teabag (wrapped with string on it is best) inside the pocket. Then add a tag (I put mine right on the shape with this poem: Although I cannot sit awhile and have some tea with you. Use this gift to make some tea and think of me. (05/14/2009)
By Mary Lou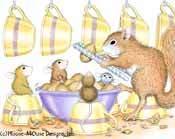 Uses For Wallpaper
We used the wallpaper samples to make bookmarks. We used the scissors that make fancy edges to make them cute and different. This was very easy. The kids made lots of them. We took them to a nursing home where they were put on each person's dinner tray. They were a big hit! Most everybody there was reading something, and could use a bookmark.
Cut 2 of them, place a 6 inch piece of very thin satin ribbon between the 2 pieces, at the top. Use a glue stick to put the 2 pieces together. For Father's Day at the nursing home, use the patterns with ducks, fish, and other masculine looking papers. We discovered that the men rarely get little "token" gifts. So they really appreciated it.
(05/14/2009)

Uses For Wallpaper
You can make picture frames using corrugated cardboard (to give some padding and "thickness") from boxes, and scraps of wallpaper or wrapping paper. Then add a simple hinged stand at the back and you're away! Very effective and very simple to make. Florist's paper also works well. (05/14/2009)

By Maureen
Uses For Wallpaper
Another idea is to save cylindrical plastic and cardboard food containers and cover them to match the lid colours and you soon have a matching or coordinating set of storage canisters. Use for children's tiny toy pieces or in the kitchen or sewing room, wherever. (05/14/2009)

By Maureen
Uses For Wallpaper
When the girls were young, I used wall paper samples and collaged their bedroom ceiling with them. The girls are now 41 and 36 and still talk about being sent to their room and laying on their bed looking at the pictures. Their kids want to know why they didn't ever get something like that in their rooms! Difference of incomes I guess. Besides that, their rooms have things like TVs, stereos, computers, etc. (05/15/2009)


Uses For Wallpaper
Cover some old books with them for decorating a book shelf or cover an old binder for a nice photo book. (05/17/2009)

By Susan
Uses For Wallpaper
I used wallpaper as wrapping paper. I have often gone to a wallpaper store and purchased end rolls with neutral colours and used them to wrap gifts. It is much more cost effective than purchasing wrapping paper. (07/05/2009)

By Linda Smyth