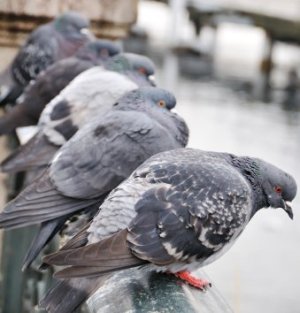 Pigeons have been known be be called "flying rats." These birds can be pests if they have chosen to hang out near your home or office. Here you will find tips for humane ways to deter pigeons. This is a guide about getting rid of pigeons.
Ad
---
Questions
Here are questions related to Getting Rid of Pigeons.
Pigeons on my house roof outside, have laid eggs and that insect which is tinier than an ant is disturbing a lot. It flies on our whole body and some bite. I don't know what to do. I need help and tips to remove the pigeon and the insects as soon as possible.
By Shruthi
I live in a apartment with my 2 year old boy. We have two pigeons who are trying to build a nest in the corner of my balcony. Now for the last 2 weeks it has been a battle, they bring twigs and branches every two minutes and I sweep it all away every two hours. I can't very well be using chemicals with my kid around so I am at my wits end. I need help! Please how do I stop them from building a nest in the corner of my balcony?

By Heather
Ad
---
---
Most Recent Answer

By Carolyn [19]05/12/2012
I spray some WD-40 into a paper towel and lightly apply this to the rails around my deck. The birds have stopped roosting there and leaving a mess on my deck.
I have a small commercial office building in northern California. The tenants complain of pigeons on the roof, foul droppings, and noise. I want to rid the place of the "flying rats" in the most humane way possible. This is a health hazard, but I have not found a good solution to the problem. In addition, I am on the east coast and rely on the building management who have been no help, as of yet.
By TheOldLadyoftheVillage from outside Philadelphia
Ad
---
---
Most Recent Answer

By Danialle [3]11/22/2010
Spray were the roost with WD-40. They will not return. They were trying to build a nest in my friends rain gutters. She sprayed it with WD-40 and they didn't return.
Please help me get rid of pigeons on a my balcony. I have tied foil pie plates, wind chimes, and colored plastic bags to try to deter them and nothing is working. I live in an apartment building so am not allowed to put up any kind of netting or permanent structures.

abbycat1950
---
Most Recent Answer

By slyly09/30/2013
I live on the 3rd floor of an apartment complex and have a balcony garden. The balcony has wide grills. The pigeon menace was crazy, with them dirtying my balcony and most of all destroying my plants!

Considering I live in a rented place, I did not want to spend too much money on netting, so tried the scarecrow, hung CDs, stuck aluminium foil flags in the pots and none of them worked for more than a week. I finally decided to mimic the netted mesh balconies using a ball of twine and a cut up mosquito net and it has worked wonders! Its been a month and my balcony has been pigeon free.

Here is how I did it:
The top 3 quarters of the balcony grill has horizontal metal bars running parallel to each other at a distance of about 1ft with parallel vertical bars at a distance of 1ft. The lower part of the balcony grill has only horizontal bars parallel to each other. So this would allow the pigeons to freely move in and out and pretty much destroy all my plants.

So I started with my ball of twine at one end of the balcony and criss-crossed the twine across the grills. For the lower part I bought a cheap light coloured mosquito net (so that light would not be blocked) and cut it up to open into one long piece which I then tied across the lower part of the balcony.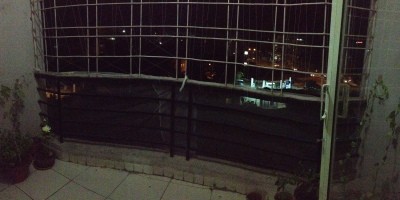 Solutions: Getting Rid of Pigeons
Do you have knowledge about this guide topic? Feel free to share a solution!
Archives
Thrifty Fun has been around so long that many of our pages have been reset several times. Archives are older versions of the page and the feedback that was provided then.
I have a problem with pigeons in my garden. Can some one give me some advice on how to get rid of them?
Many thanks.
Derek
---
RE: Getting Rid of Pigeons
I just read a forum on this subject at ThisOldHouse.com One person recommends a fake owl statue on the roof. Another recommends squirting them with the garden hose just as they are falling asleep in the evening. After a couple of days of this, they will leave. (10/08/2003)
By ThriftyFun
RE: Getting Rid of Pigeons
I hang old empty pie pans in my garden to keep the birds out. They don't like the shiny metal I guess. I don't know, but it works. I've also read that you can hang old cds (scratched or the ones you get in the mail) and the birds will stay out.
This Christmas my husband bought me a silver bird feeder and the birds acted like they were scared of it. They wouldn't eat out of it until I painted it. Now they love it so I think it has something to do with the silver or they see their reflection in it and think its another bird.
You could give the pie pans or the cds a try and see if it works for you. (06/06/2005)
By luv2craft
RE: Getting Rid of Pigeons
If you can get to the spot the pigeons are roosting, spray it with WD-40. Pigeons invaded the back door over-hang at my house and I tried this tip. They landed up on it once or twice and promptly flew away. I think it's the odor they dislike. You may have to repeat the application, but pigeons are re-trained easily and soon they will move on to another more appropriate area. (06/17/2005)
By BarbMoore
RE: Getting Rid of Pigeons
Cut long strings of light weight ribbon. Then, thumb tack or staple to the wall, roof, edging where ever. The ribbon "floats" in the air and distracts the bird's depth perception. They won't land because they can't "judge" the spacial area. By the way, you can pick up a baby bird and place it back into it's nest. Your human smells will not cause the mama bird to fly off. It's an old myth and a bad on at at. (04/20/2007)
By et
RE: Getting Rid of Pigeons
I have a mom and dad pigeon in my car port and now I have a baby. I tried a fake owl right in the middle of the eves of my car port and they have not shown any signs of being afraid of it. In fact they now tend to sit in the middle, right next to the plastic owl. Thanks for all the other ideas, but I would not recommend spending the money on a fake owl, I have not found any truth in this method. (09/03/2007)
By Whitney
RE: Getting Rid of Pigeons
I hired a falconer for 60 dollars (in Denver). Not only did I not have a pigeon problem, but it was amazing to watch. (09/15/2007)
By Interesting
RE: Getting Rid of Pigeons
No need to check local laws, I just read in another article, and verified at us.gov that pigeons (this is surprising) are protected under federal law. It's illegal to harm or kill them (all non-game birds actually). I guess a falconer can do it, since it's another bird doing the work. I've heard that hanging fake eyes under eaves sometimes works. Slightly cheaper than the full owl, and a good way to creep out a neighbor who likes to peek over fences. (04/27/2008)
By EZ
RE: Getting Rid of Pigeons
This article talks about a lot of different ways to solve this problem around your house.
homerepairgeek.com
. I think no matter which method you try, you have to keep at it. There's no one-time, easy answer that instantly fixes the problem here. In other words, be persistent and you will prevail! (02/09/2009)
By Eric