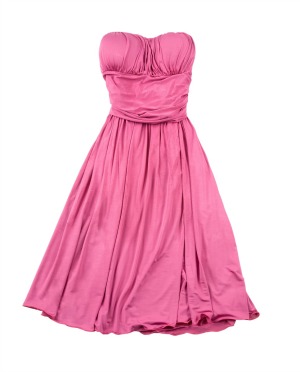 Certain fabrics are not supposed to be ironed and it can be a challenge to remove the wrinkles. This guide is about removing wrinkles from a prom dress.
Ad
---
Solutions: Removing Wrinkles from a Prom Dress
Read and rate the best solutions below by giving them a "thumbs up".
I have what is undoubtedly someone's old 100% acetate prom dress. I found it in a thrift store and bought it to sing in at a concert. Not able to afford dry cleaning, I made the decision to launder it with Woolite on the delicate cycle. I would only be out my $10 investment if this went badly.
It was yards and yards of skirt over crinoline. I removed it promptly from the washer and hung it to dry, smoothing out the fabric by hand. It dried beautifully; there were no moisture stains and the original stain that necessitated the washing was now gone. What remained were yards of wrinkled fabric. I had tried earlier to iron on the reverse side, on the iron's acetate setting (1), but it really wasn't working. I just had less visible wrinkles everywhere.
I found this page, read all the advice, and did the following. I got a good cotton tea towel from the kitchen and then changed the iron setting to 5 (low steam), and made sure there was water in the iron. I placed the towel on the front side of the fabric and ironed a test patch. The wrinkles were gone but the weave of the tea towel was visible, imprinted on the acetate fabric! I then switched to ironing the cotton-towel-on-top-of-acetate on the reverse, and the wrinkles began disappearing. Fabulous! Apparently what is needed is indeed light steam and pressure.
I ironed most of the dress, but there were lots and lots of gathers at the waist. I then went and found a fine cotton handkerchief, and went back to ironing the front side of the fabric, with the handkerchief between the iron and the acetate. This worked well but was incredibly tricky. The iron is large to get into all those gathers, and I was beginning to iron in new wrinkles. So I stopped.
I hung up the gown, and began to gently steam over the creases at the gathers as best I could in midair, with the iron directly against the acetate. It worked! The fabric relaxed enough, and I was super careful to not leave the iron in any one place for more than two seconds. I steamed/ironed until I felt the front looked nice enough, then quit while I was ahead. It almost might have been worth it, to pay a dry cleaner not to spend all this time, but at least I know that, in the future, I can use this method to look great in a recycled (but wrinkled) dress.
Give a "thumbs up" to the solution that worked the best! Do you have a better solution? Click here to share it!
Questions
Here are questions related to Removing Wrinkles from a Prom Dress.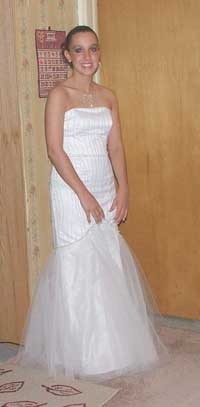 I am new to this but I have a prom dress that I wore to my senior prom and am using it for another prom. My mother mailed it to me and the bottom half is now wrinkled. I don't wanna pay to get it cleaned just for them to remove the wrinkles. The dress is polyester nylon and acetate. It says professional spot clean only and no direct heat or steam. How can I just touch it up and remove the wrinkles without having to pay an arm and a leg? Please someone help me. Thank you!

Brittyv from Honolulu, Hawaii
AnswerWas this interesting? Yes No
Ad
---
---
Best Answers
By Skitterbug (Guest Post) 04/22/20060 people found this helpful
The spray wrinkle removers are great. Downy has one called Wrinkle Release. Just spray and then smooth fabrick with your hands while its still damp. The moisture spray doesn't hurt the fabric at all. Try it.
---
By (Guest Post) 04/24/20060 people found this helpful
Try putting the dress in a dryer on air or the coolest setting possible with a wrung-out hand towel. Tumble for about 10 minutes and hang up immediately. Also, a dry cleaner/tailor shop can just press a garment without cleaning it.
---
By Dacia in Iowa (Guest Post) 04/25/20060 people found this helpful
I do professional alterations. Acetate is an awful fabric. You can't get it hot or wet. But, this is what I would try. Get a COTTON press cloth. You could use a tea towel or a pillowcase. You will need to use light steam and a low temp iron. Borrow a good iron that can steam on a low temp if you don't have one yourself. Our professional iron will do this. Some home models that may do it are by Rowenta. Try this on the most inconspicuous spot. The acetate will change colors - let it cool and it should be fine. The trick is you need pressure and steam. Be sure to TEST first. If you don't want to try this, you can get it "pressed only" (not cleaned) at a local dry cleaner or tailor. Have a safe and fun prom.
---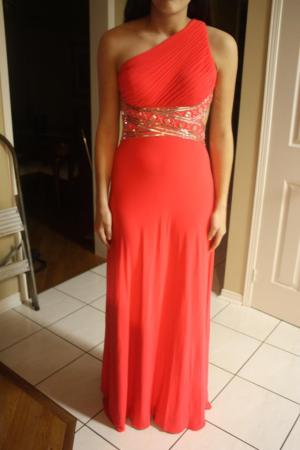 I have a prom dress situation. When I bought my dress they handed it to me in the standard carrying bag, however because my dress is long (it has a train) and the fact that we didn't immediately take it out of the bag it is now wrinkled all along the sides at the bottom. The fabric is polyester (95%) and nylon(5%) and says no steam or direct heat. My prom is in two weeks and I don't know how to get the wrinkles out. Any suggestions?
By Taylor
AnswerWas this interesting? Yes No
Ad
---
---
Most Recent Answer
By Frugal Sunnie [11] 05/13/20130 people found this helpful
Try hanging it in the bathroom then running a long hot shower-the steam from the shower should relax the wrinkles.

If you're reluctant to try that (or if that doesn't work), you can take the dress to a professional dry cleaner for specialty pressing. The dry cleaner has special pressing equipment for fragile fabrics and should be able to get all the wrinkles out.

Gorgeous dress, love that colour!