Refrigerators are expensive and can occasionally acquire bits of rust. This is a guide about removing rust on a refrigerator.
Questions
Here are questions related to Removing Rust on a Refrigerator.
I have a 15 year old Kenmore side-by-side refrigerator which I moved to the garage a couple of years ago when we got a new fridge for the kitchen. We live in Florida during the winter months and up north during the summer months.
When we go north, we empty and unplug the fridges. The one in the garage has come out with what looks like a rust stain covering most of the freezer door, and there is now some forming on the fridge door, but not as much.
I have tried cleaning the stain with an auto cleaner, some bleach and water, and some vinegar and water. The auto cleaner does the best job, but I can't quite get all the stain out, even with a lot of elbow grease. A couple of days later the stain is back as bad as ever. The finish is the pebbly kind where you don't leave fingerprints.
The garage has no AC and it gets pretty hot in there in the summer, although there were no stains on the doors when we returned this fall (2013), at least not that we noticed. The stains have developed since we returned. Does this sound like rust? Any suggestions for a product to clean it and protect it? Thanks.
By HB from Mount Dora, FL
---
Most Recent Answer

By cassie wadley [5]01/19/2014
Barkeepers Friend is a brand I use on rust, on any surface, even fabric. Should work well made into a paste, allow to sit a bit, then elbow grease. Barkeepers Friend is near comet, etc.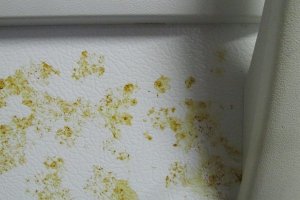 I have a Kenmore side-by-side refrigerator 15 years old. A couple of years ago I moved the fridge to the garage when we got a new one for the kitchen.
In the last month I noticed that there was an orange stain forming on the doors, primarily on the freezer side. I have tried cleaning the doors with an auto cleaner, bleach and water, and vinegar and water. The auto cleaner seems to work best, but even that didn't get all the stain out, and after a couple of days the stain was back as bad as ever. The finish is the pebbly kind designed to hide finger prints.
The home is in Florida where we spend the winter months. When we head north in the spring, we clean out the fridges and pull the plugs on them. The garage is not air conditioned, so it is probably pretty hot out there in the summer time when we are not here.
We didn't notice the stains when we first got here this fall (2013), but we first noticed them after we had been back here a month or two and the fridges were back running again. Could these be rust stains? Any suggestions on how to rid the fridge doors of the stains?
Thanks, HB
My refrigerator has the no finger print material on the front. It has this yellow rust-like stain on it. I have tried different products to remove it and it does not come off. Any ideas?
By Connie from Miami, FL
---
Most Recent Answer

By Ginny [25]06/13/2012
I had that same problem years ago with a textured finish refrigerator. Back then, I ended up buying contact paper the same color (almond) as the fridge, and covering the front. It blended in very well and lived like that until the fridge finally died. Today, there are people who refinish large appliances, and that might be an option for you if you are planning on keeping it for some time. Also I noted on the Internet that there is material that you can apply to your fridge to make it look like it's stainless steel. There are paint kits for DIY.
Hope that helps.
How do I clean rust off the outside of the fridge door?
By Cindy
---
Most Recent Answer

By Linda [37]01/17/2012
I would try one of the erasing sponges...should work. Then apply a bit of 'white out' or an auto paint pen paint! Good luck
Can rust on a refrigerator door just below the icemaker/water dispenser be repaired? The refrigerator is white.
By Buz from Washington, DC
---
Most Recent Answer

By suz123 [2]02/13/2011
I've recently saw "appliance" paint and it comes in fairly small containers, so you don't have to buy a gallon of it. Rust is oxidation, so to try and remove it will probably leave a "mark". Once you remove the rusty spot, which you "might" have to do if it's rough, or the area won't be smooth, you might benefit by painting the spot with the appliance repair paint.

If it's smooth already, you might even be able to paint right over the rust spot. I've never used this appliance paint, so I'm sorry I can't say if it works well or not.
Solutions: Removing Rust on a Refrigerator
Do you have knowledge about this guide topic? Feel free to share a solution!