This is my cat Garfield, AKA: G-Force, G, Smurfer and more. When I was young, my mom and I went into a vet's office for one of our pets. While we were there, I heard a meowing in the back room and went to investigate while nobody was watching.
I found my way back to this room where there were a bunch of cages. I walked slowly, looking into each cage and trying to find where the meowing was coming from. All of a sudden the meowing stopped. I walked a little further, and it started again. So, I turned around walked back a bit, the meowing stopped again. I finally figured out which cat it was. I continued to walking past the cage to make him start meowing, then standing in front of his cage to make him stop. I took this as a sign that he loved me and wanted to come home with me.
I ran back out to the front (probably interrupting) "Mom Mom! There is a cat back here and he loves me, we need to take him home!" I dragged my mom by her hand to the back room (where she promptly scolded me for snooping in places I shouldn't). I showed her the cat in the cage, with the name Garfield. I demonstrated how he would meow when I walked away and stopped when I got close. "See, he loves me!"
My mom loved animals and so she wasn't very hard to convince. She asked the people at the vet clinic about him and found out he needed a home. We took him home that very day.
Now he is 20 years old. He is a bit slow and walks kinda like a cowboy but, all in all, he is pretty healthy for a cat of his age. In this photo, he was enjoying the sun coming in through the window.
By Stella
Add your voice! Click below to comment. ThriftyFun is powered by your wisdom!
Add your voice! Click below to comment. ThriftyFun is powered by your wisdom!
My 21 year old cat Garfield passed away peacefully last week.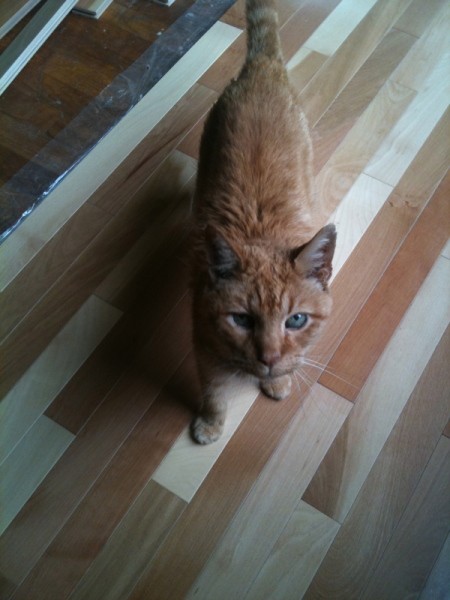 Garfield was know by many names over the years: Gar, G-Force, G, Smurfer, and, most recently, Cowboy. As he aged, he started to walk like a cowboy! : )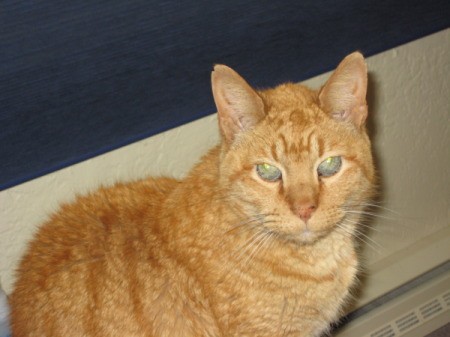 Not everyone was as fond of Garfield as I was, because he had a bad reputation for being grumpy. Sometimes he would try to bite a bit of your hand, or claw your leg as you walked passed. But, I always knew he was a sweetheart and just had a sore back that made him grumpy sometimes.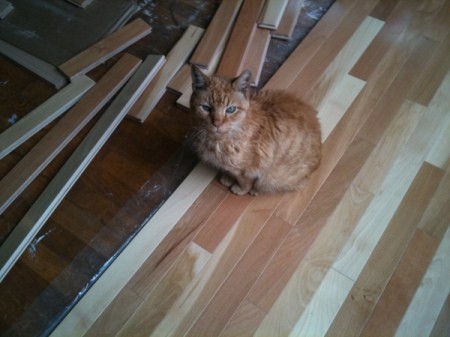 In the last few years, he became a real sweetie. He would take all the attention he could get from anyone who was willing to give it to him. This transformation really shocked all of those who thought he was just a big grumple-puss.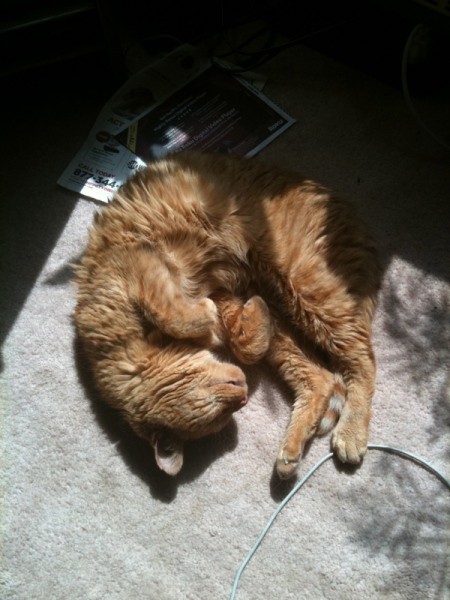 I will miss my grumpy ol' cowboy.
By Stella from Manchester, WA
July 4, 2011
0

found this helpful
The picture of him toasting himself in the sun is my favorite! He was truly loved!
July 5, 2011
0

found this helpful
So sorry for your loss, what a sweetie!
July 5, 2011
0

found this helpful
God Bless Garfield, and you for giving him such a loving home. No doubt that he has everyone at the Rainbow Bridge in line by now. :) How blessed are we to have shared our lives with a critter.
July 5, 2011
0

found this helpful
My heart goes out to you. We had a beautiful family Siamese, that was gorgeous and smart, and TJ lived for nearly 17 years. I can still hear my daughter crying on the phone, from the bottom of her heart, when she informed me of his passing. I was separated and not living in the family home at the time and she was in her 2nd year of College. Even though she had not lived at home for the last couple of years, she was still very attached to TJ, I really felt for her. So I have some kind of idea of what you might be going through. When we become attached to our animals they are like family members. I know I have a dog and cat, and I love them dearly. So I am sorry for your loss. Time will heal your heart, but I am sure you will never completely forget Garfield. He leaves the gift of good memories.
July 5, 2011
0

found this helpful
If anyone knows the anguish which the loss of a beloved pet can bring, I do. At my advanced age, I've loved so many over the years, and still carry their sweet memories close in my heart. Only the people who have known and loved a pet can understand the empty spot their absence leaves and just how much they meant to us.
Pets are an inspiration in our lives though and what they leave with us are all the precious and sweet memories of the life and love they shared with us.
Treasure the good times.
Pookarina
July 6, 2011
0

found this helpful
Awwww.
Garfield looks like such a sweetie boy. I know exactly how you feel. Losing a beloved pet that is part of your family is hard to bare. WE had our wonderful cat Rodney for over 22 years. We now have 3 cats that are spoiled rotten,as they should be. Garfield now has no back pain and is running and playing with his friends at the Rainbow Bridge. Hugs.
July 6, 2011
0

found this helpful
Garfield had a wonderful life. I'm glad he was your special kitty and you loved each other.
He would never let me touch him but I always tried once before giving him his space. :) I will miss him and his cowboy walk.
July 7, 2011
0

found this helpful
I am so sorry to hear about the passing of your beloved cat. I know how hard it is. He is at peace.