Removing wax from tables, shelves, and bookcases can be difficult and costly, but must be done correctly to avoid damaging wood surfaces. This is a guide about cleaning candle wax from wood furniture.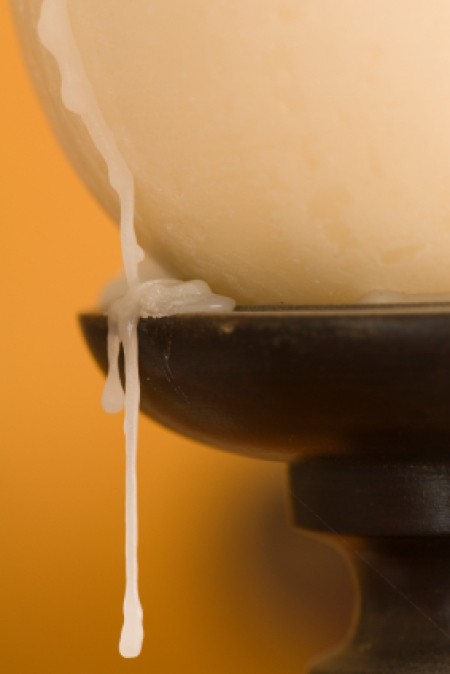 By Cynthia 1
We had candle wax go through a red tablecloth onto the oak table top. How do we get the red dye out of the table top finish?
---
Most Recent Answer
By guest (Guest Post) Flag
January 8, 2009
Can anyone tell me the full name or manufactuer of the 'magic eraser' referred to ( re removing red dye stain from wood)? I'm in Australia , not sure if it's the 'Chux' one or 'Mr Clean' product.
---
By Luana M. 82 149
I always do the same thing no matter where the wax has dripped; once on expensive (not mine) speakers. Let the iron heat up to a medium/light setting and have many paper towels (or paper bags ripped into squares) ready. You put down the paper or paper bag then place the iron on the spot. As soon as you see the paper (bag) getting a wet look to it remove it. Do the same thing over again and again until it's all removed. It works on wood, fabric, even walls (that you can't scrape).
I have only once had a color stain left. That time I used a baking soda mixture to remove the small reddish stain left behind.
Sometimes the easy things seem too simple, but try it. I have never had it fail. Make sure you don't let too much absorb at once, keep replacing the paper towels. The time I didn't have paper towels was when I cut a grocery brown bag up into squares and it worked also. Good luck!
By Luana M. from San Diego, CA
By lisa 1
I have red cinnamon scented candle wax on an antique piano, but not on keys. It is just on the wood behind the music holder and in the seams. The wood is cherry I believe. The piano is about 75 to 80 years old.
My husband blew out a tea light under a tart warmer on the piano and didn't confess for 2 days. Any ideas would be greatly appreciated.
Thank-you.
By Lisa from Mt. Vernon
---
Most Recent Answer
December 18, 2010
Use your hair dryer on high, then use toothpicks with cotton swabbed on them, thinner than Q-tips.
---
By Carolyn 1
How do you remove candle wax from wood furniture?
By Carolyn from Memphis, TN
---
Most Recent Answer
---
How do I remove candle wax from wood furniture?
By Annie from Glencoe
---
Most Recent Answer
By Pat Phillips 3 72 Flag
January 17, 2012
Carefully scrape the wax off with a credit card as a scraper. You can remove most of the wax. Then warm the wax residue that is left with a hair dryer on a low setting, after covering the wax with a paper towel. The wax will melt and the paper towel will absorb the melted wax.
A glass candle holder broke yesterday and the wax spilled out on to the table. I let it dry for a bit and then I removed the wax carefully with a plastic scrapper. It came off, but there is a shiny stain you can see at an angle. When you touch it it feels as it it had been polished.
How can I remove this stain guys? I don't want to make it worse as it is a brand new table.
Thanks
By Jose
How do I remove red candle wax from wood?
By Sue from La Porte, TX