You and children of any age can make these simple paintings with just some construction paper, paint, and stamps (or cut potatoes).
Items Needed:
Construction Paper
Newspaper
Paint
Mini Paper Plates and Stamps (or Cut Potatoes)
Optional Items: To Make Pictures Into Bookmarks
Scissors
Clear Contact Paper
Hole Punch and Yarn
Instructions:
Step 1: Cover working surface with newspaper.
Step 2: Give each child a piece of construction paper.
Step 3: Squeeze a small amount of paint onto mini paper plates.
Step 4: Have the child dip the stamps or the cut potatoes into the paint, then press on the construction paper.
Step 5: Repeat step 4 over and over with different stamps/different colors of paint.
Step 6: Let dry, then hang up and enjoy!
Optional Step 7: Have the child cut their picture into 4 equal sized rectangles.
Optional Step 8: Cover the rectangles with clear contact paper. (Matte or Shiny Finish)
Optional Step 9: Hole punch a hole in the top of the rectangle.
Optional Step 10: Add a piece of yarn as a tassel for the bookmark.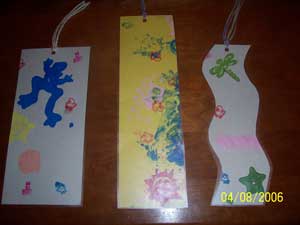 * Stamps can be purchased from discounts stores as shown in picture. You can also make stamps out of sponges on your own.