I need to know what is the easiest and cheapest way to remove paint from vinyl siding. My husband and I stained the deck 3 years ago and since then have not been able to remove the paint. It is a deep cherry color and our siding is beige! We want to sell the house but need to get the paint off first. We tried all the home depot products, including regular paint thinner and Goo Gone but they did not work. Please help.

Kris from Randolph, NJ
Ad
---
Recent Answers
Here are the recent answer to this question.

By Nina E.08/15/2015
I purchased Spray Nine multi purpose cleaner and tried cleaning stain that got spilled onto my vinyl siding when I tried staining my deck over seven years ago. I thought nothing would take the stains off my beige vinyl siding but after spraying this amazing product it is coming off. For the bigger more stubborn stains I used this product and brillo to help remove it and the stains are gone. No color has come off the vinyl siding either. Glad I bought a gallon of this stuff to clean other projects like mildew on my gutters. I bought my spray nine on Amazon.

By JB in Virginia Beach (Guest Post)12/18/2008
I used the Googone and the magic eraser and it work like a charm. I even tried power washing it off.

By rm4 (Guest Post)11/06/2008
I removed spray paint from my white vinyl siding with Lift Off Graffiti Remover. I pre-sprayed the area. Left the solution on for a few minutes. Then scrubbed the paint with a rough sponge and wiped it off with a dry cloth. The Lift Off Graffiti Remover did a great job. I got it from Home Depot. I am really happy with the outcome.

By Jodie (Guest Post)08/01/2008
I just finished staining my sisters fence and removed the stain that splattered on her beige vinyl siding with gasoline. It came off in a breeze and did not harm the siding or color. Hope this helps!

By Pastor Ray (Guest Post)07/24/2008
I have done some research and found this product. Go to this link.

http://liftoffinc.com/index.php

Let me know how it works for you.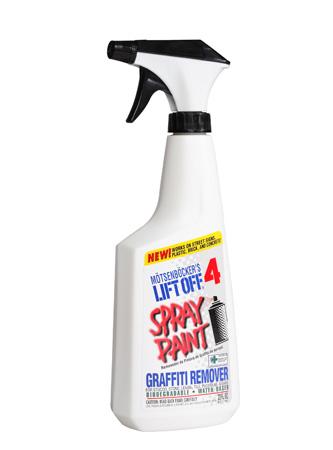 By ali (Guest Post)07/10/2008
We have tried nail polish remover on white vinyl siding. It was easy to remove, hardly any scrubbing but I wouldn't advise it on color siding.

By Brian (Guest Post)07/06/2008
What worked best I found was orange gojoo hand cleaner. I was surprised how easy it came off. I think the pumice in the gojoo was the trick. Deck stain

By Karen (Guest Post)07/04/2008
I just removed deck stain splatter from new vinyl siding. I tried EVERYTHING I trick I had ever heard about and nothing worked.

I squirted GooGone directly on the siding, waited 5 minutes and then scrubbed it with a SOS pad and it came off with a fair amount of elbow grease.

At first I thought I ruined the siding because I saw pale blue - don't worry it is from the SOS pad.

By Doug07/02/2008
Update;

Just tried PVC Pipe Cleaner. Didn't work. Paint still there. Going to building supply depot to see what they have. This paint has been there for at least 5 years.

By Doug07/02/2008
I am from Canada and would like some more information on this PVC Pipe Cleaner. First of all what is it primarily used for Cleaning PVC pipe, PVC Valve in car, what?

Any info would be appreciated as it sounds like good stuff, but I have been to Wal Mart and they never heard of it and we don't have Lowe's.

By Mo (Guest Post)06/14/2008
THE PVC PIPE CLEANER (CLEAR) as mentioned above works the best. I just used it on my vinyl siding because some kid spray painted a black 'X' on my siding. It removed it right away without damaging the siding. Initially I had used 'goof off' but it did not work as well.

By DanDel (Guest Post)09/11/2007
I understand your problem and I have used everything. Parks Liquid Strip works the best. Keep the surface wet if the stripper and isolate the area if you have to. I have removed paint, driveway sealer and anything else that had been on the siding for years, including bird bombs.

By Davin (Guest Post)07/30/2007
I was reading up on how to remove the deck stain I got on my vinyl siding and I went to the home depot and got a spray can of this stuff called "The Stripper" it is by Behr, and I tried it and it worked. I sprayed a spot and let it set for about 5 to 10 seconds and then it wiped right off with no scrubbing! I also forgot to mention I left the stain on the vinyl siding for about three months before doing anything about it, so it was pretty set in. Hope this helps you out!

By Gary Park (Guest Post)06/20/2007
Magic Eraser didn't work for me

By Karen, MI (Guest Post)06/08/2007
Kris from Randolph, NJ...
Did you ever remove the stain from your siding with anything? We have the same problem so I was wondering. Thanks!


By MARY (Guest Post)10/05/2006
THE PVC PIPE CLEANER (CLEAR) REALLY WORKS! MY NEIGHBOR GOT GREEN PAINT ON HER VINYL SIDING. AS SOON AS THE CLEANER TOUCHED IT, IT WAS GONE AND DIDN'T HARM THE SIDING, EITHER! THANKS

By Maurica. (Guest Post)10/03/2006
greased lightning will remove stain.

By Mark Richards06/21/2006
Kris:

I was wondering if you found anything that worked? My kids spilled my stain down the back side of our house from the deck and got some off but not the deep stuff.

Thanks

Mark

By Cy (Guest Post)06/05/2006
I tried the PVC Pipe cleaner, it worked, but also removed some of the 'finish' from the siding. So it looks a little different from diff angles. Be sure to try a small spot to test first.

By guest (Guest Post)04/10/2006
Try PVC pipe cleaner the kind you buy from lowes Plumbing department (needs to be clear) that should do the trick. I had the same problem and it worked swell. I discovered that when I was plumbing my pool's filter - I dripped some on the vinyl siding and it cleaned a previous paint mark off completely - so I did the rest of the affected area.
(

By (Guest Post)04/10/2006
You can get PVC pipe cleaner from Lowes - (the clear one - not purple died cleaner) I removed paint with that from mine.

By Annette (Guest Post)03/24/2006
Try the Magic Eraser from Mr. Clean. My mom had green paint on her white ceiling and it took it all off.

By Tonya (Guest Post)03/23/2006
What about trying a Mr. Clean eraser? It took black tire glue off my bathroom sink. They are cheap too.

By Kathy (Guest Post)03/22/2006
We sold our house with the stain splashes on the siding and it was fine. If you are desperate, you may try touch up paint on the siding. I don't think anything will take off the stain!
Answer This Question
Add your voice to the conversation. Click here to answer this question.