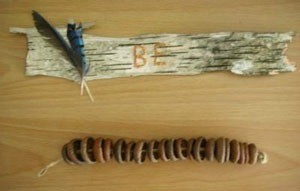 After a long drive (sadly enough it wasn't within reasonable biking distance) to Walden Pond and back, I created a hemp strung bracelet using acorns along with a piece of bark accented with blue jay feathers and the carving of "BE". BEing at Walden was a phenomenal experience; to stand in the same woods where Thoreau once lived, laughed, saw, ate, and of course, wrote. I hope you enjoy the crafts.
Approximate Time 30 minutes
Supplies:
hemp
acorns
bark
feathers
knife
glue
Instructions:
Bracelet:
Explore the woods and collect acorns, bark, and bluejay feathers.
Pierce a hole in the center of all acorn tops.
Measure the hemp to fit wrist.
Tie a loop at the end of the hemp strand.
String the acorns on the hemp strand through the pierced holes.
Create a large knot to fit snugly into the loop at the other end of the hemp strand.
Place glue on loop and knot for sturdiness.
And there you have a glorious acorn bracelet.
Wall Hang:
Flatten out bark and blue jay feathers.
Place glue on feathers and fix them on the bark as desired.
Using the knife, carve "BE" into the bark.
And there you have a delightful wall hang.
By Lori from NY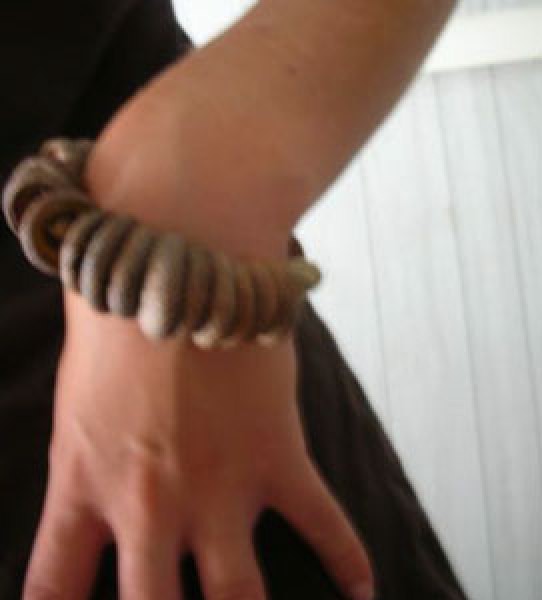 Ad
---
Feedback Forum
Feedback about this article is posted here. Want to contribute? Click above to post feedback.

By Elaine Kalatucka09/15/2009
The only problem is it is illegal to use blue jay feathers and most other feathers.

By Linell09/12/2007
I absolutely love this idea. I can't wait to find some acorns and try it. Thanks!

By (Guest Post)08/21/2007
This is so cool! I love nature and this idea is just the kind I love so much! Thank you for sharing it with us!

By Timmie [4]08/15/2007
What a nice craft! I love Thoreau's ideas on simplicity. Wish I could get to Walden Pond.
Lucky you!

TC in MO
Post Feedback
Add your voice to the conversation. Click here to share feedback.