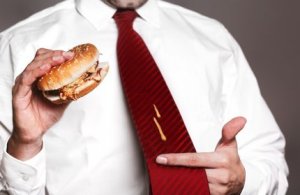 Our clothes seem to be stain magnets; some are very difficult to remove. This is a guide about removing stains on clothing.
Ad
---
Solutions: Removing Stains on Clothing
Read and rate the best solutions below by giving them a "thumbs up".
I had lots of little marks and stains on my soft furniture after my grandchildren stayed for 3 weeks. I was quite distressed, as I did not want to ruin the fabric during a cleaning bout. I came across an old electric toothbrush, and when I replaced the batteries, it worked great as a small stain remover when dipped into a stain removing liquid designed for clothes.
I consider this little electric brush one of my most valuable tools now. I have arthritis and also weakened muscles. This is a miracle. Try it on clothes, shoes, actually anything including walls, even stovetops.
By joanfry from Europe
I have on several occasions used the hand cleaner Goop as a spot remover. I have used it on items that have gone through the washer and dryer with grease spots. Put Goop on the stain and rub it in. Leave it on from 5 minutes to a day or two before washing. If the stain doesn't come out the first time, try again. It will often come out the second time.
By fossil1955 from Cortez, CO
I really can't take any credit for this tip at all, except to tell you that it works. I used it to remove human urine from the decorative contour rug around our commode. Recently, someone from ThriftyFun suggested it and all credit to her.
I'd never been able to fully remove these urine stains. And believe me, I used everything. I used so much bleach that the rugs faded. In fact, I just got into the habit of buying new rugs regularly. This time, I wet a white rag with water and sprinkled a few drops of Dawn dishwashing liquid on it and rubbed it into the stain. I did work it in very well, but not for a long time.
I washed the mat with the highest setting of hot water, bleach (I don't measure bleach; I just count as I pour it, so I counted to 10 for the bleach). I use the cheapest laundry detergent I can find, but always less than they suggest. For the first time in ten years of marriage the stain came out. I couldn't believe it. No more Resolve or anything else for me. I'm going to try Dawn on every single stain and see what happens. Next time, I'm not going to use any bleach either.
Just one more thing. I threw away the rag I used to rub the Dawn into the urine spot. I only use white rags anyway to clean and I have a ton of them so if they get ratty or stained badly I throw them out. Sorry, but I can't stand dirty rags! They're just plain white bar towels or washcloths, the kind you get at Walmart 10 for $3.00. When I wash my rags I "count" the bleach to about 20, add my cheap detergent, but always less than they recommend.
I always, always use lots of water and less laundry. My mother taught me that the secret to clean bright laundry is lots of water and less soap. It always works for me. When the laundry and bleach are agitated together, I keep the lid open on the washing machine and let them soak in the bleach water, sometimes for most of the day. Then I close the lid and let the cycle finish. My rags are glowing white. I'm so proud! I hope you'll try Dawn and post your results.
Source: ThriftyFun.com
By metroplex from Houston, TX
Awesome cleaner from the Dollar Store works great on every stain there is. From grease to grass stains on fabric, and will not affect the color of fabric! It is great for cleaning everything from lawn furniture to stove tops. It is well worth a dollar!
By Beverly C. from Hanover TWP., PA
I keep a spray bottle of laundry stain remover by our dirty basket so when there is a stain, I spray it on the item of clothing before putting it in the laundry basket. This way it has a longer time to work and I don't have to remember which item has the stain.
By Dizzee from Woodstock, IL
I wanted to get stains out of my kids clothes and of course my family, I tried everything. So to get the water in Nebraska to soften more, I used Cascade with bleach, then to protect all colors in our clothes I used Clorox II. I soaked the clothes in hot water for an hour, it worked perfectly. I tied it on hands me downs and it still work great. I used a cup of each product per load.
By 6956 from 88olds88
Each of my laundry baskets has either a handle or holes on sides. If I see an item in the laundry pile that needs special attention such as pre-treatment, I will thread that item through the handle or holes. This allows me to remember to treat that item, but it also alerts my hubby to not wash that item. He doesn't do laundry often but when he does, he knows not to mess with those items. It saves both my time in fighting the stain, and fighting with him over washing something he wasn't supposed too.
By Denise from Nebraska
I spilled red jello all over the front of my white pants. It had dried before I could get home. No remedy seemed to work so I tried carpet spot and stain remover. After spraying it on and letting it sit for about 5-10 minutes, no more stain.

By Imtomi from Philadelphia, PA
Here is a tip for keeping clothes nice longer! I have had to throw out clothes with small stains, because we didn't notice them soon enough to treat the stain. I have started keeping a laundry stain stick next to each of my hampers. Now whenever anyone undresses, they can quickly look over their clothes and treat small stains right away.

By Amy from Austin, Texas
This tip is for removing purple stains (Pedialyte) on white cotton shirts. You'll need a mixing bowl, a rubber band, the fabric with the stain, peroxide, and white vinegar. Place the fabric over the mixing bowl centering the stain within the rim of the bowl. Use the rubber band to hold the fabric in place by wrapping it around the edge. This is to keep the process neat and clean by catching the liquids. Pour the peroxide on the stain, gently rubbing the stain with your fingertip. Repeat this as many times as it takes, you'll see the stain just disappear. Then remove fabric from bowl, rinse with vinegar for one minute. Finally throw the fabric in the wash on a cold cycle. You'll be amazed, my brother was going to throw a shirt away, a high dollar shirt, but I saved it.

By Jennifer
To get those horrible red koolaide, ketchup or any color stain out of your white countertop - spray on Dawn Power Dissolver - let sit a few minutes, if stubborn use Dawns twirling dish brush and wash up. That easy. It has been wonderful find. Love Dawn.

By Prov31Wise
When trying to remove a stain from clothing, use an old battery operated toothbrush to work the pretreatment into the fabric. If the stain is small, you can dip the toothbrush in the pretreatment solution and keep your hands clean.

By Cheryl from Missouri
Give a "thumbs up" to the solution that worked the best! Do you have a better solution? Click here to share it!
Questions
Here are questions related to Removing Stains on Clothing.
My husband spilled coffee on his new cotton robe and then put in by the washer and drier. I was not told of the stain and when I came across the stain it was approximately 3 hours later. I sprayed the stain with Shout, let it sit for 5 minutes and then laundered as usual with warm water. I did not notice the light stain when I removed the robe from the washer and then dried it. Now I have a light stain and a not happy husband; so how do I remove a set in coffee stain on a cotton robe?
By Cathy
Ad
---
---
Most Recent Answer

By gbk [45]07/12/2011
If all that fails then you can moisten the spot pour lemon concentrate on it and salt it down good with salt and lay flat in sun and it will draw it out.