metroplex
Bronze Request Medal for All Time! 65 Requests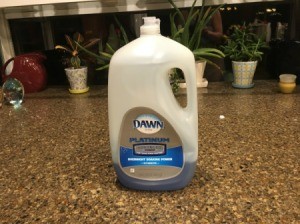 I really can't take any credit for this tip at all, except to tell you that it works. I used it to remove human urine from the decorative contour rug around our commode. Recently, someone from ThriftyFun suggested it and all credit to her.
I'd never been able to fully remove these urine stains. And believe me, I used everything. I used so much bleach that the rugs faded. In fact, I just got into the habit of buying new rugs regularly. This time, I wet a white rag with water and sprinkled a few drops of Dawn dishwashing liquid on it and rubbed it into the stain. I did work it in very well, but not for a long time.
I washed the mat with the highest setting of hot water, bleach (I don't measure bleach; I just count as I pour it, so I counted to 10 for the bleach). I use the cheapest laundry detergent I can find, but always less than they suggest. For the first time in ten years of marriage the stain came out. I couldn't believe it. No more Resolve or anything else for me. I'm going to try Dawn on every single stain and see what happens. Next time, I'm not going to use any bleach either.
Just one more thing. I threw away the rag I used to rub the Dawn into the urine spot. I only use white rags anyway to clean and I have a ton of them so if they get ratty or stained badly I throw them out. Sorry, but I can't stand dirty rags! They're just plain white bar towels or washcloths, the kind you get at Walmart 10 for $3.00. When I wash my rags I "count" the bleach to about 20, add my cheap detergent, but always less than they recommend.
I always, always use lots of water and less laundry. My mother taught me that the secret to clean bright laundry is lots of water and less soap. It always works for me. When the laundry and bleach are agitated together, I keep the lid open on the washing machine and let them soak in the bleach water, sometimes for most of the day. Then I close the lid and let the cycle finish. My rags are glowing white. I'm so proud! I hope you'll try Dawn and post your results.
Source: ThriftyFun.com
By metroplex from Houston, TX
Read More

Comments