Preventing Bacon Grease Splatters
I keep a shaker, with large holes, filled with flour beside my stove. When I'm frying bacon, I sift some on the bacon in the pan. The bacon does not swivel up or spatter as much when frying. The bacon goes farther because it lies flat. It's much neater too when making bacon, lettuce and tomato sandwiches. I also sprinkle some on squash and okra when I'm frying it because I like the crispness it gives.
By Martha
Feedback
Read feedback for this post below. Click here to post feedback.

By
01/27/2013
That sounds like a good ideal. I do my bacon a lb at a time, sometimes 2 lbs, in the oven and it keeps in the fridge with a quick warm up in the microwave. My Mom always frys hers, so I will pass this on to her.

By
07/29/2005
If you sprinkle a little flour into your pan before frying bacon it will help to absorb some of the grease and keep you from getting splattered!

By Robin

By
06/11/2005
When frying bacon, to keep the grease from spattering add some celery leaves. No more grease mess to clean up ... or burns!

By Stacie

By
03/21/2005
To prevent bacon grease from spattering - use your oven. Simply lay bacon slices in a jellyroll type pan or cookie sheet (you needs sides to collect the grease) and bake at 350 degrees for 12-15 minutes. You can turn it over halfway through, but I have found it not really necessary. Crispy bacon, no mess.

By
03/21/2005
When frying bacon, add some celery leaves to the pan. The bacon won't spatter!

By Stacie

By
03/01/2005
Robin is absolutely right. And for the rest of the grease that will shamelessly throw itself at you, you hold your potlid in front of you like a sheild. Poking the bacon occassionally with a meat fork can sometimes show it who's boss. But if you're new - don't push your luck.
Variation
Do you have a variation to share for this page?
Stop Bacon Splatter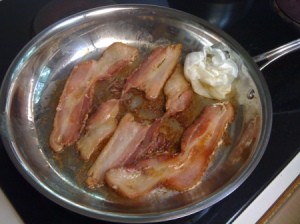 When you cook bacon on the stove, you can stop the splatter of grease on your stove and your hands and arms by putting a wadded up paper towel in the pan with the cooking bacon. The paper towel will absorb the excess grease as the bacon cooks. Add a second towel if you need to. When the bacon is cooked and the pan and the grease cooled; remove the towel and throw it away. I have been doing this for many years, and it never fails.
By Lizzyanny from Pacific Northwest
Was this solution helpful?
Questions
Do you have a question related to this page?
Post Feedback
Add your voice to the conversation.