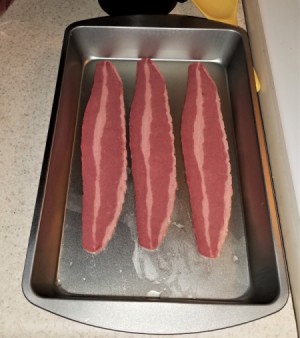 I love turkey bacon. I recently found I had 4 packages in the freezer and decided to get them all baked up today. They are great for BLT's, salad, grilled cheese and more. Low in fat and cholesterol, they are a great alternative to regular bacon. Once cooked, you can put them back in the freezer for quick meals and snacks.
When you put them in length wise, you can't fit as many in as you can cutting them in half. Staggering the wide and the narrow parts, you can put them pretty close, knowing they will shrink just a bit. At 375 degrees F for about 15 minutes, you have the perfect piece of bacon. Not flimsy or too crisp, it's just right.
And with turkey, you don't have to drain off the fat or put them on a rack.
N-JOY!