Seymour is two years old and a Heinz 57 breed. He came to our door one day when the neighbor moved and left him as a kitten. He likes to play with the wire toy with a paper end that moves in the air. He also has a frog that rivvetts when he touches it. He has thick fur and is the sweetest cat we have ever had.
By Linda from Manitoulin Island, Canada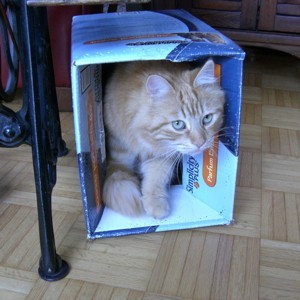 March 27, 2010
0

found this helpful
Bless you for taking in a very handsome Seymour! I'll never understand people leaving pets behind but, in this case, it's definitely to your and Seymours advantage ;-) Thumbs up!
March 27, 2010
0

found this helpful
Seymour is a lucky kitty, but you are lucky that you were there for him. Imagine your life without him in your life now. I believe in miracles, and the pets who come to us in ways like Seymour came to you are little miracles. I also believe they'll serve a purpose in our lives just as much as we do in theirs. He is such a beautiful golden kitty. We once had a golden tabby who came to us and took care of me following a major surgery for the entire 3 months it took me to get back on my feet.
He was an indoor/outdoor kitty by his own choice. When I was all well and strong, Goldy Bear went to live with a lady on the next block. I suppose she "needed" him. Ever so often, he'd come to check up on me, then go back home to her. I think he may have been an angel. Thank you for sharing Seymour with us.
All the best to you both. Julia in Boca Raton, FL
Add your voice! Click below to comment. ThriftyFun is powered by your wisdom!
Seymour is 1 year old cat that came to the door hungry. He likes to watch birds and jump on leaves. He has lots of fur!

By lindancs from Manitoulin Island
Answers:
Seymour The Cat
Lucky Seymour! I'm glad he found such a good person. (06/17/2009)

By ginnee
Seymour The Cat
Isn't it wonderful how some of our best friends in the animal world just show up at our doorsteps on in our lives when we least expect it! What a special little doll you have there! Beautiful cat! (06/17/2009)

By Cyinda
Seymour The Cat
What a cutie. My Harryboy showed up on our door step as well. He's been a part of our family for 3 years now. We also had another cat who showed up on our doorstep and he was with us for 16 wonderful years. I think they are a little extra blessing sent from God. :) (06/18/2009)
By crazylena
Seymour The Cat
What a cutie pie and I hope he will bring you many years of joy! (06/18/2009)

By florida gal
Seymour The Cat
Thanks all of you - he really has turned out to be the sweetest little darling! Sorry I have been away so long. (06/19/2009)

By lindancs