Keeping Garbage Bags In Place
It is annoying when the trash can bag liner slips down into the can as you add trash. This is a guide about keeping garbage bags in place.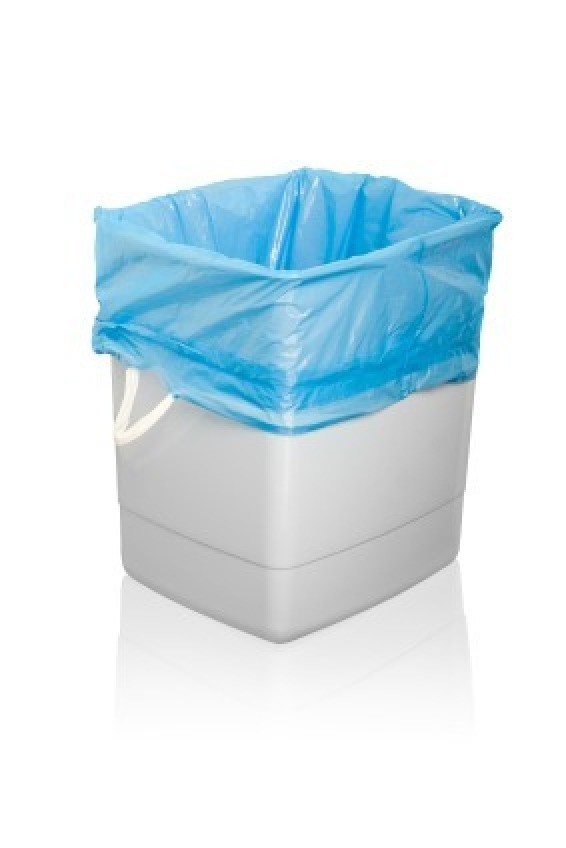 Filter

: All Articles
Sort

: Relevance
Cut off the elastic from pants or undergarments and use to keep trash bags from falling into can or anything you need to stay put.
Bags in garbage cans slipping. I was getting frustrated with garbage bags slipping down on the inside of my tall kitchen garbage can every time I tried to put more garbage in. I sometimes would get the bags that grip the rim but they still slipped and were more costly.
One day, I took binder clips (the black or colored clips with silver bars that you get in office supply stores) and used two clips, one on each side on the garbage can rim, clipping the bag to the can. I flipped the bars down. They easily went on and I was able to close the lid. It has worked like a charm. I can now use any type of bag that is on sale.
By Shardebhow from Cherry Hill, NJ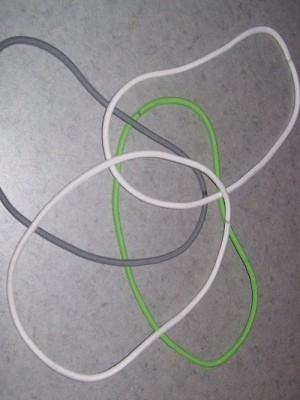 I try to recycle whenever I can and use the plastic bags that merchandise and food come in from stores for liners in my smaller garbage pails. I found that putting a rubber band around the rim, helps hold the bag from slipping when items get thrown in. Finding the correct size rubber band was like a needle in a haystack and I also found that they get brittle and break often.
I came up with this idea several months ago and have not used a rubber band since. I tried using girl's elastic head bands (you can get a package of 10 at a dollar store) and they work like a charm. They also last a long time. No more breaking or getting your fingers snapped!
By maryeruth from Palm Coast, FL
When I buy trash bags that don't like to stay in place, I simply measure off a length of elastic, sew it together and fit it over the trash can. When the bag is put into the can we simply pull the elastic over the edges and this keeps it from moving.
I like to use plastic grocery bags as trash liners for the small trash cans in my house but they have a way of falling inside the can which is annoying.
I have a beautiful ceramic bathroom wastebasket and I was wondering if I could use double sided tape to hold the liner inside? I bought some 3 gallon liners, but they keep slipping down inside the wastebasket. Any suggestions?
By Onesummer
December 8, 2011
0

found this helpful
Someone suggested, probably on this site, to put those self sticking hooks (small) on the sides (inside or outside) of container and then hang the bags on them. Two should do it.
December 8, 2011
0

found this helpful
What I do is grab 2 edges a few inches apart and tie them in a double knot like your shoes. If its too tight stretch it a little so its loose enough to tie. I do this every day only takes a second.
Read More Answers...
When installing a new trash bag in my trash can, I found when putting trash in it some times the bag would slip down. I solved that problem by wetting the outside of the top part of the can with a little soap and water.
Tired of having the trash bag pull off the rim of the can when you toss something a bit heavy in the can? Take a piece of elastic from the sewing basket and make a large "rubber band."
Use the right size garbage bag. If you know your garbage can size, you can figure out which bag your can will be able to hold.
Does your kitchen garbage bag fill up and fall off the wire rim? I solved this problem with two small hair clips, one on each side of the bag. Never had the bag fall off since. By Ann
In our effort to stuff our trash bags to the fullest we can't always slide them out of the can without great effort or breakage. The solution to this is to put one bag in the can and then put one on top on the first one.
If the trash bag in your kitchen garbage bucket keeps slipping down, simply cut the elastic off the waist band from an old pair of panty hose and slip it around the top, securing the bag to the outside of the garbage can.

By Gretchen from Aberdeen, SD
Answers:
Keeping Bags from Falling into the Wastebasket
I use the elastic from an old pair of my husband's briefs that I cut off. lol. Works like a charm. God Bless.
(10/08/2010)

By Trish in CT
Keeping Bags from Falling into the Wastebasket
I used a piece of elastic from my sewing basket. I just cut off the length that I needed and tied a knot in it. It has been working great on my tall kitchen plastic trash container for several years. Before the elastic, the plastic bag was constantly sliding down when anything heavy was thrown in. (10/08/2010)

By Kathryen
To keep plastic trash bags in place, I cut a length of 1/4 inch elastic and tie the ends together - like forming a large rubber band. Slip this over the bag, at the rim of the can. Works very well for kitchen trash cans and bathroom wastebaskets.

By Chris from Levittown, PA
I was having trouble keeping the waste paper basket bag from falling inside the basket. Well, a bungy strap that fits a little snug works great. No more slipping.

By Joyce from Tennessee
Answers:
Keeping Bags from Falling into the Wastebasket
You can also just tie one corner of the bag in a small knot and the bag will fit snuggly. (03/01/2007)

By PICO
Keeping Bags from Falling into the Wastebasket
You can also use the clips from the office supply store. The size would depend on the thickness of the basket.
We use the large ones for our trash barrels.
Laine (03/02/2007)

By Laine Butterworth
Keeping Bags from Falling into the Wastebasket
I used to take a piece of 1/4" elastic and cut to the right length and tie the ends together or else sew them together and slip that over the edge of the bag. (08/12/2009)

By redhatterb
Related
© 1997-2016 by Cumuli, Inc. All Rights Reserved. Published by
ThriftyFun
.
Page
generated on September 1, 2016 at 9:26:17 AM on 10.0.0.189 in 5 seconds. Use of this web site constitutes acceptance of ThriftyFun's
Disclaimer
and
Privacy Policy
. If you have any problems or suggestions feel free to
Contact Us
.