Removing nail polish stains from an upholstered couch or sofa can be challenging. This is a guide about removing nail polish stains from a couch.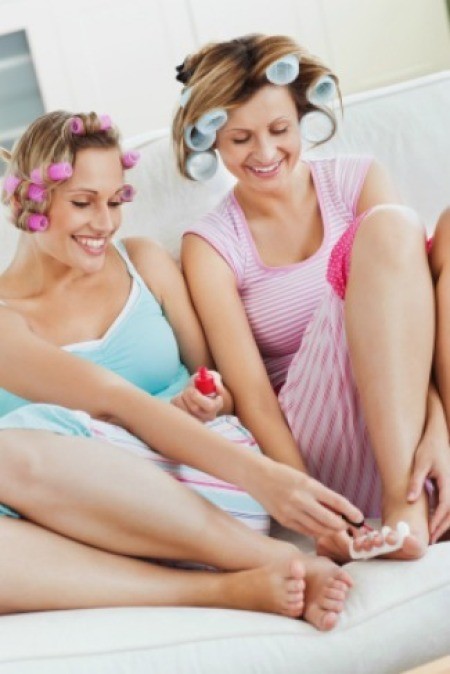 I believe it is cotton. I tried nail polish remover, and although it did not remove the color on the fabric butit didn't remove the nail polish either. Any suggestions you may have would be greatly appreciated!

Katrina from Liverpool, PA
---
Most Recent Answer
By guest (Guest Post) Flag
February 1, 2009
So guess what? I slept in today and my one year old and two year old got into my nail polish. They picked the color ORANGE and decided to make an art project out of my mother in laws couch. The couch is blue...micro suede...great right.....and I came on this site too see if I could find something to take it off with the only thing that would work is Wet nail polish, and still left the couch shinny now.
Oh well guess ill have to buy a couch slip or another couch. I tried acetone, rubbing alcohol, wet cloth...everything you could think of. Well guess what I'm doing with my tax return. lol Oh and to make it worse, it's all over my one year old too, and there isn't anything I can do about it because she's a baby except for wet nail polish or let it come off by itself. I know it sounds horrible, but my husband was considering leaving me for this. Laugh it up... I know I'm laughing....
---
I left some nail polish out with the lid on, but some kids found it and started painting lessons on the couch! To save myself from an eternity without nail polish, I came on this site. My sister and I used nail polish remover, rubbing alcohol, and toothpaste! It worked! It took a loooong time of scrubbing and cotton balls but when you use them all, it works. Just remember to wash off all the toothpaste or it is sticky.
Good luck :)
By kayleigh 1
How can I get nail polish off of my microfiber couch?
By Kayleigh
---
Most Recent Answer
By Cynthia P. 1 Flag
August 24, 2013
Had the same problem - my daugher and her friends during a birthday party spilled hot pink nail polish on a brand new sand microfiber couch a few years ago - just tried nail polish remover and I can't believe it worked!
By Graham Terry 1 1
We have a nail varnish stain on our Channile armchair that has dried. Does anyone have an idea how to remove it?
---
Most Recent Answer
---
My kid was painting her nails in the living room and got some polish on the couch. The couch is black and the nail polish is pink. Please help. I don't know what to do and I don't want to make it any worse.
By Kelly from Virginia Beach, VA
---
Most Recent Answer
By Sandy F. 1 3 Flag
March 1, 2015
Try spraying (or the liquid, unscrew the bottle) from hairspray. It works great on rugs, I never tried it on furniture before. Hope that helps.
I was doing my nails on the couch when no one was home. I had to go use the ladies room, when I came back I completely forgot the nail polish was on the couch with no lid on so I accidentally knocked it over as I sat down! The couch is a light brown micro. Please help me. Any good advice is fine, as long as it works.
By Leilani
---
Most Recent Answer
By Ashley 1
My two year old spilled a whole bottle of purple-ish fingernail polish on my new suede couch. The tag on the couch says to use water based cleaners to clean it. The couch is a blue/gray color. Any feedback would be greatly appreciated! PLEASE HELP!

Ashley from Arkansas
---
Most Recent Answer
How do I remove a nail strengthener (a form of nail polish) from a fabric chair?
By Anne from Portsmouth, NH