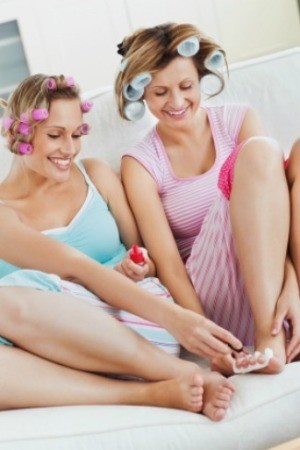 Removing nail polish stains from an upholstered couch or sofa can be challenging. This is a guide about removing nail polish stains from a couch.
Ad
---
Solutions: Removing Nail Polish Stains From a Couch
Read and rate the best solutions below by giving them a "thumbs up".
I left some nail polish out with the lid on, but some kids found it and started painting lessons on the couch! To save myself from an eternity without nail polish, I came on this site. My sister and I used nail polish remover, rubbing alcohol, and toothpaste! It worked! It took a loooong time of scrubbing and cotton balls but when you use them all, it works. Just remember to wash off all the toothpaste or it is sticky.
Good luck :)
Give a "thumbs up" to the solution that worked the best! Do you have a better solution? Click here to share it!
Questions
Here are questions related to Removing Nail Polish Stains From a Couch.
How can I get nail polish off of my microfiber couch?
By Kayleigh
Ad
---
---
Most Recent Answer

By Cynthia P.08/24/2013
Had the same problem - my daugher and her friends during a birthday party spilled hot pink nail polish on a brand new sand microfiber couch a few years ago - just tried nail polish remover and I can't believe it worked!
I believe it is cotton. I tried nail polish remover, and although it did not remove the color on the fabric butit didn't remove the nail polish either. Any suggestions you may have would be greatly appreciated!

Katrina from Liverpool, PA
Ad
---
---
Most Recent Answer

By Belen W (Guest Post)02/01/2009
So guess what? I slept in today and my one year old and two year old got into my nail polish. They picked the color ORANGE and decided to make an art project out of my mother in laws couch. The couch is blue...micro suede...great right.....and I came on this site too see if I could find something to take it off with the only thing that would work is Wet nail polish, and still left the couch shinny now.

Oh well guess ill have to buy a couch slip or another couch. I tried acetone, rubbing alcohol, wet cloth...everything you could think of. Well guess what I'm doing with my tax return. lol Oh and to make it worse, it's all over my one year old too, and there isn't anything I can do about it because she's a baby except for wet nail polish or let it come off by itself. I know it sounds horrible, but my husband was considering leaving me for this. Laugh it up... I know I'm laughing....
We have a nail varnish stain on our Channile armchair that has dried. Does anyone have an idea how to remove it?
---
Most Recent Answer

By Graham Terry [1]02/03/2006
very helpful! I did mean remove the stain.
My kid was painting her nails in the living room and got some polish on the couch. The couch is black and the nail polish is pink. Please help. I don't know what to do and I don't want to make it any worse.
By Kelly from Virginia Beach, VA
---
Most Recent Answer

By Sandy F. [1]03/01/2015
Try spraying (or the liquid, unscrew the bottle) from hairspray. It works great on rugs, I never tried it on furniture before. Hope that helps.

I was doing my nails on the couch when no one was home. I had to go use the ladies room, when I came back I completely forgot the nail polish was on the couch with no lid on so I accidentally knocked it over as I sat down! The couch is a light brown micro. Please help me. Any good advice is fine, as long as it works.
By Leilani
---
Most Recent Answer

By catwomen03/27/2015
I used nail polish remover on my couch and it worked! I was very surprised.
My two year old spilled a whole bottle of purple-ish fingernail polish on my new suede couch. The tag on the couch says to use water based cleaners to clean it. The couch is a blue/gray color. Any feedback would be greatly appreciated! PLEASE HELP!

Ashley from Arkansas
---
Most Recent Answer

By faith [5]08/29/2007
Try using a soft old toothbrush and aceton. dip the tooth brush in aceton and in circular motion do a little at a time be sure to rinse the brush out often.
How do I remove a nail strengthener (a form of nail polish) from a fabric chair?
By Anne from Portsmouth, NH
Archives
Thrifty Fun has been around so long that many of our pages have been reset several times. Archives are older versions of the page and the feedback that was provided then.
I got nail polish on my brand new $3000.00 sofa and I can't get it off. I didn't realize that the additional $300 warranty on the sofa's material covered everything, but nail polish. I immediately used cold water with a laundry detergent. That didn't work, so I tried nail polish remover. That didn't work, so I tried hairspray to no avail. Please help me before my hubby comes home and kills me!
Thank You,
Diana from Indiana
---
RE: Removing Nail Polish From a Sofa
Depending on what type of material it's made of and how big an area the polish covers, I'd spot test with fingernail polish remover. Or just call a pro furniture cleaner. Good luck. (05/17/2005)
By Kim
RE: Removing Nail Polish From a Sofa
Diana, I think I would pack a suitcase and leave for a few days. Seriously, I hope you get it out. Bonnie (05/18/2005)
By bbartlein
RE: Removing Nail Polish From a Sofa
First, I'm assuming the sofa is covered in cloth. If it is a leather sofa, the advice may also take the color out of the leather.
Make sure you use a nail polish remover with Acetone. Many of the removers don't have acetone anymore and you will probably need it to get out the spot. Usually the cheapest polish removers still have acetone.
You could also try lacquer thinner which would be available at the hardware store. Just be careful that you keep dabbing up the color so it doesn't spread. I'd use a soft cloth, some old rag made out of sheets or t-shirts. Put the thinner or remover on that and let it sit for a few minutes on the spot. Then wipe well with a clean cloth and try again until all of it is gone.
Calling a pro furniture cleaner is also a good idea. They may know of some methods that we don't. Susan from ThriftyFun (05/18/2005)
By ThriftyFun
RE: Removing Nail Polish From a Sofa
Last night I was painting my 3 girls' nails. My middle daughter got the polish down and left it on the end table of the leather sofa. My oldest and I came around the corner to find the youngest pulling the brush out of the polish. I yelled and took off running. I grabbed the polish and noticed drops of polish all over the sofa. Shiny Silver! I took a wet rag and wiped it. It took only a bit off. I noticed the area I wiped lighter. I was sick. I knew polish remover only would take the stain off. I got on the internet and found things like baking soda, shaving cream, and ect. I read something about using polish remover, but making sure it had acetone. After a long time I took a Q-tip and put some polish remover on it. I thought I would try it on an area. On the arm it made a dramatic light spot. Yikes! Then I put it on the seat and wiped with a wet paper towel. It faded only a bit. At this time I thought it was still better looking then the polish. After I was done I could notice a pretty big change in the color. My sofa was a "Camel" color. I then remembered someone using balm to condition leather. I got some Vermont's Original Bag Balm and massaged it through and let it stay. It made the leather's color even out a lot! Also leaving it so nice and soft. I swear it is the same stuff Dr. Martin uses for there leather shoe conditioner. This worked for me and I was at the point of giving up and getting something to just cover the sofa. Again, this was dime size spots. (03/22/2006)
By Shannon
RE: Removing Nail Polish From a Sofa
The same thing happened to us, and the only thing that works is vaseline.
By Lenore
RE: Removing Nail Polish From a Sofa
ACETONE! I'm not sure hwo to spell it, but it takes it right off. I had the same situation but my dad was coming home. (10/04/2006)
By ashley
RE: Removing Nail Polish From a Sofa
I called a professional and they said Acetone and that they would only be doing what I could do, nothing more. Not to waste my money. So, I am going to try it. (10/11/2006)
By Andrea
Does anyone know how to remove a small area of clear nail polish from a microfiber couch?

Kathy

---
RE: Removing Nail Polish from Microfiber
I don't know the color of couch but i would think you could test nail polish remover in an inconspicuous place and if it doesn't take color off try it on nail nail polish a little at a time hope this helps. (04/20/2007)
By Denise
RE: Removing Nail Polish from Microfiber
I spilled half a bottle of RED nail polish on laminate wood floors and a white microfiber sofa, NAIL POLISH REMOVER saved me! It only took tiny amounts to get it off of the floor, don't rub just sweep it across the floor gently as though you were dusting it. Try to have the gunky puddles wiped up already. As for the sofa I gently scraped the nail polish (with the tip of a butter knife) trying to get the top layer off and then with a washcloth (light color so as not to transfer color ONTO the sofa) rubbed and scraped directly over the polish until it was clean.
You need to just shape the cloth over your finger, put the tip in the opening of the remover bottle and moisten the cloth. Use your fingertip in the cloth to rub a small section of the microfiber until it comes clean and then with white paper towels (maybe a white towel would work also) rub across that small spot back and forth until it is nearly dry-this prevents rings from forming around where you cleaned. If you get the sofa too wet it will be hard to avoid rings. You need to only let each small part stay wet a few minutes, maybe 8-10 minutes at the most, and then dry it whether you're finished or not. You can go back to it after it dries but you should work fast so as to avoid this. Your chances of getting it completely off are better in the first cleaning. I worked in 1-2 inch sections, it was very tedious and time consuming but it worked. Good Luck! (01/13/2008)
By Kristina D.
How do I get nail polish out of a new red micro-fiber couch?
Kailey from Des Moines, IA
How do I remove nail polish from a microfiber couch?
By Lindsay from New York, NY
---
RE: Removing Nail Polish from Microfiber
If it was your polish and your couch, first I would find a spot that doesn't show and try to replicate the "crime" (under the cushions, or?). That being done I would take some lighter fluid and a soft cloth and softly swipe at the area. It may take several tries, but it has worked for me on carpeting without discoloring it. (03/31/2010)
I spilled red fingernail polish on a beige fabric couch. The couch is not microsuede, but it is a type of micro fiber. Any suggestions would be appreciated. Thanks
By Teresa from FT Rucker, AL
Do should I get fingernail polish out of a micro fiber couch?