I have 2 male finches and one female finch (all Zebras). I have tried to add a pure white finch before, but they wouldn't play with her or be very nice and she died.
This morning, I went to clean their cage and found a egg in their seed bowl. I have never put in a breeding nest and am now unsure if the egg will hatch or if this is just something that happens every now and again. I'm rather confused because I was told they wouldn't breed without privacy.
What should I do to look after a baby finch? Will they lay another egg? I'm assuming no, but thought I should ask anyway. Will it be a issue that there is two males?
Thanks to all that help. Lana :)
By Alanah from Brisbane
February 10, 2011
1

found this helpful
I had Finch's that also laid an egg in their food bowl. I placed a nest in their cage. One that hangs. It wasn't long before eggs started appearing. I would place shredded news papers, cat fur and other soft items in the cage for them to build their nest with. Before you new it, I was the owner of 16 babies. It is truly fascinating to watch. They pretty much will take turns in caring for their young. However when they got older (Showing their colors) I would separate the males and females. I kept the breeders together. I am not sure how two males would react to the babies since both parents have an active role in raising their young. You may want to call a pet store and get an expert opinion. But if you could possibly figure out which is the father, it would be an experience you would want to see first hand.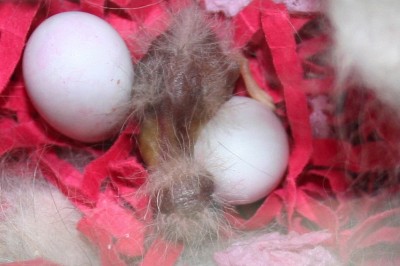 December 24, 2015
1

found this helpful
I just placed a nesting box in the cage and the birds did the rest. The Mom and Dad take turns of feeding and sitting with the babies and eggs. They are fun to watch. I looked for lots of info about the birds. They only have one lover at a time, usually for life. Interesting little creatures.
Read More Answers
What do I do if my zebra finches lay their eggs in different spots and I don't know how long they have been there?
January 9, 2017
1

found this helpful
It sounds like you may have more than one bird who is laying eggs. I would watch them carefully to see who is laying and where. Once you find out, you can make sure that the eggs are in a safe place and just wait for each bird to start incubating them. If you don't want chicks you can replace each egg with a similar size marble or tiny rounded stone. The finch will sit on them as if they are real eggs but she will give up after a while. If you don't have a male finch around the eggs can not be fertile. In that case I would replace the eggs with the marbles or stones and carefully blow out the contents of the eggs to preserve the shells and enjoy looking at them or using them in decorations. If you just find an isolated egg or two in a different place from the others it may be that one bird lay a few eggs there before discovering that there was already a clutch in progress, to which she switched for her remaining eggs. I know chickens do that but I don't know if finches do. Enjoy watching the nature of it all. Good luck.
July 13, 2017
0

found this helpful
boy oh boy!!! well my zebra finch has laid 11 eggs so far and we are still seeing her with signs of laying more so "up to 8?!" is really not a true statement at all! and this is her very first clutch too!!
Read More Answers
This is my first time owning zebra finches. About 20 days ago one started laying eggs and finished about 2 weeks ago. She laid 4 eggs in total. Today I noticed a 5th egg. Should I remove the other eggs? Also I'm not even sure that I don't have 2 females. I'm sure my grey one is a female. And they make different sounds, but I am unsure about the white one.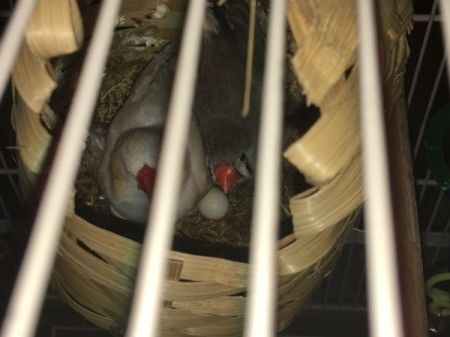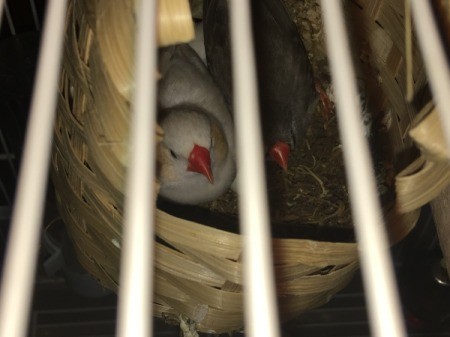 March 29, 2017
1

found this helpful
From thespruce.com Egg-Laying
The average zebra finch can lay up to eight eggs in a single clutch, with the median being between three and six.
Advertisement
Advertisement
The hen lays one egg each day until the clutch is complete and will begin incubating the eggs once the last one is laid.
Incubation Time
Zebra finch eggs begin to hatch within 12 to 15 days after the hen begins to sit on them. As a rule, if an egg hasn't hatched within 20 days, you can consider it infertile.
Since your finch finished laying eggs 2 weeks ago, wait another week, and remove the 4 eggs if they haven't hatched. Since you noticed the 5th egg today, wait 19 days from today to get rid of that one if it hasn't hatched.
March 30, 2017
1

found this helpful
Usually they don't start to sit on them until after they lay the last egg. So, start your timing from the final egg, and then give a couple extra days just incase.
I have two finches, one male and one female. She laid to eggs, but I don't know when one egg fell out of the nest and broke. I didn't know until too late and it was dead in the egg. How can I help the last egg survive? And how often do finches mate and when do they mate?
May 9, 2017
0

found this helpful
That was the best information I received since I got me Finches.
My first male didn't like the female so I took i back to the pet shop.
These two like each other just fine. I have had 12 eggs in a very short time .( in 2 different settings).The first clutch didn't work for me except for one and I tried to candle it and I broke it. I had a moving chick that I think would have hatched in about a week.
Read all you can on hatching chicks.It will help you in the long run.