I'm building a new home and I want my kitchen theme to be Chili Peppers. My counter top is black and gray with specks of red. My kitchen curtains have red chili peppers on them. Some of my kitchen gadgets are red and I have red pots. My major kitchen appliances are stainless steel. What color can I paint my walls and what other decorating ideas and tips can anyone give me?

Thanks so much for your input.

Charmaine
Ad
---
Recent Answers
Here are the recent answer to this question.

By Charley02/12/2010
I also done my kitchen in chili peppers. We painted the walls in a deep dark red with a black chair rail border then hand painted diffent types of peppers in green,red, marigold yellow and a med. orange. Found a small amount of fabric with black backgound, but not enough for curtains.

By julie03/31/2009
I also decorated my kitchen in chili peppers. I grow them and the plants make a beautiful addition.

By Jane doe (Guest Post)12/11/2008
Ralph Lauren Dresser red is perfect 3 coats matches all standard pepper colors

By Linda Mae (Guest Post)06/24/2008
Hello, I was wondering if you found chili pepper curtains yet, I have been looking for chili pepper kitchen curtains for ever and can't find them.

By Mike Stokes06/18/2008
I painted my walls a Queen Yellow and have had many compliments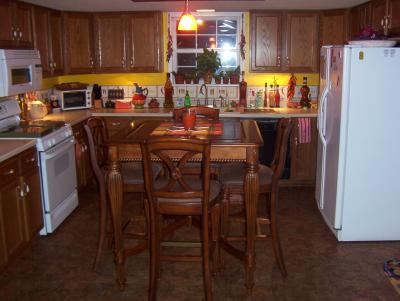 By Lori (Guest Post)03/03/2008
I to went on a chilli pepper kick in my kitchen, I found this painting and have been pulling everything together from it......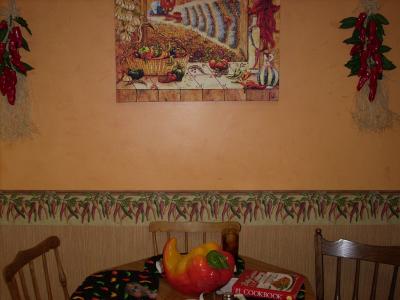 By Ellie Mac (Guest Post)01/07/2008
I am looking for catus pattern curtains Please e-mail me at desertsun4us AT yahoo.com
Thanks

By Joan (Guest Post)01/01/2008
I found the chili pepper swag curtains at http://www.windowtoppers.com

By tammy tallent (Guest Post)06/03/2007
I have recently moved and am decorating my kitchen with chili peppers and chihuahuas. I have a chihuahua named Peanut and have collected many chihuahua items over the years. I am looking for chili pepper curtains also, I know Wal-Mart has chili pepper fabric but I would like curtains already made.

By Donna (Guest Post)03/02/2007
I too have chili peppers in my kitchen. You can get alot of nice stuff on Overstock.com. I got a canister set from them for only 35.00 that is shaped just like chili peppers. I too am looking for some curtains. Good Luck!

By Jennifer (Guest Post)02/15/2007
I also have done an Pepper/Mexican theme in my kitchen. I found some cool canisters and plates, bowls, salt and pepper shakers that I set around at Kohls. Now my search is for curtains. I painted my kitchen a color called dusted carrot. I am considering just using a checkered green for the curtains? I want something different but haven't had much luck



By sheila (Guest Post)11/17/2006
wal-mart has chilli pepper fabric

By (Guest Post)08/27/2006
I, too, am thinking of going the chili pepper theme for my kitchen and dining area. I plan to to paint mostly yellow with red accents

By SALLEY (Guest Post)06/08/2006
I MADE MY CURTAINS, AND JUST PULLED A COLOR OUT OF THE FABRIC,BUT NOT THE BACKGROUND.""

By Jennifer (Guest Post)03/27/2006
Please, tell me where to get the chile curtains! Anybody....



By Karen O'Reilly (Guest Post)03/12/2006
Sarah,

Check out www.fabricdepot.com for chili pepper fabrics NOT in black w/various lighter backgrounds. Multi colored are C4781 and 8175, among others. Enjoy !

By Sara (Guest Post)03/08/2006
I am looking for chili pepper fabric with red, yellow and green peppers, but on a lighter background. Any ideas?

By Sandra (Guest Post)10/16/2005
Where did you get your chile pepper curtains? I have been searching for them for a long time.

Sandra

By darlene (Guest Post)07/28/2005
i too am doing chili pepper kitchen, love the ideas

By Betty03/16/2005
To find the right shade of green to complement your red use a color wheel then try to match up the paint -Bettie

By Mike (Guest Post)02/10/2005
A person after my own heart. I have a decent hot sauce collection and I too have a chili pepper motif. I painted my kitchen with "Lousiana Hot Sauce" coloured paint. That is the actual name. It's a earthy red colour. Gorgeous.

By Carole (Guest Post)02/08/2005
Where did you get your chili pepper curtains? Am looking for some.
thanks
Carole

By Michelle (Guest Post)02/04/2005
You could paint your walls a shade of gray lighter than what is in your counter top, and just "flick" specks of paint in the the coordinating shades of red, black, green and red. It just gives the walls a hint of color without being overbearing!

By sandy (Guest Post)02/03/2005
couldnt you paint them green. are the stems a shade of green??

By (Guest Post)02/03/2005
I'd paint the walls a tone of green from the foliage of the peppers in the fabric for the windows. Green is the complement color to red and will make the colors "pop"!

Have fun in your remodeled kitchen!

Warmest Wishes,
Denise McCall
CHRISTIAN BUSINESS OPPORTUNITY 800-585-5873 opt. 3 for FR*EE info pac, leave ID#3752. No sign-up fee. Cheap mthly purchase for commissions. www.get-it.net/scriptures/dmccal5348/

"Your future will become what you make of it. If you choose to plan nothing, then nothing is what you'll receive. However, if you choose success and plan for it.. success is what you'll receive." - Mel Atwood


By Cat [2]02/03/2005
There are some great posters of chili peppers to frame. Allposters.com has some, all sizes, many ways to mat and frame. There are fabrics ( could you match the curtains?) to make potholders, decorate dishtowels with borders, make an apron, napkins, placemats. Are you growing some in a pot on your windowsill ? I have seen Calendars to hang on the wall that feature just peppers. Candles come pepper-shaped. Decorate cannisters for sugar, tea bags, etc. ? Chili pepper seed packages for decoupage ? Backs of chairs ? Google around. Good luck. What fun !
Answer This Question
Add your voice to the conversation. Click here to answer this question.