I'm building a new home and I want my kitchen theme to be Chili Peppers. My counter top is black and gray with specks of red. My kitchen curtains have red chili peppers on them. Some of my kitchen gadgets are red and I have red pots. My major kitchen appliances are stainless steel. What color can I paint my walls and what other decorating ideas and tips can anyone give me?

Thanks so much for your input.

Charmaine
Answers
February 3, 2005
0

found this helpful
There are some great posters of chili peppers to frame. Allposters.com has some, all sizes, many ways to mat and frame. There are fabrics ( could you match the curtains?) to make potholders, decorate dishtowels with borders, make an apron, napkins, placemats. Are you growing some in a pot on your windowsill ? I have seen Calendars to hang on the wall that feature just peppers. Candles come pepper-shaped. Decorate cannisters for sugar, tea bags, etc. ? Chili pepper seed packages for decoupage ? Backs of chairs ? Google around. Good luck. What fun !
By (Guest Post)
February 3, 2005
0

found this helpful
I'd paint the walls a tone of green from the foliage of the peppers in the fabric for the windows. Green is the complement color to red and will make the colors "pop"!
Have fun in your remodeled kitchen!
Warmest Wishes,
Denise McCall
CHRISTIAN BUSINESS OPPORTUNITY 800-585-5873 opt. 3 for FR*EE info pac, leave ID#3752. No sign-up fee. Cheap mthly purchase for commissions. www.get-it.net/scriptures/dmccal5348/
"Your future will become what you make of it. If you choose to plan nothing, then nothing is what you'll receive. However, if you choose success and plan for it.. success is what you'll receive." - Mel Atwood
By sandy (Guest Post)
February 3, 2005
0

found this helpful
couldnt you paint them green. are the stems a shade of green??
By Michelle (Guest Post)
February 4, 2005
0

found this helpful
You could paint your walls a shade of gray lighter than what is in your counter top, and just "flick" specks of paint in the the coordinating shades of red, black, green and red. It just gives the walls a hint of color without being overbearing!
By Carole (Guest Post)
February 8, 2005
0

found this helpful
Where did you get your chili pepper curtains? Am looking for some.
thanks
Carole
By Mike (Guest Post)
February 10, 2005
0

found this helpful
A person after my own heart. I have a decent hot sauce collection and I too have a chili pepper motif.
I painted my kitchen with "Lousiana Hot Sauce" coloured paint. That is the actual name. It's a earthy red colour. Gorgeous.
March 16, 2005
0

found this helpful
To find the right shade of green to complement your red use a color wheel then try to match up the paint -Bettie
By darlene (Guest Post)
July 28, 2005
0

found this helpful
i too am doing chili pepper kitchen, love the ideas
By Sandra (Guest Post)
October 16, 2005
0

found this helpful
Where did you get your chile pepper curtains? I have been searching for them for a long time.
Sandra
By Sara (Guest Post)
March 8, 2006
0

found this helpful
I am looking for chili pepper fabric with red, yellow and green peppers, but on a lighter background. Any ideas?
By Karen O'Reilly (Guest Post)
March 12, 2006
0

found this helpful
Sarah,
Check out www.fabricdepot.com for chili pepper fabrics NOT in black w/various lighter backgrounds. Multi colored are C4781 and 8175, among others. Enjoy !
By Jennifer (Guest Post)
March 27, 2006
0

found this helpful
Please, tell me where to get the chile curtains! Anybody....
Read More Answers
I am remodeling my kitchen and want to do the decor in a Mexican theme. I would like some suggestions on what colors to go with on the counter tops, cabinets and wall/trim paint.
Joni from OK
Answers
August 9, 2004
0

found this helpful
Hi, My sister lives in El Paso TX and has quite the "mexican theme" to her kitchen. They have many Mexian friends and additions to the family now. Anyway, depending on your "cost allowance" here's some ideas. For walls, stay an off white more to the brown like ivory or eggshell. It's the easiest to go with and most are like that. You'll see that in Mexican restaurants too. Now for courntertops.. they did a smooth formica kind of thing (no bumpy stuff, too hard to clean all those little grooves for a kitchen daily) corian (sp?) is great but expensive, either way a sand look or very slightly marblised pattern is great. They got 4 marble tiles (cheap at home depot) and inlaid them into the counter for a work/ cutting area. It's gorgeous. Trim, either dark, or go with the red and kelly green. (keep chilli's in mind) for accents use the yellow's. More, try to keep it plain and use the accents - chilli salt n pepper shakers, pottery, and plants if your area allows it. I could go on for hours and wish I could talk w/ you about it, but? for now, I hope this helped a bit. Basically, think sand and chilli's and you will be fine. Good luck!!
By Tawnda (Guest Post)
August 10, 2004
0

found this helpful
You're not Margo's friend Joni are you?
I have several Mexican friends and they LOVE bright bold colors. Do your walls in softer colors and use other things to accent in bright bold colors, or if you aren't afraid of a lot of color, pick two or three colors and paint your walls or cabinets, table, etc. You can find plastic chili peppers in bundles at Walmart near the silk flowers and fruit.
Hang those on your wall or across your window, etc. In the Mexican food section at a lot of stores they sell dried peppers and you can string those together for the real thing. Buy tera cota pots and paint cactus plants, chili peppers, etc. on them. Plant herbs in them if you can. So many ways you can go with a Mexican theme.
By Chenell (Guest Post)
August 12, 2004
0

found this helpful
I would stay away from anything too "kitchy" or "cute"...after a few months, you amy want to change it up a bit, but you'll be stuck.
Countertops/Floors-terracotta tiles are expensive, but are SO mexican in a timeless. beautiful way...contact local tile retailers and wholesalers and ask the to save broken terracotta tiles for you...they can't sell them anyway, and if you're very sweet about it, they'll be happy to oblige. You can also request any broken hand-painted or imported tile.
Once you have enough to cover the countertop (or floor), sand the formica surface lighly, then slap on a coat of primer (no one will see this, so it doesn't need to be a work of art.Break all the larger pieces with a hammer, apply tile adhesive to the counter top (and perhaps the back of the tile) and arrange your mosaic...random is good, because it's easy...don't overthink it...you WANT rustic imperfection! Let the adhesive set, grout with dark colored grout, and seal the whole thing SEVERAL TIMES with sealer. If your countertops are straight, buy a simple piece of moulding and trim the edge with it. If they're curved, you can use iron-on wood veneer to trim the edges.
Windows-use simple bamboo/woodstick blinds. If you're itching for kitch, you can hang chili pepper string lights as a valance...fun, cheap, and easy to remove when you get sick of it.
Walls-Borrow a mere cup or two of paint from a friend who's wall color you admire (almost anything will work with the terra-cotta tile), make a very watery mix (3 or 4 to one) for a rustic, sheer, pretty finish. Use a large sponge, and just swoosh it on. Again, don't overthink. You want imperfection. I personall prefer just a freah "designer's white", but color choice is so personal!
Thrift shop for dinnerware that says "mexican" to YOU...don't worry about authenticity.
I could go on forever, but I'll stop here. Have fun!!
By Eric (Guest Post)
November 28, 2004
0

found this helpful
I have been thinking of altering the exterior look of my home to give it a German Theme appearance.
Where does one begin searching for architectural ideas?
I own a small one floor bungalow.
November 28, 2004
0

found this helpful
Eric,
We added this as a Reader's Request:
By Paula Rangel (Guest Post)
February 20, 2005
0

found this helpful
painted yellow with blue put saying from the heart like comadre saying just make it look from your soul I have my kitcken is yellow and blue I have saying on signs wood that I have made anyway my email is comadechingona @yahoo.com might want to look at becerrastudios.com also
By Charolett Nolte (Guest Post)
April 24, 2005
0

found this helpful
Hi,
A couple of years ago we embarked upon installing the fan hood in our small kitchen with sloped ceiling, the entire upper cabinet had to be removed to install a beam. Not much money to do alot so we recycled and planed down the boards of cabinet. Settled for the used, rustic look. Painted the back walls turquoise blue and installed yellow pine open cabinet shelves in the step step pattern to flow along the sloped ceiling. The blue back drop with the yellow pine worked nicely. Recently got new appliance, black fridge and black and stainless stove. The black fridge stood out quite vivid. I played it down with red striped guatemalan blanket draped across the top and side with a terra cotta pitcher with sunflowers, basket, and gourd. I put a mexican art work on the upper door of fridge. Decorate with bright hues of red blue yellow, orange. Sites will tell you that bubble gum pink and lime is also festive but I am not into that. Splashes of bold colors are what makes it festive. I plan to put christmas light along the ceiling for extra lighting.
I bought colorful plates and hung them inside the open shelves to bring in colors along with my dishes.
I am seeing bright bold colors in dishes and accesories in Pier I and Target.
Good luck
Charolett Nolte pcnolte@sbcglobal.net
I am conservative and don't have clutter. Due to my deaf/blindness, I had to change my lifestyle and get rid of clutter. But I love what I have done.
By Colleen (Guest Post)
January 27, 2006
0

found this helpful
after we came back from our trip to Akumal, Mex, my husband and I wanted to keep a little bit of the Mayan Rivera with us. Connect the two parts of our hotel was a shopping/nightly gathering place called Hacienda Dona Isabella (sp?). The colors were vibrant: blues, yellows, oranges, greens, reds. We decided to do our kitchen in the orange "stone wall" look. we started with a very very light orange base (like a white paint mixed with 1 part orange for 3 parts whites). After that dried, we used the terra cotta orange thinned with glazed. my husband brushed it one in sections of about two sq ft and i followed using a natural sea spong to "dab" excess of. The effect is amazing. we get hundreds of compliments on the work we've done. when the sun shines in the kitchen in the morning the room looks like it's on fire - reminding us of the warm tempatures in Mexico. We are lucky that our counters didn't need to be changed as they already look like brown and black granite; with the black appliances that we picked out for our home it was a great contrast to the walls. We were even lucky that the lino that we picked out when we bought our house four years ago, looks like 12 inch stone tiles with grey grout lines - they're textured so they look pretty real. the only way to really tell the difference is by walking one them with bare feet - its' not cold like tile. The kitchen is warm and cozy. So we got daring now and have done a polyensian (sp?) look in our living witha indoor water wall fountain and bambo around the entire room w/ palm trees...it's like our little oasis in the north (Calgary, AB, Canada)
Read More Answers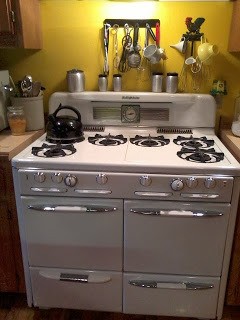 I have finally gotten my dream stove that is a 1941 Roper with 6 burners, 2 oven, and 2 broilers. I love the 1940's look and am slowly incorporating my kitchen to resemble a 1940's farm kitchen.
I am needing help as to what to use for window coverings other than feed sacks (I have feed sacks used elsewhere in my home and would rather not repeat in the kitchen). I have 9 (yes 9) kitchen windows.
My floor is 150 year old barn wood, and I need ideas for a rug for in front of the sink. I am thinking of removing the cabinet doors under the sink, and putting up a sink curtain, which was common for that era.
My kitchen is painted a bright, sunny John Deere yellow, and houses lots of antique items leading up to the 1940's.
By mom-from-missouri from NW, MO
Read More Answers