I am planning on doing some kitchen redecorating and need a little guidance. My kitchen has knotty pine walls, one wall is wallpapered, white appliances, plywood cabinets stained a dark brown and, you're not going to believe this, linoleum countertops! I can't afford anything new so I am going to paint everything. My wallpaper is a faded country look of old recipe cards, the colors are tan, with bits of dark green, blue and burgundy.

I am trying to decide whether to paint my cabinets dark blue or dark green. Does anyone out there have dark painted cabinets? How do you like them? I am afraid of making my small kitchen look like a dark cave, what are your opinions? I am going to paint the linoleum countertop with dark paints to resemble granite, or would just plain white look better? Any suggestions would be greatly appreciated!

Paula from Christmas, MI
Answers
February 8, 2006
0

found this helpful
Best Answer
I think the cabinets should be a lighter color if you plan on having dark countertops. If you really want to paint the cabinets a dark blue or green I would go with a lighter color granite countertop. Perhaps think about priming and painting the knotty pine walls in a light cheerful color as well or at least a beige in the same tones as the wallpaper. Collect color card samples from Home Depot in paint colors that match your wallpaper and also collect granite countertop samples. Before I painted our countertops, I colllected a bunch of samples to study.
Put all the color samples together to make sure they are appealing. This will give a more coordinated look to your kitchen. The colors do not have to "match" the wallpaper exactly but need to be in the same color "family". For example some blues have more purple/reds in them than others. And check out the off white/beiges...notice that some have more browns in them and some are more pinkish. Collecting samples and arrranging them on the kitchen table, holding them up the wallpaper, etc. goes a long way in helping to make a decision about color on walls, cabinets and countertops.
The best of luck to you in your project!
Marianne
December 14, 2006
0

found this helpful
Best Answer
My updated kitchen.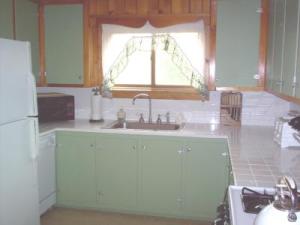 Answer

this Question

...
I can't change the 1980s taupe and sage print wallpaper and light oak cabinets in an outdated kitchen. How can I decorate to update my kitchen?
Answers
December 31, 2015
0

found this helpful
Well, Loralee, you can paint your cabinet fronts. I've even heard that it's possible to paint wallpaper, but you may prefer to try a test patch (behind the fridge or stove, perhaps).
New curtains (which you can make yourself)?
January 5, 2016
0

found this helpful
If you can't change the wallpaper, I'm thinking you likely can't paint anything either. New curtains in a solid colour (taupe or sage, I'm guessing) might help. What I did once in a house I lived in that had a blue flowered print wallpaper in the kitchen was to hang my basket collection all over that wall. You might also think of hanging some large pieces of artwork on the walls, just to cover up the wallpaper, if that is a possible. My baskets gave the kitchen a country feel, which I liked. Not exactly updated, but it was a change.
Answer

this Question

...