February 8, 2006
0

found this helpful
Best Answer
I think the cabinets should be a lighter color if you plan on having dark countertops. If you really want to paint the cabinets a dark blue or green I would go with a lighter color granite countertop. Perhaps think about priming and painting the knotty pine walls in a light cheerful color as well or at least a beige in the same tones as the wallpaper. Collect color card samples from Home Depot in paint colors that match your wallpaper and also collect granite countertop samples. Before I painted our countertops, I colllected a bunch of samples to study.
Put all the color samples together to make sure they are appealing. This will give a more coordinated look to your kitchen. The colors do not have to "match" the wallpaper exactly but need to be in the same color "family". For example some blues have more purple/reds in them than others. And check out the off white/beiges...notice that some have more browns in them and some are more pinkish. Collecting samples and arrranging them on the kitchen table, holding them up the wallpaper, etc. goes a long way in helping to make a decision about color on walls, cabinets and countertops.
The best of luck to you in your project!
Marianne
December 14, 2006
0

found this helpful
Best Answer
My updated kitchen.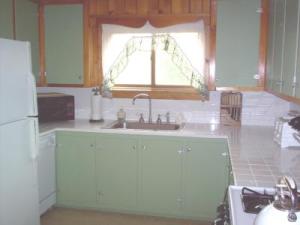 By guest (Guest Post)
February 8, 2006
0

found this helpful
I agree with Marianne. Chose to have either dark cabinets or dark countertops. And definitely paint the knotty pine! Pine is very outdated!
Don't get frustrated by lack of cash. In our bathroom -- we live in a parsonage and are poor pastors, so we couldn't "re-do" it per se -- we painted the cabinet a dark brown. The countertop was a linoleum that had a very funky pattern from the 70's on it. I primed it with spray primer and then used several cans of the stone-look spray paint to acheive a slightly rough, flecked surface with various colors of taupe/ beige. It has a slightly rough surface to it and I never got around to polyurethane-ing it (but if you do this in the kitchen, I'd definitely seal it with a couple of coats, as it gets a lot more wear). I did this 5 years ago and it still looks great -- almost like new! The floor is a durable shop floor carpet that we got from Home Depot for $40. My beloved husband cut it to fit the shape of the room, including around the toilet. The walls are a peachy-beige and the rest is white and chrome. Every day that I use it, I think it was the greatest single thing we've ever done in this house! You can make a BIG, BIG difference with just a little money!!
Good luck! Post a photo when you finish your update!
By guest (Guest Post)
February 8, 2006
0

found this helpful
i would go ahead and paint the cupboards dark blue or green, which ever color is your peference (keep in mind though that in terms of trends, green is more modern than blue (think fresh, botanical, etc. )). an important thing though to remember about the cabinets is to replace or paint the hardware (knobs, hinges, etc.) in a new tone too, to accentuate the change. you can find specialty spray paints at your local home-improvement store which will reliably coat the hardware to give it a "new" look at a fraction of the cost. this should only cost you one can of spray paint and can make a HUGE difference in the overall appearance and your satisfaction with the room. i've seen kitchens with only the hardware changed, not paintng the cabinets, and i can't over state the impact. please don't underestimate this small step. i take it from your post that you're keeping the wall paper. if that's true, from here on out, try to coordinate future kitchen purchases (ie: towels, knick-knacks, etc. ) in the same color as your cabinets to further the coordinated look.
February 8, 2006
0

found this helpful
if your kitchen is small you will want to stay away from dark colors. they tend to make a room look smaller. but if you truely like the darker colors you can incorporate them with accessories and maybe in the trim on your cabinets.
if the pine is in good shape and it is in with the overall theme and style of the home then a good cleaning may be all it would need. just changing your wall paper to painted walls and changing the cabinets and adding countertops may be enough of a change to make all the difference you need. is the pine stained at all? if it is with a medium gloss then a good cleaning really will make a big difference.
good luck and remember... only you, know what you like and what you want... so make you happy.
a tip for you... check out your local freecycle .org, craigslist and any reuse places in your area...you may be able to get some great deals or even some free items from these resources. another idea is to ask some remodeling companies if they ever have any cast offs. my hubby does alot of remodeling for people and if you lived closer i would be able to give you free cabinets and counter tops...we have already replaced our cheap imitation ones with the real thing and he still has another set that was given to him and he has sold others, SO spread the word amoungst your friends, who may have friends who do this type of work. you may get lucky!
hth
brenda-ohio
February 8, 2006
0

found this helpful
I rent in an over 100 year old house so the cupboards are definitely old. I went dark on the outer edges and light in the center to keep the room feeling more open being as it is small.
February 9, 2006
0

found this helpful
Why not paint the cabinets white and then have a dark countertop....or how 'bout painting the cabinets a pretty sage or moss green. Some paint can do wonders. I've watched enough of those home improvement shows to see that....also you could add new hardware to the cabinets. What color are the appliances?
February 9, 2006
0

found this helpful
Hi everyone, thank you for all the responses. Debbie52, my appliances are white, which is why I was thinking of going more of a green/white, or blue/white color scheme. If I paint the cabinets green and the counter white (maybe sponge paint over that?) and I would like to paint the floor too, with green/white or blue/white squares. I like the wallpaper, it is new, just looks old and worn, and I also like the knotty pine (really, I do!) I live in the Upper Peninsula of Michigan and the knotty pine just fits with the house. When I finally get this project completed I will post before and after pictures to show you how it turned out!
By guest (Guest Post)
February 10, 2006
0

found this helpful
You've been given lots of good advice already. One thing I will add is that dark colors (especially black) show every speck of dust or dirt. You may want to consider that if you decide to paint your countertop a dark color. I work in a place that has a kitchen with black countertops and it always looks dusty.
February 11, 2006
0

found this helpful
Jan, thank you! You are so right about the dust issue; we use a fireplace to supplement our heat and the dust is always bad. I am so glad you brought that to my attention!