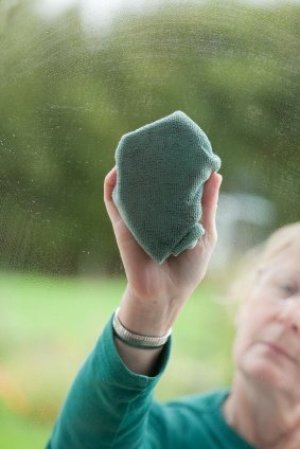 Even though no one likes to do windows, having a good glass cleaner goes a long way to making this job easier. This page contains homemade window and glass cleaner recipes.
Solutions
Read and rate the best solutions below by giving them a "thumbs up".
A wonderful window cleaner can be made out of the following:
Mix 2 cups of hot water with 1/4 cup of vinegar and a tablespoon of cornstarch. Mix very well, and the pour into a spray bottle. Use with crumpled up newspaper. The windows will shine!
By Robyn
By
You will need a 12 oz. spray bottle. Mix 3/4 cup of vinegar, 1/4 cup of water, 1/4 cup rubbing alcohol, 1/2 teaspoon of dish soap, 3 drops of mandarin orange-tangerine, sweet orange essential oil. Add three drops of peppermint essential oil. Mix well before each use to avoid streaks. Use newspaper to clean windows; it works better.
Source: Simply frugal helping you save money in Canada.
By coville123 from Brockville
By
Ingredients:
1/4 cup white vinegar
1 tablespoon cornstarch
2 cups warm water
Directions:
Put all the ingredients into a clean spray bottle and shake to mix. Use as you would a commercial glass cleaner. Spray on glass and wipe dry with a clean cloth or newspaper.
By
Ingredients:
1 pint rubbing alcohol
2 Tbsp. ammonia
2 Tbsp. liquid dish washing soap
Directions:
In a gallon jar, mix all 3 ingredients. Fill jar rest of way up with water. Use in spray container.
By Robin from Washington, IA
By
Share Your Feedback: Once you try any of the above solutions, be sure to come back and give a "thumbs up" to the one that worked the best for you. Do you have a better solution? Click "Share a Solution" above!
Questions
Here are questions related to Homemade Window and Glass Cleaner Recipes.
I am looking for a recipe for window cleaner. It was made with cornstarch and alcohol, and I am not sure what else. It really worked.
By Jilly from WI
By
---
Most Recent Answer

By Hyena Cub04/10/2010
Here are the few I have found:
http://www.ci.richland.wa.us/RICHLAND/enviro/index.cfm?PageNum=77
http://ths.gardenweb.com/forums/load/cleaning/msg0913303129156.html

http://www.frugalfun.com/cleansers.html (scroll way down)
http://tipnut.com/more-homemade-window-cleaner-recipes-to-try/

http://www.buzzle.com/articles/homemade-window-cleaner.html
Good luck!
Do any of you have a recipe for a homemade window cleaner?
By Shelley from San Diego
By
---
Most Recent Answer

By Sandy04/06/2012
1/4 Rubbing Alcohol, 3/4 water, a couple drops of Dawn Dish Soap. After you use this, you will never ask that question again. It can also be used in your cars windsheild washer fluid reservoir. You will never use anything else after trying this solution.
How does cornstarch help make the glass cleaner streak free?
By Sue B
By
Can anyone give me a recipe for window washing solution that can be used for outside windows in the winter? I just moved into a new home and the windows are filthy.

By Clark12
By
---
Most Recent Answer

By Old Knitter02/16/2008
I use vinegar and water as well.
Archives
Thrifty Fun has been around so long that many of our pages have been reset several times. Archives are older versions of the page and the feedback that was provided then.
I have the best glass cleaner recipe ever! I've been using this for over 10 years! You can also put it in your window washer container in your car. No streaks!
Mix equal parts in an empty squirt bottle.
Rubbing alcohol
Ammonia
Water
By Jane from Anaheim, California
---
RE: Jane's Favorite Homemade Glass Cleaner
Yes, love it! It does work wonders. I did all my windows this morning and they just shine. Thanks for this. (03/09/2006)
by Sheila in Wisconsin.
Ingredients:
1 part vinegar
1 part alcohol
1 part water
Directions:
Combine in a spray bottle. This can be used on windows, mirrors, appliances, faucets, etc. I find that it works better (read: less streaking) than store bought.
By Leann
---
RE: Homemade Glass Cleaner
I use regular rubbing alcohol and white distilled vinegar. (09/30/2004)
By Leann
Window Cleaning Solutuion
The best mixture for cleaning windows is 1/2 cup of ammonia, 1 cup of white vinegar, and 2 tablespoons of cornstarch in a bucket of warm water. (10/29/2004)
By Peggy
RE: Homemade Glass Cleaner
I use 2 tablespoons ammonia, 1 cup rubbing alcohol, and 4 cups water. Mix together, put in a spray bottle and you are ready to clean those windows! Cheap! (10/30/2004)
By hugmehugs
RE: Homemade Glass Cleaner
If you have thermal pane windows, don't use ammonia. It discolors the windows (turns them purple). A Pella window installer shared this with us. (10/30/2004)
By bronda
RE: Homemade Glass and Window Cleaners
We buy gallon jugs of windshield washer fluid when it's on sale and pour it into a spray bottle as needed. It works like a charm and is cheap! (11/05/2004)
By Songbird100
RE: Homemade Glass and Window Cleaners
I use 1 tablespoon of bicarbonate of soda per 1/2 gallon of warm water for all windows in the house and the cars. They stay clean longer, no streaking, and this gets rid of smoke stains/oil. (11/26/2004)
Using Alcohol Instead of Window Cleaner
Instead of buying expensive window cleaners I found rubbing alcohol works best. I fill up an empty squirt bottle from the dollar store with alcohol and start cleaning. It leaves windows, mirrors, and chrome streak free and clean (plus it costs a lot less!) (11/28/2004)
By KimS
RE: Homemade Glass and Window Cleaners
Use straight vinegar in a spray bottle. It leaves no streaks and chrome comes shiny like new. (12/10/2004)
By Shirli
RE: Homemade Glass and Window Cleaners
Vinegar added with very warm water and crumpled up newspaper work just as well. Happy Holidays. (12/18/2004)
By Mary
RE: Homemade Glass and Window Cleaners
Windshield washer fluid sounds good, but read the warning on the label. Some contain methanol not alcohol and may be a danger to use indoors. (02/22/2005)
By Tom
Glass Cleaner
3/4 cup of rubbing alcohol to 1/4 cup of water makes for an excellent glass cleaner. It is great for mirrors, chrome, and countertops, too. (03/16/2005)
By Crystal
Window Cleaning Recipe
Wash windows with the following recipe:
1/2 cup vinegar
1/2 cup ammonia
2 tablespoons corn starch
Mix these three ingredients in one gallon of hot water. (04/01/2005)
By truerblue
RE: Homemade Glass and Window Cleaners
Just an FYI, I don't think windshield washer fluid should be used indoors either and where I live, it is "not" cheap. (07/29/2007)
By Maryeileen
RE: Homemade Glass and Window Cleaners
As a professional window cleaner for over 30 years, let me tell you from experience and experimentation; newspapers or vinegar are "not" the best choices for home made window cleaning solution. I've tried them all extensively.
Most window cleaners use a few drops of Dawn or Joy dish washing soap in a bucket of water. If you want to use as a spray, add some alcohol, rubbing alcohol works, but is not the best choice. For wind shield washer fluid add more alcohol to prevent freezing, not an issue if you don't have freezing weather.
It's not the chemical that produces the streak-free clean window it's the training, practice, skill, and techniques of the professional that make the difference. Professional tools also help. But why waste your hard-earned free time cleaning windows? It's easy to hire a pro, just look up window cleaners in the YP or Google "window cleaners (+your location"and spend that free time doing something you enjoy)! (06/08/2008)
By Steve