February 29, 2008
0

found this helpful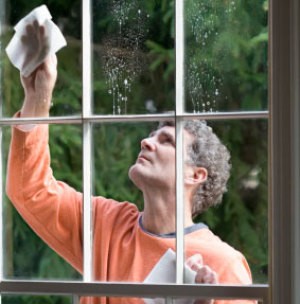 Tips for saving money on window cleaner as posted from the ThriftyFun community.
Windshield Cleaner
Don't pay extra for Windex. Wait until your auto parts store has car windshield cleaner on sale and stock up. Save dollars by refilling your spray bottles at home.
By Terri
Vinegar
I just use vinegar to clean my windows. It is cheap and I always have it on hand.
By Athena
Dilute Vinegar Or Windshield Wiper Fluid
I have not bought window cleaner in years. Instead I make my own, in one of 2 ways:
Dilute white vinegar 1/2 with water. Use as you would Windex.
Buy windshield wiper fluid when it is on sale for 99 cents. I dilute it 1/3 fluid to 2/3 water. Again, I use it as I would Windex.
I don't use paper towels on windows either. I either use old newspapers or old cloth diapers.
By April
Hot Water
I use hot water and micro cloths. Many have asked how I get my patio doors to shine.
By lavonneann
Vinegar and Newspaper
I use plain white vinegar and crumpled up newspapers. The ink in the newspaper shines up the glass or mirror beautifully. Easy, fast, and inexpensive!
By AnyaB
Vinegar Window Cleaner
Ingredients
1/4 cup white vinegar
1 tablespoon cornstarch
2 cups warm water
Directions
Put all the ingredients into a clean spray bottle and shake to mix. Use as you would a commercial glass cleaner. Spray on glass and wipe dry with a clean cloth or newspaper.
Rubbing Alcohol
Use regular rubbing alcohol. Just a couple drops on a cottonball, paper towel or rag will clean any glass squeeky clean with no streaks for less than pennies per use.
By Mary
Dawn Ultra in Water
A couple of drops of Dawn Ultra in a spray bottle full of water works wonders on glass and mirrors. We use it everyday at the convenience store I manage. We also use it in the windshield washer container outside in the summer months. Leaves surfaces streakfree. One bottle of Dawn lasts a very long time!
Gina from Missouri
Rubbing Alcohol and Ammonia Recipe
I have the best glass cleaner recipe ever! I've been using this for over 10 years! You can also put it in your window washer container in your car. No streaks!
Mix equal parts in an empty squirt bottle.
Rubbing alcohol
Ammonia
Water
By Jane from Anaheim, California
Do you have any ideas? Feel free to post them below.
I use gallon jugs of car window washer cleaner for cleaning my house windows. I just reuse an empty spray bottle or buy a cheap one and refill as needed. It works great on cleaning them. In the spring, I use the bug cleaner one and the rest of the time I use Rainex that sheets the rain off the window. It's the cheapest way to clean the windows and works great.
Source: My sister thought of this.
By Barb from Rouses Point, NY