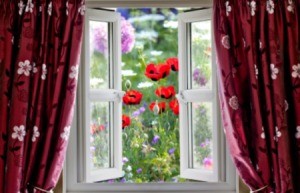 Tips for saving money on Drapes, Blinds and Window Treatments from the ThriftyFun community. Do you have any tips to share? Please post them below!
Use Household Items For Window Treatments
I buy 100% cotton bed covers from IKEA for 5 Euros each and put a set up as curtains. They are natural colored and very 'earthy' looking. Then to hold them back during the day, I use two pretty necklaces that are made of wood and bone. I like the natural look a lot and I think they look wonderful. I haven't bought curtains in years! Lisa
By Lisa Austin
Kids Patterned Sheets And Neckties For Tiebacks
You can also get theme sheets for children's rooms. I once made some Charlie Brown and Snoopy for an expansive window in the toddler room at my church. That required some sewing because of the length. I just took my sewing machine over there and measured, stitched and hung them up on the spot. Men's neckties, necklaces or bandannas will make great tiebacks for windows. Cup hooks make great little hooks for the tiebacks.
By Marty Dick
Staple Up Valances
I learned this from a furniture store. Instead of using a curtain rod for hanging valances, just staple them up. I use a light weight stapler works great. No need to buy rods or make boards to fit your windows. I have used this method also for making "doors" in my unfinished basement.
By LEDDA
Use Sheets For Fabric And Other Tips
Use flat sheets in coordinating patterns for rooms, or use plain colored ones and add your own adornment. Top band of sheets already has a "pocket" just slit a hole small enough for rod to fit through both ends and you are done. To make it even easier, "drape" the long ends to "look fancy", no one will know it because you didn't sew anything!
I made a very "cheap" yet functional window treatment for our bedroom windows. Condo rules say you have to have white facing outside, so I bought two cream colored sheets, I think full size, and basted them to two blue sheets (this instance I had to sew a little, but can do with hand or on a machine). Then placed the two sets (4 sheets in total) on the sliding window, then added "greenery" and some draping wisteria, looks very rustic.
Our walls were sponge painted this odd pattern/color by the previous tenant and I never changed, but when I added the colored curtains and the wisteria, WA LAA, instant Italian feel (good since my DH is Italian!).
You can take the sheets for kids rooms and embellish with what-nots before you hang, have fun!
Go to the hardware store and buy a wooden dowel instead of a set, you can stain the dowel just about any color, even BRIGHT colors if you use Jello and water! You can add finials that you can buy and stain, or glue on cool things: A matchbox car for boys, sea shells for the bathroom etc. You can pick tons of sizes of finials.
For hard to fit windows, I use tension shower curtain rods, works in doorways that you want a curtain too (for our cold months we need it), makes a great "Stage Curtain" for kids when you need too!
By Michawn