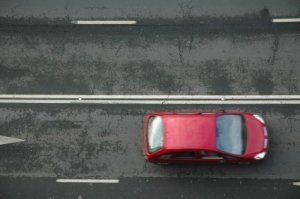 Tar can get kicked up on the front of car easily during hot weather. Tar can be especially difficult to remove from the paint. This is a guide about removing tar from a car.
Ad
---
Solutions: Removing Tar from a Car
Read and rate the best solutions below by giving them a "thumbs up".
Road tar and asphalt which splatters up and sticks to an automobile is almost impossible to remove. That is, unless you first saturate the spots with linseed oil. Allow the oil to soften the tar for a few minutes and you'll find that the grime rubs right off with a piece of coarse cloth.
By duckie-do from Cortez, CO
Got road tar on your new car? Instead of using abrasive bug and tar removers that can strip off wax, use peanut butter. Just rub a little on the spot with a clean rag and the tar will start coming off. Safe for your paint and earth friendly.
By Steve from Memphis, TN
To remove tar spatters from your vehicle, spray with Avon Skin So Soft on the tar, let it set a minute or so and wipe off.

By Harlean from AR
They were re-surfacing the roads in our housing development. I went to the near by local, Mom and Pop market, to get several needed supplies. On getting out of my auto, I noticed tar on the bottom of lower panels and doors.

When I got home, I took out my WD40, went out to my auto, sprayed it on the tar. Used a soft cloth for removal, so not to scratch paint. Using a little elbow grease, it came off like magic.

By Gladys
Take road tar off you car by smearing it with butter. Leave on overnight and wipe it off in the morning with a rag. Good as new. My friend had bought a brand new car and took it on her first road trip and went thru some road construction. Her car was covered along the bottom of the doors. We used the butter and her car was beautiful again.

By Katz
Give a "thumbs up" to the solution that worked the best! Do you have a better solution? Click here to share it!
Questions
Here are questions related to Removing Tar from a Car.
Does anyone know what takes tar off of cars? I recently got a little bit on mine & can't remember what I read about it. It was a non-chemical/toxic solution.

Thanks!

Vicki
AnswerWas this interesting? Yes No
Ad
---
---
Most Recent Answer
By Brian (Guest Post) 02/05/20090 people found this helpful
I just had one little spot and peanut butter took it right off.
---
What is the easiest way to remove road tar off of cars? Elbow grease goes a long way, but there has to be an easier way. We wash our car with Dawn and this helps, but the tar stains are so stubborn. Help!
By Peggy
AnswerWas this interesting? Yes No
Ad
---
---
Most Recent Answer
By Marg C. 08/24/20110 people found this helpful
I may be a little late here but Mayonnaise and a paper towel takes the tar right off. I've done this for years and will never buy special tar remover from the store.
---
What can I use to remove tar from the outside door panels of my automobile?
By Joan from Russellville, AR
AnswerWas this interesting? Yes No
---
Most Recent Answer
By Jennifer [33] 09/19/20100 people found this helpful
I use kerosene. Put a little on a rag and gently rub the places where there is tar and it will disolve and come off with no harm to the paint.
---
How do you remove tar from a car that's been on for a long time? I've used gas, WD40, all types of removers, Varsol, peanut butter, mayo, and nail polish remover. Nothing works!
By Don
AnswerWas this interesting? Yes No
---
Most Recent Answer
By Deanj 07/15/20120 people found this helpful
What works for me is adhesive and tar remover available from auto parts stores. Also gasoline does a good job as well. You have to rub it in with a rag. It will look streaky when the tar is removed then wash the area. The longer the tar has been on the car the more difficult it will be to remove.
Archives
Thrifty Fun has been around so long that many of our pages have been reset several times. Archives are older versions of the page and the comments that were provided then.
Tips for removing tar from your car or trucks finish. Post your ideas.
Responses:
Baking Soda
06/01/2005
Use baking soda to take the tar off your car.
By scabansweeps
Skin So Soft
06/01/2005
My sister drove her vet out from California a few years back and had driven through some oily tar and she could not remove it although she had tried all sorts of things. I suggested she try Skin So Soft, by Avon, and she was amazed! It took it off right away!
By jeanne (Guest Post)
Cold Cream
06/01/2005
Cosmetic cold cream works. Rub on and wipe off.
By siris (Guest Post)
Goof Off
06/02/2005
There is a product called Goof Off made by Lilly Industries that works like a charm. I purchased it at K-Mart, but you could probably find it at other similar stores.
By dianajoyce
Gasoline
06/02/2005
Many years ago I used gasoline on a rag to remove it. Worked quite well. Do it outside rather in a closed garage.
By Syd (Guest Post)
WD40
06/05/2005
We used WD-40 to remove a 'lot' of tar from my son's car one time. It worked great, however, my brother told us that when it comes to repainting it, it isn't such a good idea. We didn't have to do that, so it didn't matter.
By (Guest Post)
Avon Bath Oil
06/22/2005
Nothing takes it off better that Avon Bath oil. Borrow it if you have to. It will amaze you, even if it's been there for a long time. Apply it with a rag, let it sit for a minute and wipe it off. No damage to the paint either.
By Ardis Barnes
Bath Oil Worked
07/08/2005
Thanks for the great tips! I used bath oil, and it came right off, wiped clean, no damage to the paint and it was A LOT of tar.
By chicago (Guest Post)
There are some items in your kitchen that may be successful in removing tar.