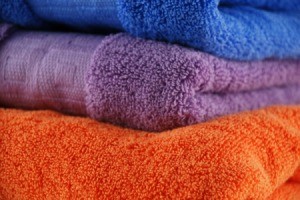 We buy bath towels to dry off after a bath or shower. Finding that your towels are not absorbent, is very frustrating. This is a guide about making bath towels more absorbent.
Ad
---
Solutions: Making Bath Towels More Absorbent
Read and rate the best solutions below by giving them a "thumbs up".
I was surprised by the absorbency of the towels at the salon I go to, and did a little investigating. The staff does not use any softener in the washer, and NO dryer sheets, yet the towels are soft and so absorbent. They have a water softener. But I had to do some experimenting, because I wasn't happy with my towels, and I learned something. I washed a bunch of towels in just about 1 tablespoon of Oxy powder (my favorite) and then only 1/2 the amount of liquid softener that I usually use (even in hard well water). Then dried them without a softener sheet. TA DA! Soft AND really absorbent towels! And I save money.

By Kathy from Manitowoc, WI
Give a "thumbs up" to the solution that worked the best! Do you have a better solution? Click here to share it!
Questions
Here are questions related to Making Bath Towels More Absorbent.
About 3 months ago I bought some Martha Stewart bath towels. They were fairly expensive. I think $7 a towel. I used Downy fabric softener on them as I do all my clothes. About 3 weeks ago I noticed the towels were hard and not absorbent. These are pretty thick towels. So thinking it was the Downy, I stopped using it on my towels. Needless to say, they are still hard and scratchy. Have I ruined my new towels?

Dana from Newkensington, PA
AnswerWas this interesting? Yes No
Ad
---
---
Best Answers
By Mary [12] 11/10/20060 people found this helpful
Go to her website marthastewart.com and email them about it. I'll bet somebody responds to you! She is very hands on about her products, plus she just came out with a new housekeeping book, so she may even use your question on her show!
---
By susan [8] 11/12/20060 people found this helpful
Fabric softeners shouldn't be used on any natural fibers. It was invented to prevent static cling from synthetics. It clings to natural fibers, making them much less absorbant. I think soaking in vinegar and washing them several times should remove the build-up. Good luck.
---
How do you get towels to absorb, that do not absorb? I do not use fabric sheets.
By SAUKRAPIDS from Sauk Rapids, MN
AnswerWas this interesting? Yes No
Ad
---
---
Best Answer
09/21/20090 people found this helpful
This is from the finish used when the towels are manufactured. To clear the problem just wash the towels in hottest water possible to avoid shrinkage and color fade, but add a cup of plain white vinegar to the wash water this will help strip all finish and any laundry soap build up that are on the towels. A special finish is used to make them appear softer and fluffy at the store. They will be fluffy, soft, and they will absorb the water, imagine that a towel that actually does what it is intended to do, absorb water not just look and feel pretty.
---