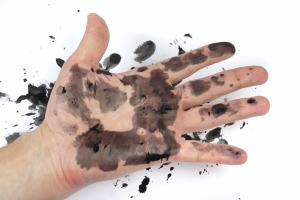 When filling an ink cartridge it is easy to get some on your hands. This guide is about removing printer ink from skin.
Ad
---
Questions
Here are questions related to Removing Printer Ink From Skin.
How do I get ink cartridge ink off my hands?
By Ron from Princeton, ON
Ad
---
---
Best Answers

By jean leiner [14]03/23/2010
Try scrubbing your hands with white toothpaste and a nail brush. Works for me.
---
Best Answers

By OliveOyl03/23/2010
Try hairspray, rubbing alcohol or hand sanitizer.
---
Best Answers

By Lisa (Guest Post)11/26/2008
I used Milton! Worked a treat :-)
---
Best Answers

By Jackie Baynes (Guest Post)09/02/2008
Many Blesssings! I had cartridge ink on my hands. I tried rubbing alcohol it didn't work. Bleach took it off instantly. Make sure you dilute and wash hands afterwards. Thanks again. 9/1/08
I got a lot of black printer ink on my hands. The only household cleaner that removed it was Shout Stain Remover. It removed the ink completely with 3 applications.
By DaniGirl from New Windsor, NY
Ad
---
---
Best Answers

By gem [150]04/08/2011
Baby wipes are another item that removes almost anything. Just scrub down with a baby wipe and you are as good as new. I use them all the time in crafting. I really think they are great.
Gem
---
Best Answers

By Karen Kwaak [2]04/07/2011
I use hand sanitizer to take out ink. The alchol in the sanitizer is what does the trick.
---
Best Answers

By carolcoen [1]08/12/2009
Lava soap and/or cleanser like Comet worked for me.
Solutions: Removing Printer Ink From Skin
Do you have knowledge about this guide topic? Feel free to share a solution!