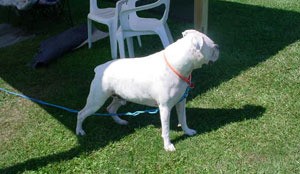 We go the lake a lot and gnats drive him crazy. If anyone know of what too use on my dog, please let me know.

Pat from IN
By Pat Frain
Ad
---
By Janette 91 153 07/15/2008 Flag
I have found that WD-40 works great. I read about this in the farmers almanac. Farmers use it on horses and cows to keep flies away also. I also use it to ease the artheritis in jmy elbow. I know it sounds weird but i got this tip off the internet and it works!. ~Janette~
By sue (Guest Post) 07/16/2008 Flag
Adams is very good spray. Some dogs cannot tolerate the strength of it, so use very sparingly. The Avon skin so soft is very good, but use sparingly on it too. Be especially careful around the eyes. They are just as sensitive as a human eyes.
By Dena Roberts 35 491 07/17/2008 Flag
Someone said that Absorbine Jr. Just a dab on the ears and one on the neck keeps bugs off people. You could try that.
By Kim Churchman 3 1,277 07/19/2008 Flag
Feedstores sell a stick you can use like a crayon around his eyes and ears, of fly repellent. In the horse department. Very effective.
By nelliemary 22 63 07/28/2008 Flag
I would be really sure what I put on my dog. First be sure it cannot harm him. I think I would check with my vet and certainly would not put anything on that would cause him to foam at the mouth. Good luck.
For dogs try wiping petroleum jelly on the areas of the dog the flies are attracted to. It won't hurt the dog and the flies don't like it. WD 40 doesn't work and one wouldn't want a dog ingesting it.
By Clynn Altemus 30 67 03/09/2010 Flag
I live in an area where there are gnats and no-seeums, both of which go after my dogs. I rub them down from head to toe with white vinegar. It even keeps the fleas and ticks away, and I don't have to worry about them getting sick.
Archives
Thrifty Fun has been around so long that many of our pages have been reset several times. Archives are older versions of the page and the comments that were provided then.

I am having a problem with gnats biting my outdoor dogs. They are infesting the tops of their ears and noses, drawing blood and annoying the dogs. Any suggestions?

Alison
Answers:
RE: Gnats Biting Dogs
I got some spray at the local co-op called ADAMS flea and tick spray, they also have the shampoo. I was told by the groomer to get it because my Pomeranian got into a nest of mites. It works and all kinds of critters that get on dogs. You might want to try that.
NOTE: dogs hate the smell, although, I think it smells quite nice. The first several times I put it on our dog she foamed at the mouth and your dogs will roll around in something that "smells good" like a dead frog afterwards if they get have a chance.
If you can't find the ADAMS in your local tractor supply store look for it online. Good luck... (07/12/2005)

By JustCeleste
RE: Gnats Biting Dogs
Try putting Vaseline on the affected areas. It will keep the gnat from bitting those areas. (07/14/2005)

By JMRoss
RE: Gnats Biting Dogs
My dogs come and go all day long inside and out. I use AVON skin so soft - apply small amount to there ears and also I have used kids cutters (insect repellent) and I spray it on my hand and rub it on there ears/ snout. Be careful not to get it in there eyes. Also do not apply to broken skin (09/13/2005)

By cindy.