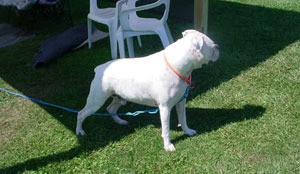 We go to the lake a lot and gnats drive him crazy. If anyone know of what too use on my dog, please let me know.

Pat from IN

Answers

July 19, 2008
0

found this helpful
Best Answer
Feedstores sell a stick you can use like a crayon around his eyes and ears, of fly repellent. In the horse department. Very effective.
Answer

this Question
I am having a problem with gnats biting my outdoor dogs. They are infesting the tops of their ears and noses, drawing blood and annoying the dogs. Any suggestions?
Alison
Answers:
Gnats Biting Dogs
I got some spray at the local co-op called ADAMS flea and tick spray, they also have the shampoo. I was told by the groomer to get it because my Pomeranian got into a nest of mites. It works and all kinds of critters that get on dogs. You might want to try that.
NOTE: dogs hate the smell, although, I think it smells quite nice. The first several times I put it on our dog she foamed at the mouth and your dogs will roll around in something that "smells good" like a dead frog afterwards if they get have a chance.
If you can't find the ADAMS in your local tractor supply store look for it online. Good luck... (07/12/2005)

By Celeste
Gnats Biting Dogs
Try putting Vaseline on the affected areas. It will keep the gnat from bitting those areas. (07/14/2005)

By Julie
Gnats Biting Dogs
My dogs come and go all day long inside and out. I use AVON skin so soft - apply small amount to there ears and also I have used kids cutters (insect repellent) and I spray it on my hand and rub it on there ears/ snout. Be careful not to get it in there eyes. Also do not apply to broken skin (09/13/2005)
By cindy.