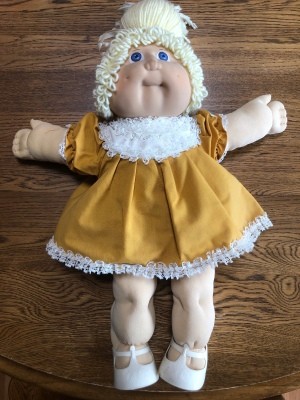 I found this CPK kid at my local thrift store today. When getting ready to clean it, I noticed it has 2 signatures on its bottom. The one on the right cheek appears to be faded and reversed. (Almost as if it has two layers of material)
There is no box or birth certificate. I bought it as is shown. From researching it looks like it was made in 1984 in Jesmar, Spain. I bought it to take into my classroom at school for purposeful play but want to make sure it isn't worth money before I do that. Thank you for your help.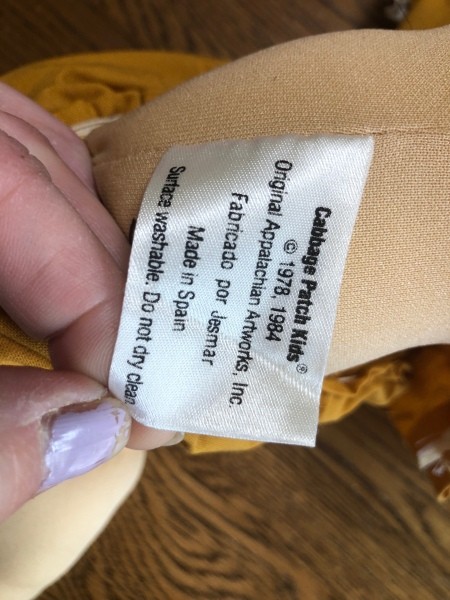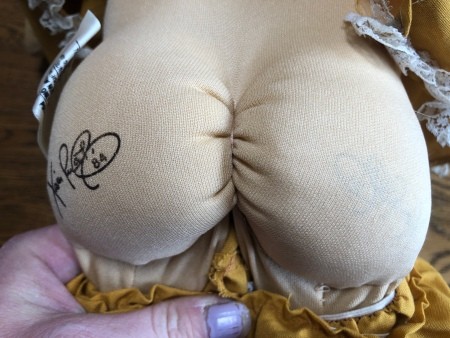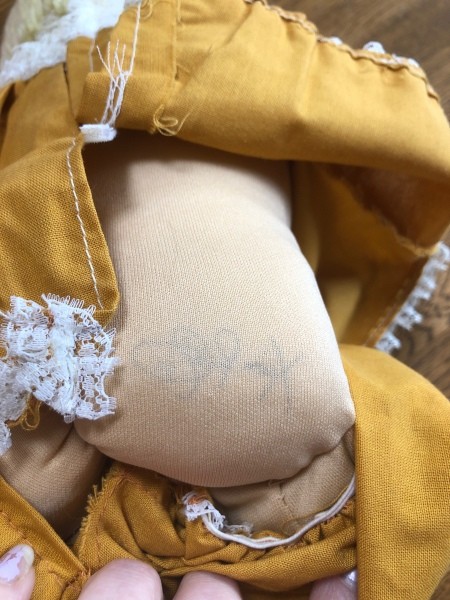 Answers

CDC
Bronze Tip Medal for All Time! 59 Tips
March 28, 2022
0

found this helpful
Best Answer
Most cabbage patch dolls are selling for around $25-$35 dollars on eBay:
www.ebay.com/.../i.html?_from=R40&_trksid=p2499334...
Original 'Little People' were completely soft, even the heads. Later when they re-branded as 'Cabbage Patch Kids', they had vinyl heads. 'Little People' dolls are hand-signed and stamped by Xavier Roberts.
These original dolls have some distinctive things about them that set them apart and make them more valuable. This is a good article:
medium.com/
@social_28780/do-you-have-valuable-cabbage-patch-kids-hiding-in-your-basement-gemr-cb39468f36a6

Judy
Gold Post Medal for All Time! 677 Posts
March 28, 2022
0

found this helpful
This is not expensive, as it is not the original signed by Xavier Roberts. You can take it to your classroom.

March 29, 2022
0

found this helpful
I found a 1984 Cabbage Patch Kids doll with original clothes, with same tag and Xavier Roberts' signature stamp www.ebay.co.uk/.../194935108658
The price is £18, but it needs cleaning.

March 29, 2022
0

found this helpful
You have a regular mass-marketed authentic Cabbage Patch Kid because your Xavier Roberts doll has a signature stamp.
There are three identifying characteristics of regular mass-marketed authentic Cabbage Patch Kids:
1. Xavier Roberts signature stamp on the left bum cheek (in rare instances, the signature is on the right and in even rarer instances upside down).
2. Copyright notice on the back of the head.
3. The side tag.
The side tag says Jesmar. In 84 and 85, Coleco granted rights to four foreign factories: Jesmar in Spain, Tsukuda in Japan, Triang-Pedigree in South Africa, and Lili Ledy in Mexico.
Jesmar April 19th, 1984, Jesmar, a Spain-based doll company, began production of their Cabbage patch kids, under the contract of Coleco. Jesmars were distributed throughout Europe, United Kingdom, and Canada. Only certain distributors in the US had Jesmars, such as Hobby City and Rowe-Manse Emporium.
I think the price of your doll is not high, about 30-35$ 
www.ebay.com/.../394001151969

Ana
Bronze Post Medal for All Time! 140 Posts
March 30, 2022
0

found this helpful
Here is one like yours going for under $25 - www.etsy.com/.../cabbage-patch-kids-girl-doll-blonde....

March 31, 2022
0

found this helpful
I'm not sure your primary question has been answered and I'm not sure anyone here can answer this question.
Does the double (reversed) signature make this doll more valuable?
I could not find any reference online referring to this so that is as far as I can go.
There are several Cabbage Patch doll forums still active (most have given up) and someone on those sites may be able to help you.
It will probably take some time to post but, hopefully, someone will answer your question.
Try some of these:
www.ghostofthedoll.co.uk/.../index.php?topic=540.0
www.tapatalk.com/.../
mycpkcollection.weebly.com/links.html
Good luck.
Please post back if someone provides information.
Thanks
Answer

this Question