EllenB
Gold Post Medal for All Time! 858 Posts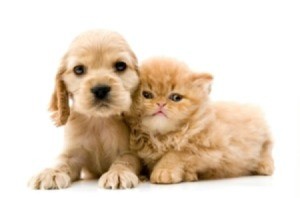 Does your dog or cat have a flea problem? Many commercially available flea remedies contain synthetic pesticides like organophosphates and carbamares. This includes common sprays, powders, rinses, lotions, and those dreaded flimsy white collars that keep your pet's head immersed in a constant cloud of toxins. Read the label. It will tell you to avoid getting these products on your skin, yet tell you cover your pet's skin thoroughly! So instead of running to the pet store, here are 5 safe and effective remedies to cure flea infestations organically.
Herbal Shampoos: These can be used once a week, but not so often they dry out your pet's skin. Keep in mind that once your pet is wet, fleas will quickly move to higher ground. For this reason, it's wise to create a "shampoo ring" around your pet's neck before wetting the rest of their body so fleas cannot escape to their head. Shampoos containing pine cedar, bergamot, rosemary, lavender, eucalyptus, citronella, rose, juniper, or geranium are all effective. Certain strong-smelling herbs (citrus, rosemary, cloves, pennyroyal, lemongrass, rue) are considered cat repellents and should only be used on dogs. Comb your pet daily with a flea comb between shampoos to stimulate the skin's natural oils.
Beneficial Nematodes: This outdoor treatment is usually associated with controlling certain garden insects, but these micro-organisms eat flea larvae, too. Look for names like Fleabusters, Bio Flea Halt! And Interrupt! To apply, follow label directions carefully.
Team Borax: Sprinkle borax laundry detergent over carpet and furniture (work it into your carpet until you don't see any residue by "skating" over it with your shoes). The detergent works by dehydrating the adult fleas and the larvae. If necessary, repeat every three months during flea season to keep fleas away. Baking soda will also work in a similar way.
Diatomaceous Earth: This works in the same way as detergent, by drying out adult fleas and their larvae. Use food grade diatomaceous earth. This can also be dusted on the animal's coat, but only sparingly, as it is very drying to their skin.
Citrus Oil Rinse: Use this on dogs only. Cut up citrus peel into chucks (lemon, grapefruit, oranges) and simmer it in pan of water for 15 minutes. Cool completely. Pour over your dog's fur so it covers the skin thoroughly-paying close attention to areas that are hard for your pet to reach.
Other Flea Control Tips
Clean your house thoroughly. This means vacuuming furniture and rugs daily (especially pet areas), and washing pet bedding in hot water and drying it on high heat. Vacuuming alone can remove up to 30% of the larvae and up to 60% of flea eggs from carpet. Flea eggs can survive in vacuum cleaner bags, so when you're done vacuuming throw the bag out, or stick it in the freezer for a few hours before reattaching it.
Keep Your Pet Healthy. The absolute best way to avoid flea problems is to keep your pet healthy. Fleas will seldom take up residence on a dog or cat that has a healthy coat and skin, but on animals with dry, itchy skin, or hot spots it's a different story. Exercise your pets regularly, and feed them a high-quality pet food (your own cooking or an organic food is best) that contains whole vegetables and whole meats (not meat by-products).
Avoid foods with added "meals" (corn, soy, etc.) or other fillers, or those that contain artificial colorings and preservatives, such as BHA and BHT, propyl, gallate, sodium nitrite, and ethoxyquin (a known pesticide).
Comments
Read More

Comments