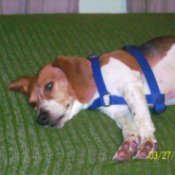 When I lived in OK, I lived in the country as it was less expensive. However, there were fields and woods in my neighborhood. Fields and woods means lots of wild animals; including deer and mice. I constantly had fleas and ticks and they were a nasty problem, for a while. They were in the yard, in the house, in my bed and everywhere.
I finally spoke with a veterinarian and I was told to sprinkle salt everywhere I had fleas and ticks. "The rock salt you get when you make ice cream is best for the yard, but just regular table salt works great also." the vet said. I used the rock salt in the yard and the table salt in the house because I really didn't want to vacuum up rock salt. It worked great. No more fleas or ticks, and the yard did not suffer any damage to it, like when you put ice melt down.
The rest of the time I lived in OK and since I moved to NE, I have not had severe problems with fleas or ticks. When I notice some in the house, I just get the salt shaker out and get rid of them. Then, I sprinkle some rock salt in the yard to make sure I don't bring anymore into the house. My dog has only had fleas once.
By Donna S. from Beatrice, NE
Read More

Comments
Should the salt be made into a powder before putting it on the carpet?
By Ann G.

Answers

Robyn Fed
Silver Post Medal for All Time! 398 Posts
October 22, 2011
0

found this helpful
I just sprinkle it all over the carpet and leave for a few days. If there are babies or animals with feet issues, then I would lay down a blanket over the salt. Also sprinkle it liberally under cushions and under the sheets on the bed and anywhere else you see fleas.
Once it has sat for a day or two, then vacuum all the time, it a a wonderful way to get rid of fleas. Put a flea collar in your vacuum bag if you have a vacuum bag or else empty it the minute you do the vacuuming, to some trash receptacle outside.

Robyn Fed
Silver Post Medal for All Time! 398 Posts
October 22, 2011
0

found this helpful
No. Just sprinkle it liberally all over where you see fleas. You can sprinkle under cushions, under the bed sheets, etc. It is a great way to kill fleas. They hate salt.
Also vacuum all the time after it has sat for a few days. Make sure you either put a flea collar in the vacuum bag or that you empty the vacuum each time you use it to some trash receptacle outside.
Here is a great resource for home remedies and also the dish soap in one half inch of water works great too if you can set it up where the animals wont drink it and the light doesn't fall into the water!
earthclinic.com/.../fleas.html

October 22, 2011
0

found this helpful
I would not use salt. I use 20 mule team borax. It's in the sop aisle of most stores. My friend told me about it 2 years ago. She has not had any fleas and neither have I. We tell ever body, even the vet. Try it (it works).

Cricket
Bronze Post Medal for All Time! 205 Posts
October 24, 2011
0

found this helpful
Salt should not be used at all on the carpet or furniture.
Think about it. Your pets (and children if you have any, especially little ones) will be walking, laying, playing and everything else on those carpets. No matter how well you vacuum there will still be salt in the fibers, which will get into their paws and fur (and onto children's hands and feet).
Then the pets and children will be using those same paws, hands and feet to rub their eyes with from the irritation the salt has caused their eyes. It can be extremely painful and extremely dangerous to your pets and to your children.
The same thing goes for Borax. Either one can possibly cause blindness.

November 5, 2015
0

found this helpful
Oh wow thanks for that info. I was all excited to find out I could use salt to get rid of my resident fleas. But how about using baking soda on the carpets will that work as well and won't affect our precious ones?

November 18, 2018
0

found this helpful
I used salt in my carpet 2 years ago and it is still working. Haven't had a flea problem since. If you vacuum the carpet after you have applied the salt there shouldn't be a problem.
It settles into the mat.

likekinds
Gold Post Medal for All Time! 523 Posts
February 10, 2019
0

found this helpful
I'm not so sure I agree that the residual salt (after vacuuming) in carpets would be harmful to pets and children.
How many millions of small children have been taken to the beach and into the water, only to have a film of salt cover their entire bodies, much more than they ever would pick up from a carpet? And the salt stays on their bodies until they shower when leaving the beach.
I've never heard of one child ever being harmed by this exposure.
Answer

this Question