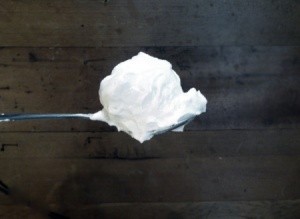 I would venture to say that from the year 1900 to the year 2000, more cakes baked in the American household were covered with this icing, than with any other. I think '7 Minute Icing' is probably the most popular name for this icing. It is also known as White Mountain Icing, and Boiled Icing. Lack of state of the art kitchen gadgetry was no deterrent for millions of housewives who needed a simple and fool proof icing for their homemade layer cakes.
Two reasons for that. With the exception of cream of tartar, all the ingredients were readily available in every kitchen. The other reason is, the icing is almost pure sugar. Other than a hint of vanilla, it has practically no taste. That makes it suitable for combining with many other flavors, cocoa, pineapple, banana, and my favorite, freshly grated coconut.
I have seen this icing being made on a wood cook stove in a time when very few kitchens were equipped with that new fangled invention, 'the electric mixer'. Heck, some of the homes didn't even have electricity. Bent over that hot wood stove for seven to ten minutes, with manual mixer in hand, the lady of the house would turn those gear driven beaters hundreds and hundreds of revolutions until she decided the icing was perfect.
And then there were the diehards, those who loved to cling to the old ways. My Aunt Bertie Jane lived most her life in homes with no electricity and no running water. Only later in life did she have both. She still led a very frugal life, but could have afforded an electric mixer. For all I know, she probably had a manual mixer.
Would you believe I've seen her stand at her electric stove, and with a simple dinner fork, whip and beat this icing for a full seven minutes or longer. The woman was a hard worker, and in certain areas, maybe a little hard headed, too.
I watched my Mama make this icing, and it was the first I ever made. I think of it as a bit of American Heritage. Circa 1930, from the Ozarks to the backwoods of Appalachia to the two room flat in Brooklyn, most everyone knew about 7 Minute Icing and how to make it.
Here is my version. It's pretty much the standard.
Notes: Mixing bowl and beaters must be immaculate. A trace of grease will ruin the icing. Also there must be no yolk in the egg whites.

Cream of tartar acts as a stabilizer to the egg whites. It's effects are more pronounced in meringues than in cooked icings. I have made this icing with and without cream of tartar, and can't tell any difference. Let's call it optional.