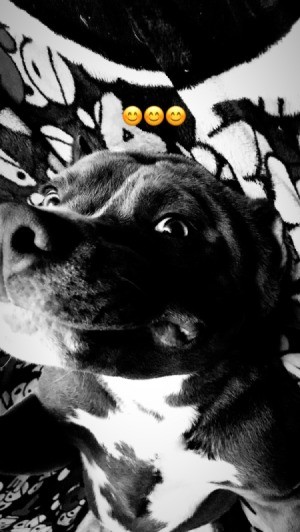 So I adopted a 2 month old Pit Bull puppy about 6 months ago. And when I got him he seemed to be fine with the other puppies in the shelter. When I took him home it took around 2 days for him to get comfortable with me. Because I had to wait until all of his vaccinations had been finished he was staying at home and in the back yard for about a month.
And after he got all three shots I tried to walk him on a leash out of the house, but he just never would go an inch away from the door. I took him back inside, but I tired every couple of hours again and again. Finally he went out and actually goes on leash very good. I gave him treats every hundred meters. So everything was good.
After a couple weeks I took him to the dog park and he was scared of every dog that came near him. I tried to tell him it was okay and I pet the other dogs and tried to tell him it was fine. I tried like this again and again and he finally gets along with dogs that are good to him. But if he finds dogs that are not good to him he just runs back to me or lays down to let them bite him. So I don't really let him go near aggressive dogs now only with the good dogs. And they play really nice.
I took him for a car ride, but he was also scared of car rides. He just never lifted up his head and didn't even move anywhere. He was just frozen, very tense and very nervous. He didn't even look at me even if I called his name. It felt like things were just getting better, but suddenly they are getting really worse. I felt like I just finished one problem and another came up right after.
And now he is almost 8 month old. He is okay with a leash walk, but only around the small streets. He is a bit okay with a car ride too, but when I accelerate the car he will still lay down on the seat and never lift up his head. When I stop at the red light he will look up through the window. Just yesterday I took him downtown. We live a bit far from downtown so he never went there before.
After he got out of car he was doing his things again. He was scared of every single thing around him. He didn't even want to walk. He just pulled me back and wanted to try to find a hole or place under cover and just stay there. So I ignored his fear and took him the way he wanted to go. We were almost to place I wanted to go, but he didn't even go an inch. He just kept pulling me back. There was a bunch of people waiting to get into the restaurant so I thought he was afraid of them as well. So I took him to the back alley and went that way to go around them.
Every time I took him to try new things that's what he was showing me. But I didn't give up. And I know he loves me and I love him too. I think I need some help. I did everything I could to change him. I can't say it didn't help. It does, but every new thing giving me new problems.
He is eating really good. I'm giving him K9 Protein with chicken breast so he is really muscular, but he is just scared of everything and people laughed at me and him on the streets every time he didn't want it to go. He has bad dreams every day when he is sleeping so I slowly wake him up and pet him a bit and then he will sleep alright for a while. Now it's been 6 months and every night I hear him barking or yawning or crying in his sleep. I would appreciate you guys' help.