June 11, 2010
10

found this helpful
Best Answer
Well, I hope the plant is gone, so that can't be a worry again.
You can get frozen chicken livers at low cost at several stores in their frozen meat area. I'd give her one cooked [saute on low/med heat in little oil after thawing out] per day, sprinkled with a bit of brewer's yeast mashed in. Brewer's yeast or nutritional yeast can be found in stores that have food in bins usually. A pinch per day would be plenty.
Liver contains iron and B vitamins, and so does brewers yeast. You don't want to overdo it [liver also contains vitamin A which can build up to unhealthy limits]. Bit I think if you go through one package of chicken livers you may see an improvement if improvement is possible. Then maybe 2 livers a week.
You'll have to figure out how to keep them fresh
when you are only giving them once a week, because each container of chicken livers [looks like cottage cheese or deli container] has about 10 livers.
Or buy cat food which contains liver. But still give the brewer's yeast because at least in people anemia can be caused by low iron and or low B vitamins.
Poor kitty.
April 2, 2017
1

found this helpful
Very good information, I am familiar with everything you suggested, just didn't think about them... But I will be using them!
Thanks, Jim
May 10, 2018
3

found this helpful
I cook organic chicken livers and freeze them. I pull out one chicken liver at a time to whizz up with essential oils and some of my cat's canned food. I pour some over my cat's regular canned food like a gravy. He has anemia (also CKD). Really helps keep him eating.
January 3, 2019
1

found this helpful
Raw Is The Way To Heal
Step 1
Cooking the liver will destroy the nutrients the cats need. Feed your cats the way they were designed to eat food, raw.
August 17, 2019
1

found this helpful
Unless the cat is young feeding your older cat raw meat doesn't work. They are not use to that type of diet. It should be carefully monitored and only given in small amounts.
Don't forget this raw meat you speak of that we eat is injected with saline "chicken" and or antibiotics "beef and chicken" . It's very problematic nowadays to find a honest solution.
I know that this is an old post, but wanted to post something here in case anyone else reads it now or in the future. I'm a nutritionist and have been dealing with sick people as well as animals for a long time, so u thought that I could chime in with some helpful tips here. :)
My neighbors cat was diagnosed with anemia and when I saw the cat licking every metal thing in sight (radiators, railings and even the sidewalk), it finally dawned on me that it was the minerals that they were after.
We all know how low the quality of human food is these days, so I think any of us can imagine just how low in nutrients (especially absorbable organic nutrients) that packaged cat (and dog) food is. Ever since our domestic animals started on a diet of packaged foods (and the quality that most people buy is dreadful), the rate of cancers and other diseases has skyrocketed. About 10 years ago, the rate of cancers and lymphoma's in cats was about 33%. Now it's at the 50% mark, which currently equals the cancer rates in dogs. Personally I believe that they are not able to break down and absorb the crude proteins and inorganic vitamins and minerals in packaged cat food as.
I think this is particularly true for cats, especially when it comes to breaking down proteins. Breaking down and absorbing proteins are tough on the kidneys (for humans and dogs as well) and it takes a lot of water (and energy) to do so. So continually having to break down a crude, low grade protein would eventually lead to kidney issues. Not being able to break down and absord the crude inorganic vitamins and minerals, would also lead to anemia (and if left untreated) as well as lymphoma's, leukemia and other cancers, just as it would in humans.
So what to do?
Start feeding your cats & dogs cooked (or possibly even raw) organic meats.
Supplements I'd add are:
1) Himalayan salt: It's the purest salt in the world and contains 84 different minerals in it. A sprinkle on their food, would definitely up their absorbable mineral content.
2) Nutritional Yeast (get the one with B-12): This is full of a large amount of B vitamins & Zinc. It's also a plus that it's also cheesy flavored, the yeast is deactivated and it is easily mixed and absorbed into cat foods.
3) Zeolite (the liquid form): One of my most favorite detoxer's on the planet. It's made from volcanic ash, it's 100% safe and it's been used for decades to keep livestock healthy. The difference between it and other detoxing clays, is that it's a negatively charged mineral (very rare) so it pulls things towards it. Since it also has a unique honeycomb structure to it, it's amazingly good at pulling things towards it and trapping them inside of it. Which is why nuclear plants use Zeolite to store used plutonium in. In fact, it was used to clean up at Chernobyl and sand bags of it were dumped into the seawater around Fukushima to stop the escaping plutonium from leaching into the Pacific ocean.
Why is all this important to your cat (and for you as well)? Because it also absorbs all heavy metals (lead, cadium, mercury, aluminum, etc.), it breaks up and absorbs entire chains of viruses from your body, it oxygenates and balances your bodies pH level (zeolite is also used to make medical grade oxygen), and much, much more. On top of all that, it was used in 2 different types of cancer studies. The first in a petri dish (where it killed all different types of cancer cells within 72 hours) and the second study was done with 65 people, who all had different stage 4 cancers and had all been sent home to die. They were all put on Zeolite and 78% of them experienced complete remission of their cancer. My personal experience with is has been impressive (though I have not had cancer) and I've used it with my cat with very good results as well.
4) Flor-Essence: This herbal based detoxing powerhouse comes in the form of a liquid or a tea and a lot of people (if you do an internet search) have experienced fantastic results with this herbal liver cleanser. Personally I've seen it work tremendously well with people as well, cleaning up toxins (probably the main reason for illnesses in both people and animals in my opinion) and putting very ill people back on track again.
5) Coconut Oil (raw and cold pressed only): My cat adores. A lot of people worry about the high saturated fat content of coconut oil, but just like good sugars & bad sugars, good proteins & bad proteins, good carbs & bad.... there are good saturated fats & bad. The division g line comes in when things are processed (as well as heated or frozen) and therefore "denatured". When this happens it changes the molecular and cellular structure of the food and makes it more difficult for the body to break it down and absorb it. However good fats like coconut oil not only bind to bad fats and help pull them out of the body, but they also aid in brain, nervous system, joint function and more. Good fats are actually quite medicinal to the body in many ways.
Anyway, I'm sorry that this is SO long! But if I can help anyone in anyway by passing g this info along, then that's good enough for me. :)
June 11, 2010
0

found this helpful
Thank you so much Mrs. Story. You're very kind!
June 11, 2010
2

found this helpful
Here's my beautiful girl. The anemia is caused by something more than just iron deficiency. There is some type of condition/disease that's causing it and until that is addressed, the anemia isn't treatable. I'm currently running my own little business and don't have much extra money for the testing involved. I'm just trying to find out if anyone else had a similar problem that I could relate to my vet. I'm thinking it may be some kidney failure or kidney problem but I can't get her urine separately from the others for testing. My Tracey is 14+ years old and I might have to let her go as comfortably and peacefully as I can. Of course I love her dearly but I also have 3 other cats to deal with (two of them left behind by my daughter!) and my daughter is helping with food and litter. I'm just a little overwhelmed with my life right now and I appreciate all the good thoughts and advice. Thank you to all who care.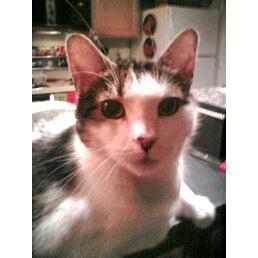 September 12, 2016
0

found this helpful
Hi there any m sorry about your Kitty. You really got to have your cats blood checked. If she has Kinsey damage bc of the plant she was eating. That plant is very very bad for cats can cause kidney failure or chronic kidney failure!!! If it's chronic there is no fixing it. My cat has big problems with his kidneys from eating soming bad he has animeia now bc of it he had a blood transfusion a week ago and may need another :( we are going for blood work again tomorrow he's been sick for over a month now was at the vets two full weeks on iv fluids we still don't know if he will ever be there OK :( I've spent almost $5,000 so far :( I'm not even working. He is 3 yes old that's why I'm trying so hard to save him. He's on iron shot every day and EPO shot every 3 days EPO shot helps his body make red blood cells. Ask your vet to check your cats kidney values and red cell count also ceritian levels. The blood work isn't that's much but at lest we will know what your Kitty's kidneys are like. If they are normal that's great!! If kidneys are not working proper it will cause amenia so I'd get that blood checked.
At home you can start with giving your Kitty chicken liver or can cat food that's liver
February 24, 2017
0

found this helpful
Hello Angel Heart I call you that because I m currently becoming a hack vet because of my Siamese Kitticin Frankie Sinautra's cronic anemia.(yes his eyes are blue and crossed)and I have recently discovered blood in Frankies urine. I do not know how long this has been going on but he started to pee outside the box. So I switched to puppy pee pee absorbent pads. thats when I saw the color of his urine. At 1:55 am I squeezed it out of the pad and took a sample to the vet for analysis. Frankie received a antibiotic shot for possible blood infection and when we returned home that day he no longer needed the pads. I have spent thousands saw 8 different vets and a specialist for Frankie and still have not found the reason for his anemia. Have been giving him the liver and the yeast flakes but have not heard of the other detoxifying items. For this information I truly thank you. Is it possible that the cos of Frankies anemia can be traced threw the urine and finally give me the answer? anyone with any suggestions to help 6 year old Frankie is much appreciated.
July 7, 2017
1

found this helpful
Are you sure he doesn't have fleas or hookworms? Both can cause anemia.
June 25, 2018
0

found this helpful
Good luck and God Bless your cat. My baby Rudolph is only three and just found out he has anemia in toxemia trying to treat him he can barely walk and it's just so sad he's so young I'm trying everything I can and researching as much as possible to try to help him
June 27, 2018
0

found this helpful
Yes, My cat is actually extremely sick and the vet suspects that she is having kidney failure. I found a vet that would come to my home who used both holistic and modern medicine. The anemia can be caused by a few things but kidney failure definitely can help add to it. Basically I would say to definitely keep doing research and treat your cat accordingly. Nothing is written in stone and I have ready many comments where pet owners says that their new found treatment not only comforted their animal, but added a few years to their lifespan after their vet said they did not have long to live.
June 12, 2010
0

found this helpful
Hi,
Your cat is such a cutie! It is so hard when they get older. At 14+ years she is an older cat. Many folks consider 15 an old cat. On the chicken livers, do be careful, especially if you are giving vitamins. Cats can overdose on vitamin A very easily on chicken livers. They should not have more than one a week. I have a cat on a medical diet that I prepare, so I had to research their requirements. It is not uncommon for cats to begin kidney failure shortly after age 15 or 16. It is diagnosed with a blood test. Vets treat it now although it is time consuming and a bit expensive. It requires infusions of fluids under the cats skin to help the kidneys. It buys a bit of time but the disease still progresses. Your kitty looks like such a happy contented kitty. I can tell she is well loved.
July 19, 2011
0

found this helpful
To Dusty 6788: If your cat has anemia due to kidney issues it can be tested with a blood test, not a urine test. They can test the kidney function and the anemia with just a blood test. My cat was recently diagnosed with anemia. She will be 20 years old in September. She has had kidney issues (due to just getting older) for the last 6 or 7 years, but that's to be expected with any cat past the age of 15. Recently we took her to the vet for a check-up, and they discovered she has a enlarged liver (which is either cancer or a harmless benign mass). She also has a heart murmur which can be attributed to the anemia. We were told there was no treatment for her anemia except blood transfusions (which will only help her for around 2 months at a time).
Vet thinks the anemia is either from her below normal kidney function, or "if" she has cancer in the liver that would also cause the anemia. We spent about $500 to find out the results (blood tests & a few x-rays), but we're not going to put her through any blood transfusions. Just last week she started eating her kitty litter (which is the "crystal kind"), and the vet said that was also due to her anemia, there is some sort of chemical in the kitty litter that she's craving. So we've replaced her kitty litter with rabbit pellets and that's working out really well. I was hoping we could just help her with the anemia with medication, but looks like there's no "pill" medication for this, and also I was told there's nothing we can feed her to help the anemia.
Her appetite is still really good, and she's tired due to the anemia, but we plan on enjoying the time we have left with her and not put her through anything that will upset the quality of her life.
March 8, 2016
1

found this helpful
I have 21 ( and 10 months) years old cat, well... he has kidney issue, and thyroid problem. Vet giving him fluid injection under the skin. Very finicky eater - lately blood test show a little anemia. Doc. gave him additionally Epogen, with a lot of research on line I've found vitamines with iron - please buy Liqui Tinic 4X and giving 2/3 daily (check Amazon: it will be around $13). Cat condition improved along with appetite and his blood test confirmed this fact. We always to take him for walk (with leash on) but it is not easy now - he love to eat sand. Thanks for above advice regarding chicken liver. I'm proud that he live that long - being old is a dificult task.
Good luck with your cat
Helen.
March 22, 2016
0

found this helpful
Hi all,
I too have the same issue with my cat who is almost 18.
She's had one transfusion and now needs another. The vet did perscribe a hormone that we inject under the skin once a week that we are trying. The hormone is for the fact her kidneys might not be producing to make bone marrow which makes red blood cells. Maybe you could check that out as well.
I wish you luck..